Posted on
The Weekly Word: Be thankful
By Coulter Page, Senior Pastor, Bethany Alliance Church
Rejoice in the Lord always; again I will say, rejoice.
— ESV Philippians 4:4
As Thanksgiving approaches, many of us may be struggling to be thankful. This year has brought us a lot, many of which we may not be thankful for. It has been a tough year.
From pandemic to politics, this year may be a year we would rather forget than take time to be thankful for. Even at this moment, life may not be looking the greatest for you, and you may be wondering, "How could I ever be thankful for this?"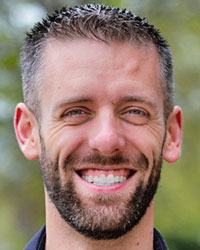 I do not want to diminish your situation, yet I am reminded of a particular man who, himself, was going through a difficult situation.
His name was Paul. The year was A.D. 62. The location was Rome.
Paul was spending his days under house arrest because he continued to share the good news of Jesus. Here he was, chained to a Roman guard 24/7, under house arrest, and not able to continue the mission he was called to.
In this he writes these five words, "Yes, and I will rejoice…" (ESV Philippians 1:18) Wait, what?! How can a man in his situation write those words?
How can someone walking through all he is walking through possibly be a person who rejoices and gives thanks? What is his secret? The answer comes later in his letter to the Philippians:
Rejoice in the Lord always; again I will say, rejoice. Let your reasonableness be known to everyone. The Lord is at hand; do not be anxious about anything, but in everything by prayer and supplication with thanksgiving let your requests be made known to God. And the peace of God, which surpasses all understanding, will guard your hearts and your minds in Christ Jesus.
Finally, brothers, whatever is true, whatever is honorable, whatever is just, whatever is pure, whatever is lovely, whatever is commendable, if there is any excellence, if there is anything worthy of praise, think about these things. What you have learned and received and heard and seen in me — practice these things, and the God of peace will be with you.
— ESV Philippians 4:4-9
How did Paul keep rejoicing? It was his focus. He did not get bogged down by his circumstances. He did not fret over his situation. He turned his gaze to heaven and thought of Jesus.
On his knees he took time to recognize all the blessings Jesus had given him. On his knees he thought of the wonderful things Jesus had done in his life. On his knees he was reminded of the one thing that outweighs any situation in life — that Jesus took Paul's place and gave Paul life. On his knees he remembered the Gospel.
This Thanksgiving, I want to invite you to get on your knees and think of the honorable, just, pure, lovely, commendable, excellent things of Jesus. Reflect on the many beautiful things of God.
Begin and end with the best thing that could ever happen to us — Jesus taking our place. If you do just that, this could be a Thanksgiving where you are thankful.
Prayer
Father God, thank you. It is hard to say at this moment in our history, but we say it again, thank you. Thank you for every blessing you have ever given to me — food, shelter, family and friends. Most of all, thank you for Jesus. Thank you that I don't have to spend eternity separated from you because you chose to come to me. Thank you for new life. From this moment forward, I focus on these things and this person, Jesus. Amen!
• • •
It can be hard to stay focused on the blessings of Jesus alone, that is why we want to invite you to be a part of a family that is staying focused-Bethany Alliance Church. We have services at 10:02 a.m. on Sundays. Currently we are meeting online on our Facebook page. For more information contact us at 641-228-1318 or office@bethanyalliance.com.