Posted on
IC Elementary in Charles City prepared for school year
By James Grob, jgrob@charlescitypress.com
There will be temperature checks, hand washing, social distancing, masks — and even a few "swivel" robots.
It's taken a lot of work and preparation, but Immaculate Conception Elementary School in Charles City has made the necessary adjustments for the COVID-19 pandemic, and the PreK-6th grade school will have most of its 184 students on site when classes begin, said IC Principal Laurie Field.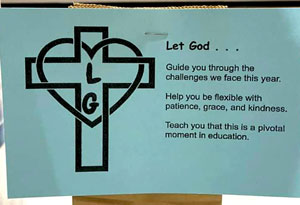 "What we're hearing from most parents is, they want to get them into the building," Field said. "We really want to support that social and emotional piece."
The school decided to go with the "brick and mortar" plan to start the school year, and Field said that nine students will be taking advantage of the remote learning option that is available to all. Those students will be attending class from home, via what Field called "swivels" in the classrooms.
"The best way to explain them is they are like a little round robot, with an iPad in it that will ZOOM with the child digitally in the class," Field said.
As required by the state, IC designed a plan to "return to learn" this fall. The plan focuses on the academic, health, social emotional/behavior, equity, infrastructure, and leadership within the building.
Field said the planning team included parents, board members and staff, "so everybody had a voice."
The brick and mortar option means classes will resume within the building. Staff and students will be asked to take their temperatures before leaving home. Upon arrival at school, students will be asked to come in the front doors and go straight to their classrooms.
"We're putting some extra precautions in place," Field said. "Our classes are small enough and our desks are socially distanced in the classrooms. We've also increased our cleaning schedule."
When students go to their classrooms, they will wash their hands and their temperature will be checked with a contactless thermometer. Students will be sent home with a temperature of 100.4 or higher.
Classrooms will be disinfected between class changes. Traffic in the hallways will be one-way.
Student desks will be spaced apart in the classrooms and desks will all be facing the same direction. Classrooms will be cleaned and disinfected twice a day by custodial staff. Teachers will be disinfecting throughout the day.
Lunch will be set up in the gym. Students will all sit on one side of the table and additional tables will be set up to accommodate this change. Recesses will be scheduled into the day and units will not be outside together.
Face coverings will be mandatory for teachers and staff and required at certain times for students.
"We are requiring masks coming in the building, through the hallway, and any time they can't social distance," Field said.
A separate room for students who are sick will be set up for them to be cared for by a staff member. Students that are sick will be asked to wear a mask while they wait for their parents to pick them up. Parents will call the school when they arrive to pick up an ill child, and the student will be walked out to them.
Hand sanitizer stations have been installed in all classrooms and the lobby. Some classrooms and school offices will use plexiglass barriers. The office will be open for tuition payments, scrip, and drop-offs while following social distancing guidelines.
The school has purchased additional technology devices, including iPads and Chromebooks.
Field said that staff and parent reaction to the changes has been mixed, but a majority of those involved felt it was important to get students back into the classroom, in person. She said that the school is prepared to make adjustments if it becomes necessary.
She also said the school will have to adjust certain things when the community public school needs to adjust.
"Little things will change here and there, because we are educational partners with the community school," she said. "Any time they change something — such as a lunch or transportation procedure — we will have to adjust."