Posted on
Orthopedic surgeon will be at Floyd County Medical Center on Wednesdays
By Bob Steenson, bsteenson@charlescitypress.com
An experienced orthopedic surgeon has joined the health care specialists practicing at the Floyd County Medical Center.
Dr. Roswell "Ross" Johnston, who has been practicing in Waterloo since 1987, has been working at the Charles City facility on Wednesdays since the beginning of August.
"Over the years I have acquired an awful lot of patients from Charles City, the Nashua area, as well as over at New Hampton," Johnston said. "I just started looking into it, that it might be handier for that group of patients.
"I enjoy doing outlying clinics, so I just explored what the options were. Came up, and they were enthused," he said about the people at the medical center.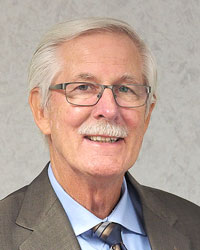 Johnston, who is a partner at Cedar Valley Medical Specialists in Waterloo, also does an outreach clinic in Sumner on Mondays.
"The thing you have to look at when you do outreach in Iowa is what are the roads like," he said, laughing.
The road between Waterloo and Charles City is a four-lane highway that the state keeps clear – "which is a little handier than doing the backroads of Iowa like some of the other places," he said.
Johnston will have clinic hours on Wednesday mornings and do surgeries in the afternoon at the Floyd County Medical Center.
He will perform general orthopedic outpatient surgeries such as arthroscopies and joints, he said.
"A lot of knees, quite a bit of hips, shoulders," he said. "That even includes total joints now, because Medicare considers those an outpatient procedure even though most people spend at least the night in the hospital."
Floyd County Medical Center has comprehensive surgical capabilities, he said.
"This seems like a fun fit," Johnston said. "It seems to be a beautifully run hospital and everybody's been real enthusiastic."
He will also be available to help with emergency care if the timing works out right.
"If somebody comes in on a Monday or Tuesday with something that can be surgically treated I would expect to be able to help them with that" when he's here on Wednesday, he said.
Johnston said his intention is to complement the practice of Dr. Val Lyons, an orthopedic surgeon on the staff at the medical center.
"I like Val," Johnston said. "He's a nice guy."
Johnston started his college education at the Air Force Academy, went into pilot training and then spent three years flying active duty.
He went to medical school at the University of Health Sciences College of Osteopathic Medicine in Kansas City Missouri, graduating in 1978. His internship was with the Air Force at USAF Medical Center at Keesler Air Force Base in Biloxi, Mississippi.
Johnston did a four-year residency in orthopedics at Tulane University School of Medicine in New Orleans. He fulfilled his Air Force commitment by working for three years at Clark Air Base in the Philippines, then his final year as chief of orthopedics at the Air Force Academy.
Johnston is part of an extended family of orthopedists who have all practiced in Waterloo.
He married Martha Walker, whose father, Dr. John Walker, started practicing in Waterloo in the 1940s. Another of Walker's daughters, Susan, had married Dr. James Crouse earlier.
Since then, Johnston's son, Dr. Todd Johnston, has joined their Waterloo clinic, specializing in sports medicine, and one of Ross Johnston's daughters married an orthopedic surgeon, Dr. Benjamin Torrez, also now part of the orthopedic clinic at Cedar Valley Medical Specialists.
"There's an old adage: A man is born where he's born and he dies where his wife was born," Johnston said. "That's me. That's how I ended up in Waterloo. That's my wife's home town."
In his spare time, Johnston still enjoys flying and he enjoys water skiing.
"As long as I can get up and slalom then I know I haven't gotten old yet," he said, smiling. "That part's good."