Posted on
Charles City looks to aid in development of residential lots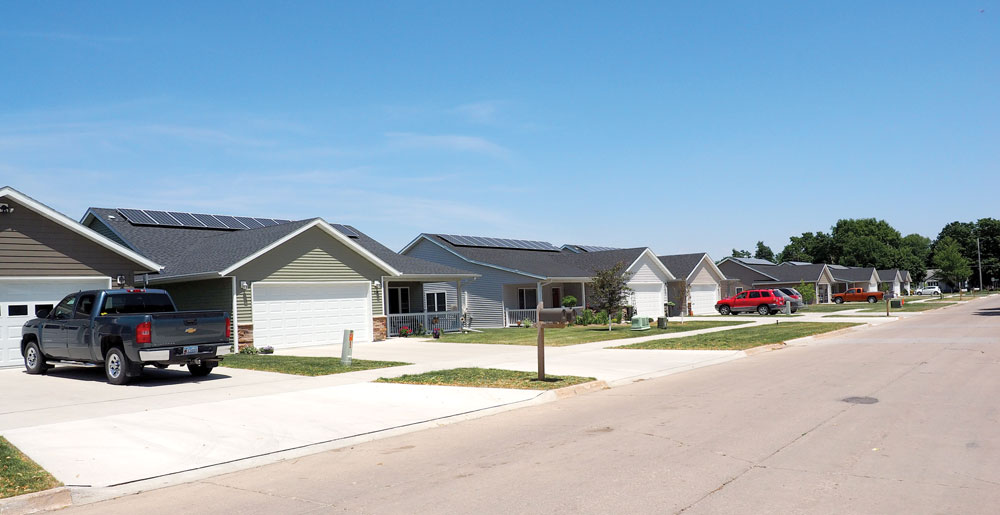 By Bob Steenson, bsteenson@charlescitypress.com
A way to help support construction of new homes in the Parkside subdivision was discussed Monday evening at a Charles City Council workshop meeting, along with talk about what types of homes council members would like to see there.
No decisions were made Monday, but a letter of intent and other particulars could be voted on at the next regular council meeting, Tuesday, Sept. 8.
The Parkside Villa project began in 2013 as a series of nearly energy self-sufficient  single and twin homes built on the site of the former Jefferson Elementary School on South Main Street.
A Sustainable Communities Demonstration Grant as well as funds to help mitigate the impact of the 2008 flood helped subsidize the cost of building and purchasing the homes for qualified buyers during the early years of the project, but that funding is no longer available and only about a third of the potential lots were developed.
"One of the hurdles to construction is the cost to build versus the cost to sell," City Administrator Steve Diers said at the meeting Monday, meaning the cost to construct the type of new homes being proposed for the subdivision makes developers need to price them higher than the market will bear if they want to make any profit.
"In this project, we've narrowed that down to about a $20,000 shortfall, between cost to sell and cost to build," Diers said.
Crown Point Builders Inc. of Garner has asked the council if the city can come up with a way to cover that $20,000 per lot shortfall so that it can build approximately 24 new single family and twin homes on the site and complete the development.
Diers went through a plan that would create a new tax increment financing (TIF) district for the area, as part of the South Grand Urban Renewal Area, and use property tax increment dollars to reimburse the city for the cost of contributing $20,000 per lot.
With the homes expected to be sold in the $195,000 to $225,000 price range, the money that would be available from the additional property tax would pay off each lot's $20,000 city contribution in about 10 years, Diers said.
The higher the assessed value of each home, the more quickly the $20,000 per lot would be repaid.
Looking at building about eight homes per year, the total city exposure would be $480,000 over three years, but some of that would be beginning to be paid back before additional units were constructed.
Crown Point Builders would purchase the lots from the current owner, Parkside Development.
Jennifer Breister, vice president and project manager for the family-owned Crown Point Builders, said once the project begins the plan would be to build the single family and twin homes at a steady pace.
"I have pretty much all of our subcontractors lined up that we would be able to start within the next four weeks," she said. "And that would be hoping that we would be able to start at least four, and if we're able to successfully presell some of those that we would be able to get the foundations in for perhaps two more that we could work on over the winter."
The first homes could be ready for occupancy by February, she said.
Council member Jerry Joerger asked, "What's the downside? What if these lots are not sold quickly or in the three years you're talking about?"
Council member DeLaine Freeseman had similar concerns.
"Would we have some sort of agreement, because where we're sitting now we had plans to build a lot of different properties that never happened," Freeseman said.
"Would there be some sort of agreement in here that if four get built then for whatever reason the train falls off the tracks, that ends the city's commitment to this, or something along those lines?" he asked.
Mayor Dean Andrews said the $20,000 city payment would be committed when a building permit is taken out, not when the lot is sold.
"If they're taking a building permit that would pretty much obligate them to build a structure and they would be the owners of that structure. If it doesn't sell they would still be responsible for the taxes," Andrews said.
The discussion also covered the combination of owner-occupied and rental properties among the newly built homes.
Breister said they would like to keep some flexibility in that regard, keeping the possibility of more rentals as a "failsafe" if they encounter difficulty selling the units.
She said any rental units built as part of the project would continue to be owned and managed by Crown Point, rather than being sold to other landlords.
Several council members said they would prefer a majority of the units be owner-occupied, but Realtor Dean Stewart, who has been involved in the Parkside project from the beginning, said there is a demand for rental properties in the area, especially by young professionals coming into town to work at some of the city's industries who may not want to commit to buying a home for a couple of years.
Council member Phoebe Pittman, a teacher, agreed, saying many of her new colleagues who come to town have a hard time finding quality rental properties.
Mayor Andrews said Crown Point would like to begin sooner than a new TIF district could be established.
"We're hoping they will proceed with a letter of intent," he said.
Diers said such a letter could be approved at the council's next regular meeting on Tuesday, Sept. 8, along with a timeline for amending a TIF district and the development agreements.