Posted on
Task force recommends Charles City exit conference, form new group
A racial incident on a baseball field in Waverly in June may have been the straw that broke the back of the Northeast Iowa Conference.
"The incident made us really question not only the continued partnership with our athletic and activities conference, but also the sustainability of the conference," said Charles City Superintendent of Schools Mike Fisher. "The NEIC has had several challenges as a conference here recently, and a history of sportsmanship issues has resurfaced."
The Charles City Board of Education heard a recommendation Monday from the recently-established conference realignment committee, which was charged with looking into the possibility of Charles City athletics leaving the Northeast Iowa Conference.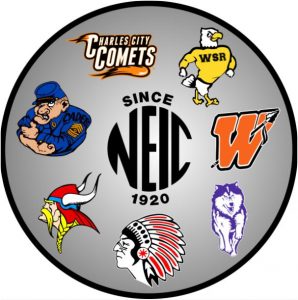 Chris Rygh of Long View Facilitation, Activities Director Todd Forsyth and several Charles City student-athletes who were on the committee told the board they recommend Charles City leave the NEIC and form a new conference.
"Specifically, we asked if it was wise and healthy to belong to a conference where issues of fairness, equity and sportsmanship seem to be administered differently across conference members," Rygh said.
The recommendation is for Charles City to exit the Northeast Iowa Conference within two years, and form its own conference and recruit schools into the conference that share Charles City's values of character and competence.
Fisher said he will make a formal recommendation for action at the next school board meeting.
The district formed the task force — made up of students, coaches, staff members, board members, parents and alumni — after racist jeers were directed at Charles City outfielder Jeremiah Chapman during a varsity baseball game this past June.
The Charles City School District wasn't satisfied with Waverly-Shell Rock's response to the incident. In a statement released in August, Waverly-Shell-Rock said it is had "completed an extensive investigation into reports."
W-SR stated that it did not identify who yelled the comments, but did say "all individuals involved are students" as the reason it could not release "specific findings and actions relating to this matter."
The W-SR statement said, "Heckling and taunting of any kind is not tolerated behavior for any spectators at our games, especially where this behavior is directed at a person or group based on race, color, or any other personal characteristic" and said that that the district "is taking appropriate measures in response to this incident."
Fisher said he was not satisfied with that response.
"All the answers we got were just lip service, to be honest, in the hope that we would let the issue go away," Fisher said. "This is something that our kids at Charles City have had to endure generationally, and we are not going to just let it go anymore."
Fisher said that despite repeated attempts to initiate change since then, Charles City has been unable to get a satisfactory remedy for the poor sportsmanship issues, from the NEIC or from the Iowa High School Athletic Association.
"We've had this conversation about sportsmanship, and nothing ever comes from it," Fisher said. "There just isn't an appetite for bold change, and we're demanding bold change."
Chapman was one of the student-athletes on the task force, and said that he was glad that Charles City was taking action.
"I'm a senior in high school, and I've experienced more racism, sexism and other prejudice from one of our partner schools than I ever thought I would have," Chapman said. "I feel like it's sad that we've let this go on for so long. Even though it won't affect me, I would like to be able to say I've changed that culture for the generations behind me."
Last month, Charles City asked for a "one-year, penalty-free moratorium" for Charles City refusing to play the involved partner school during the 2020-21 academic year. Charles City leadership also made clear that "if these expectations are not met, we will pursue new conference partnerships."
"I will not send our kids into harm's way," Fisher said. "I will not send our kids into a situation where they will be harassed and bullied without consequences. I cannot ethically do that."
Fisher said he has heard many stories about some of the unhealthy relationships between NEIC schools.
"It's not something recent," he said. "It's been over many years."
School board member Pat Rottinghaus, who was on the task force, agreed.
"It's a lot longer than the last 10 years," she said. "Some of this has been going on for generations. There were people on the task force who competed in the conference 20-plus years ago, who said that this was a problem then."
Student-athlete Cole White, a senior, said he has personally experienced poor sportsmanship from surrounding schools that he found "immensely offensive."
"I know it's happening. I've tried to stop it, but there's nothing I can do," White said. "I'm glad that now we can look at the bigger picture."
Activities Director Forsyth said he had "very mixed emotions" about the recommendation, as he grew up competing in the NEIC, and the conference has a storied, 100-year history — it's celebrating its centennial this year.
"But when you look at the future of the conference and what's the best direction for our kids, I really think we can be the leader in this change, and it can be a real positive for our kids," Forsyth said. "I'm very excited, and believe this is the best direction for our kids and our community."
Charles City was one of the founding member schools of the NEIC in 1920. Charles City left the conference in 1939, then rejoined during the 1946-47 school year, and has been a member since then.
The same seven schools have made up the NEIC since 1970 — Charles City, New Hampton, Waverly-Shell Rock, Oelwein, Crestwood, Decorah and Waukon. It will have only six schools starting in 2021, when Oelwein, another founding member school, joins the North Iowa Cedar League. If Charles City leaves as well, Fisher said that he didn't think the conference would be able continue with just five teams.
The smallest school is New Hampton, and Waverly-Shell Rock has more than twice New Hampton's enrollment. Although the NEIC is most known for athletics, it also sponsors a music festival, a leadership conference and other academic events.
Rygh said the conference has shown a long pattern of "inconsistent administration of discipline and ethical conduct."
"If one school violates the covenant, currently the others are powerless to address the violation in any meaningful way," Rygh said, and added that other schools have no recourse to address the misconduct of any one school. "They just have to put up with it."
"We felt that our students at Charles City have a right to expect a safe and fair platform for athletic competition, where they and their opponents are accountable for their ethical and moral behavior, on the field and off," he said. "They have a right, even in visiting stadiums, to be surrounded by respectful, spirited and welcoming students and fans."
Fisher said he has talked to 10 other schools already, and all 10 have expressed interest in joining a new conference, including most of the current NEIC members.
He said the working name of the conference is the "Northeast Iowa Rivers Conference," and it will be tagged as the "Conference of Character."
"You would see something that might be very similar to the NEIC, but better," Fisher said. "We could set up this conference for the next 100 years. It won't be just about wins and losses, it will be about building better human beings."
He said the conference by-laws would reflect that vision, as would the schools invited to join the conference. He said that if the board approves the recommendation, it would begin a two-year process of forming the new league.
"We know that nothing will ever be perfect," Fisher said. "Our kids will make mistakes, and other kids will make mistakes. It's how we respond to those mistakes, and how we hold people accountable, that's important."
Forsyth said that in the last few years, Charles City has put a priority on improving sportsmanship among its athletes and coaches.
"As an athletic department, we are asking ourselves what we can do to be better," Forsythe said. "We want other schools in our conference to have the same mindset, so that we can improve each other. That's something we will strive for in a new conference."
Forsyth said that Charles City has looked into the possibility of joining an existing conference, but that the logistics of travel between schools of similar size make that difficult. He said the district is finding that there are many schools that are looking for the same thing Charles City is looking for in a partnership.