Posted on
Heyer raises flags for patriotic Eagle Scout project at Charles City High School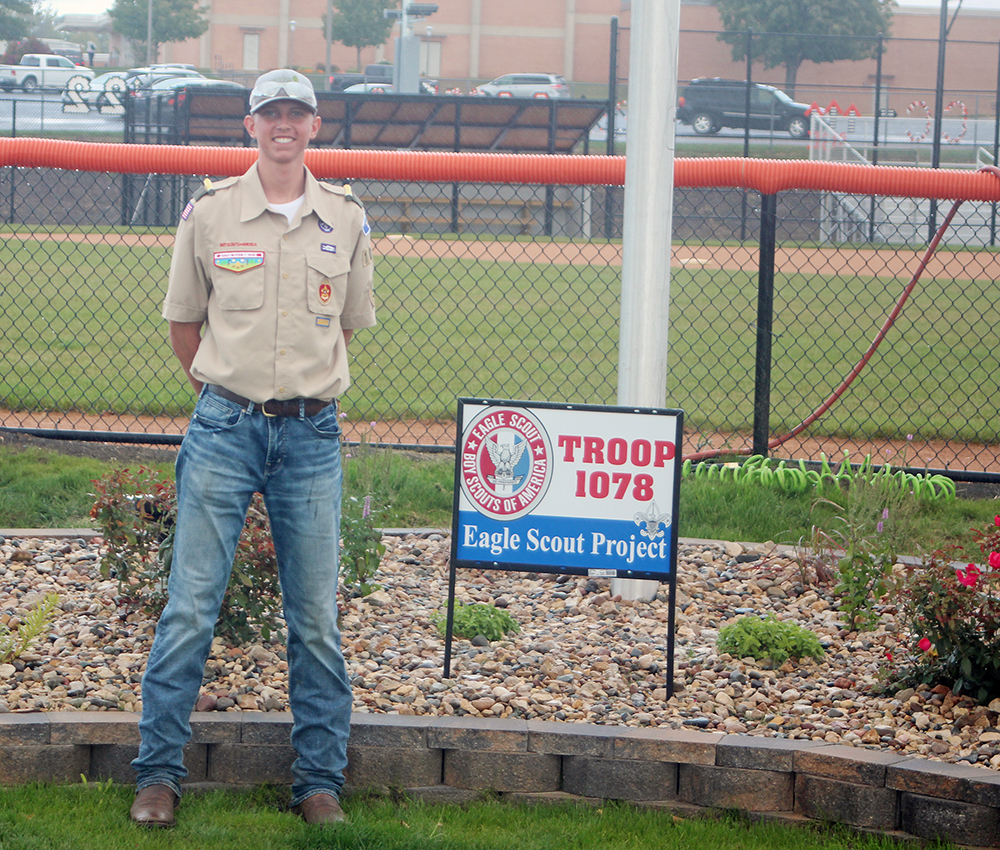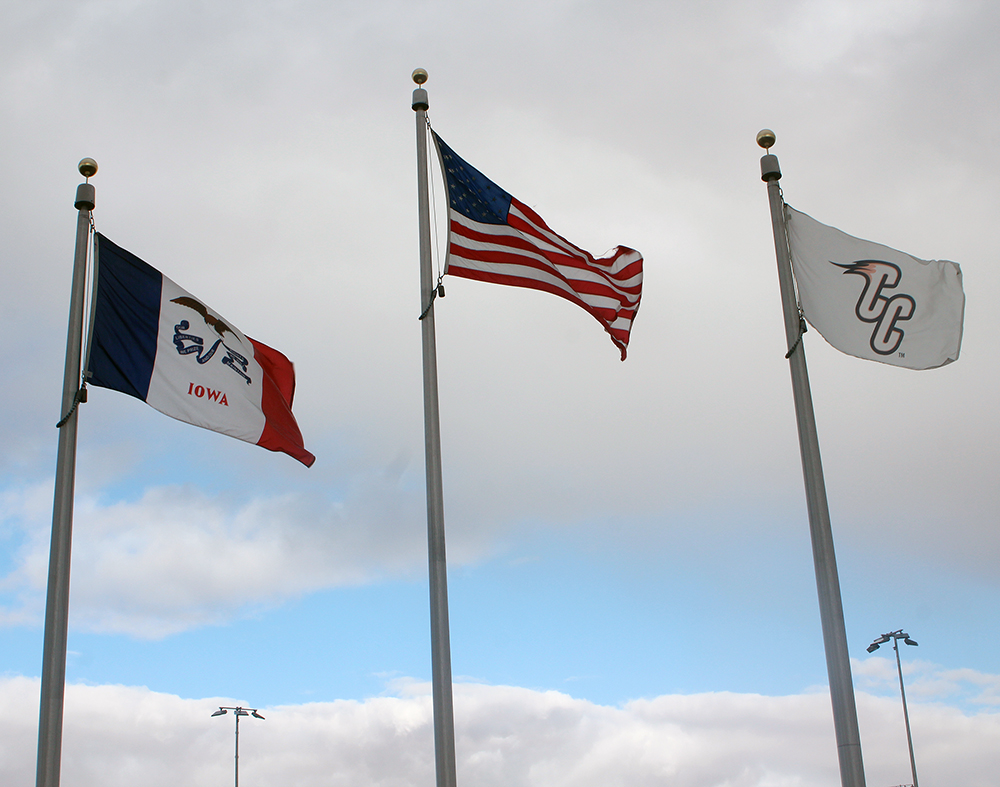 By James Grob, jgrob@charlescitypress.com
For his Eagle Scout project, Charles City High School senior Justin Heyer decided he wanted his nation's colors to be on display on his campus.
"I knew that I wanted to do something that represented our country, and showed my patriotism," Heyer said. "I thought this was the best way I could use my abilities to give back to the school and the community as well as show my patriotism to my country."
Heyer went to work, putting up flagpoles and doing the landscaping around them at the new CCHS sports complex. One flagpole is at the baseball diamond and three are at the softball diamond.
Now proudly flying are the U.S. flag, the Iowa flag and the Charles City School District flag, all easily visible for anyone visiting the softball or football fields. Heyer said the project took between two and three months.
"It was a lot of learning as I go. It was a good learning experience as well," Heyer said.
Heyer didn't go into the project blind. He does have his own landscaping business, Heyer Lawn Care, but he admits he couldn't have gotten the project done without a whole lot of help and support.
Heyer said he not only had to get approval from the Boy Scouts, the city and the school district also had to sign off on the project before he could get started. He said he received donations from both the Lions Club and the Rotary Club, as well as other civic entities. He also got some help from Otto's Oasis in Charles City, while Croell Inc. donated sand and some other material.
Heyer's friend Austin Connerley also did a lot of work with Heyer on the project, even though he isn't a Boy Scout.
"He contributed a lot and it just goes to show how much patriotism he has," Heyer said.
His decision to do a patriotic display was made last fall when Heyer, a student-athlete at CCHS, had some unfortunate health issues arise. He had wanted to serve in the military after high school, possibly going to the Air Force Academy, but last fall the results of some blood tests made that impossible.
Tests showed that Heyer had autoimmune hepatitis, a disease in which the body's immune system attacks liver cells. This immune response causes inflammation of the liver. He also was diagnosed with primary sclerosing cholangitis (PSC), which is a chronic disease that slowly damages the bile ducts.
"I was disqualified from any military," Heyer said. "That made me want to do something patriotic."
Heyer said his liver and spleen were inflamed, and he could no longer participate in contact sports. "Treatments can make you tired, and it messes with your sleep schedule and eating habits. It's a real pain."
Then, in the spring, just as he was getting started on the Eagle Scout project, COVID-19 hit, and Heyer had to be quarantined, as his condition makes him more susceptible to the virus. This also caused a delay in the raising of the nearly $9,000 in funds the project cost.
Although it's more typical to raise funds before a project begins, the project had to be finished by Heyer's 18th birthday last month to qualify for Eagle Scout, so Heyer's dad cosigned a loan to borrow the funds up front, and Heyer is using the donations to pay that loan back.
With a military future out of the question, Heyer is now looking to something aviation-related in the future, and something that is also related to his faith, because he wants to tie those two together.
"I feel like that's the path I'm being directed toward right now, but I'm keeping all my options open," he said.
Heyer said the school district has agreed to maintain the flags and the landscaping after he graduates.