Posted on
Clark challenging Prichard for House seat
By James Grob, jgrob@charlescitypress.com
Even though party registration in Iowa House District 52 is pretty evenly split, Republican Craig Clark considers himself a big underdog as he vies for the house seat currently occupied by Democratic incumbent Todd Prichard.
"I knew this was going to be a tough race. He has the name and he is the House Minority Leader," Clark said. "I think it will be a close race, though, and I think we're both going to be up really late on election night."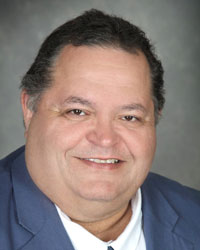 Clark has done most of his campaigning door to door, and said he has hit at least part of every town in the district. He said the people he's talked to have been "tremendously receptive" to him.
"I want to look at things that will make everyone's life better," Clark said. "You have to learn to take care of people when the time comes, and I think I can bring that ability to Des Moines."
Prichard thinks the race will be close, and thinks he's gotten his message out to voters despite the difficulties presented to campaigning by the COVID-19 pandemic.
"I'm pleased with where we're at," Prichard said. "We've done a lot of engagement, in terms of voter outreach, with phone calling and knocking on doors in neighborhoods. We've tried to run a positive campaign in the media."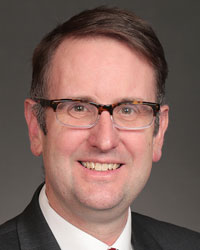 Iowa House District 52 consists of Floyd, Chickasaw and the eastern third of Cerro Gordo counties. Prichard was unopposed in the 2018 election, and is seeking his fifth term since winning a special election for the seat in 2013.
Prichard, a Davenport native, owns Prichard Law Office in Charles City. He has practiced law in the community since 2004, upon his graduation from the University of Iowa law school, and is a lieutenant colonel in the Army Reserve. He and his wife, Ann, live in Charles City and have three children.
Clark ran as an independent in that 2013 special election for the seat, because he had missed the deadline to file as a Republican. He had previously run in the 2012 GOP primary for the chance to unseat incumbent Brian Quirk, D-New Hampton.
Clark, who grew up in South Carolina, earned a bachelor's degrees in chemistry and economics from Iowa State University and his law degree from St. Thomas University in Miami, Florida. He married an Iowa native who brought him back to the area, where he has lived for more than 25 years.
He currently resides in Rockford and has two children enrolled in the RRMR school district.
As a store planner for Walmart, Clark builds and remodels Walmart stores. He said he has been in retail for most of his life and has a very strong customer service background.
"With my job and background, I think I have a really good pulse on the middle class," Clark said. "I work with the workers and interact with all social demographics."
He said that he thought his ability to communicate would be essential to getting things accomplished in Des Moines.
"My job is all about communicating, and I've always had a good relationship with everyone, across the board," Clark said. "I will look for solutions. It may not be what people want to hear, but I will always give you an answer."
Currently, the Iowa House is made up of 53 Republicans and 47 Democrats, meaning the Democrats would need to pick up four seats to become the majority party. Eight Republican incumbents retired after the last session, while only three Democrats did the same.
As minority leader, Prichard is chief spokesperson for the party on issues, and assigns Democratic members to committees. He is also the political leader for the House Democrats. Should the Democrats take back the Iowa House, Prichard would likely be in line to serve as Iowa Speaker of the House.
"That's definitely a possibility, if elections go our way across the state," Prichard said. "If that would happen, if the people I serve with would like me in that position of leadership, I would consider it an honor."
Prichard said he has found that the biggest issue on the minds of voters he's talked to has been health care. He said he has been actively trying to change Iowa's current health care situation, but as his party is in the minority in the Legislature, his hands have been tied.
"Health care is definitely a big issue, not just in our community but across the state and country," Prichard said. "That's obviously been fueled a lot by the COVID pandemic."
Prichard said he wants to make sure people have access to affordable health care and access to mental health care, access to services in the community.
"We've had a lot of struggles, even before COVID, with things like keeping our hospital solvent here in Charles City," Prichard said. He said he wants to continue to address the cost of insurance and make sure people with pre-existing conditions can keep their insurance.
"We have to have a change in approach, to allow the system to work," Prichard said. "Reimbursement levels are not adequate to keep providers in business, particularly with ambulance and EMS services."
Prichard said that providers aren't making enough money to serve the rural population.
"Health care problems that don't get treated inevitably create bigger and more expensive health care problems," he said. "We're just kicking the can down the road."
Clark said he will look for creative solutions to health care problems if he's elected.
"When someone promises something like free healthcare, that sounds good, but the devil is in the details," he said. "How do we pay for that?"
Clark said that people can't continue to carry the weight of the COVID pandemic.
"We can't stay shelled up," he said. "We have to get back to work, get kids in school and get our communities back to normal, however normal we can be."
He said he was worried about what he calls "pandemic depression," and that there were not enough mental health counselors and therapists in the area.
"I'm concerned we won't have the mental health resources to get people through to 2021," Clark said. "We need to get people through this."
Prichard said that other important issues in the campaign are education and job training.
"I've been pushing for more access to higher education programs in rural areas like ours," Prichard said.
He said he wants to expand community colleges, apprenticeships and other advanced job training opportunities after high school.
"I think there's a real need in our part of the state to make those opportunities available," Prichard said. "If I'm re-elected, I hope I can help to create more job-training opportunities around here."
Prichard also said that K-12 education was one of his priorities.
"The lack of funding for education has really been evident here," he said. "We're seeing that in turnover with staff and with programs we aren't able to offer in our local schools."
Clark also pointed to education as one of his priorities.
"We need to look at what will help our kids in school thrive and excel," Clark said.
Prichard said that his experience in Des Moines was beneficial to the district. He has served on the agriculture, judiciary, state government, veterans affairs, and ways and means committees and was previously a house minority assistant leader.
"I think I bring a history of service to the job. I've worked with small business owners and other individuals with legal matters, and I think that's good preparation for being a state legislator," he said, and added that he considers a campaign an opportunity to listen and learn what's on people's mind.
"For me, it always comes back to the basics," he said. "We need good jobs, we need a livable wage, we need access to a good education and affordable health care. That's how you build a strong community."
Clark said that regardless of the outcome on Election Day, he's appreciated the opportunity to make his case to the public.
"It's been great talking to all these people in the area," Clark said. "Regardless of the outcome, just getting to meet and talk with everyone has been a privilege. I'm grateful that people were willing to listen to what I have to say, and I'm hoping that will translate into votes."