Posted on
Charles City Public Access Network commission looks at budget, equipment replacement
By Bob Steen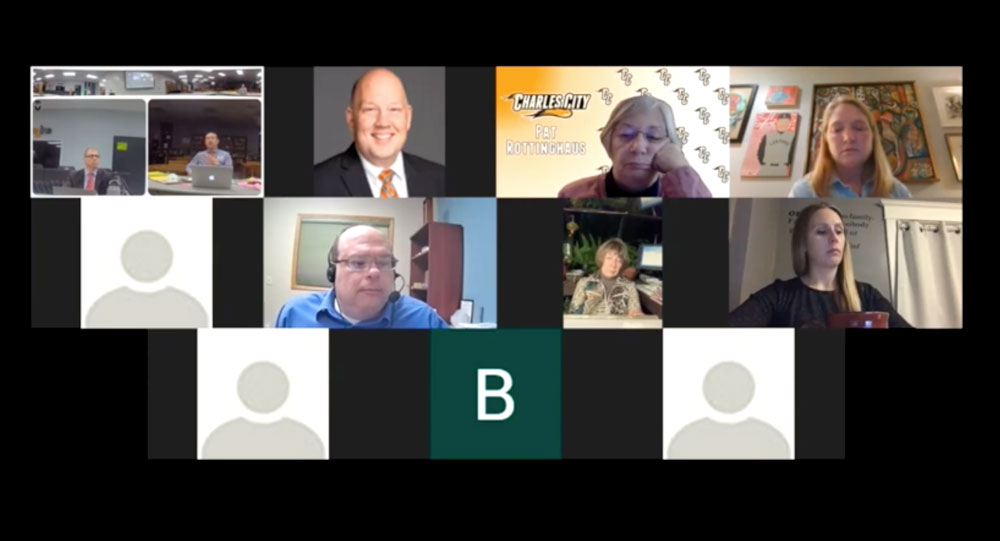 By Bob Steenson, bsteenson@charlescitypress.com
Replacing the 25-year-old video system at the heart of Charles City's Public Access Network could cost about $86,000 — an amount that the city Broadband Telecommunications Commission does not have.
In fact, the Public Access Network (PAN) is currently operating at a deficit, as franchise fee revenue slowly falls due to declining television subscriptions for Mediacom.
The commission held one of its occasional meetings Wednesday afternoon to discuss a new budget for the fiscal year beginning July 1 and the need to replace a now-expired operating agreement among Charles City, the Charles City School District, the Charles City Area Chamber of Commerce and Community Revitalization.
The Broadband Telecommunications Commission is a different entity from the Charles City Telecommunications Utility Board of Trustees, which is trying to establish a broadband fiber internet network in Charles City. The commission's primary responsibility currently is for the Public Access Network.
Justin DeVore, the PAN director, said the network hasn't been showing video on the public access channel, Channel 4, for some time.
"The channel is down for video because of too many equipment failures," said DeVore, whose primary job is as the Charles City Schools' director of communications and community engagement, and who is also the emergency public information officer for the city and county as part of the Broadband Commission agreement.
He said Charles City Council meetings, Charles City Board of Education meetings and Floyd County Supervisors regular meetings continue to be recorded, along with concerts, political events and other community activities, but those are now being shown on PAN's website, charlescitypan.com.
"It has been 25 years since we put any serious money into upgrading this technology," DeVore said about the studio equipment located at the middle school.
The commission is currently spending about $3,000 more a year than it takes in, said Mark Wicks, the director of the Chamber of Commerce and Community Revitalization, and the Broadband Telecommunications Commission chairperson.
Steve Diers, the Charles City city administrator, said the commission currently has about about a $67,000 fund balance, so it can afford to run at a deficit for a couple of years, but not indefinitely.
Funding for the commission comes primarily from franchise fees paid to the city by Mediacom. Those fees have been dropping by $1,000 or more a year for the past several years, and are currently estimated at $58,000 in the proposed budget for next fiscal year.
Public access networks were established decades ago in many communities as private companies were installing cable television systems.
State law required the cable companies to pay a franchise fee for the right to hang or bury their lines in the community, and often those fees went to support a studio and equipment so that members of the public could produce their own programming to be shown on a channel that the cable company provided for that purpose.
In Charles City, that led to the PAN, which runs community announcements by text on Mediacom's Channel 4, and which used to show videotaped public meetings and other events.
The commission approved sending a budget recommendation to the City Council of $61,000 in revenue, consisting of $58,000 in estimated franchise fees and $3,000 from Floyd County as payment for recording and showing regular Board of Supervisors meetings.
Expenditures for the coming fiscal year consists of $41,000 to  the school district for DeVore's time as PAN director and providing space in district facilities to house the PAN equipment, $3,900 to the Chamber of Commerce and $10,000 to Community Revitalization for Wicks' time as chairman of the commission, $3,000 to pay people to record meetings and events, $1,500 available as a technology grant for area businesses, and $1,500 for annual equipment expenses.
DeVore said he asked for a "ballpark figure" from Conference Technologies Inc., a company that had provided video equipment to the PAN in the past, and was given a price of $86,318 for a complete new system to replace everything in the current network head end, including video and audio gear, digital video server, equipment to allow web streaming or broadcast-quality point-to-point video streaming, and other equipment and services.
The commission made no decisions on replacing the equipment.
The group did plan another meeting, for 3:30 p.m. Thursday, Feb. 11, to continue discussion about the 28E agreement that needs to be renewed among all the parties involved.