Posted on
Charles City School District names Harskamp executive director of student engagement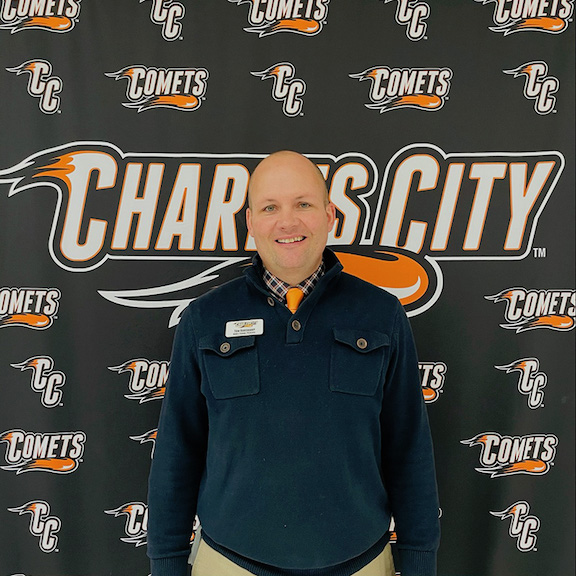 By James Grob, jgrob@charlescitypress.com
Currently the co-principal at Charles City Middle School, Thomas Harskamp has been hired to become the new executive director of student engagement and leadership for the Charles City School District, the school announced this week.
The new position replaces the activity director position and is a "first step in building a more robust activity department and engaging all students in leadership opportunities," the district stated.
Harskamp has been an administrator with Charles City since he was hired in the summer of 2018, and said he was "nervously excited" about his new position, which is pending school board approval. He will officially begin his new duties on July 1.
"We have great members of the Charles City Community Schools family who do a lot of outstanding things for students," he said. "We want to unify our mission and vision of the school in our activities, and our motto moving forward will be to build better people, and there are many ways we can do this."
The district describes the new position as a "leader of leaders." Harskamp will be working with the new associate activities director, Moriah Mitchell, who started in January after long-time activities director Todd Forsyth stepped down due to health reasons.
"We are unbelievably excited and energized about Tom Harskamp taking on this new role as our executive director," said Charles City Superintendent of Schools Mike Fisher. "This new role will provide strategic and visionary leadership toward all of our activities and everything around student engagement in our school family."
Harskamp said his top goal for the new position is to get more students involved, in things like choir, band and orchestra, athletics, and student-based clubs. He intends to encourage more students to become multi-sport athletes while participating in the performing arts as well. Harskamp said he is hoping to set an example for younger students and inspire them to achieve higher.
The district stated that Harskamp is already involved with several aspects of the position, as he is assisting with the search for a new varsity football coach and leading professional development of all district coaches.
"We are excited about the energy, passion and competence he's going to bring," Fisher said. "We are looking forward to the bright future for our students and coaches."
While in high school, Harskamp participated in basketball, track, baseball and football. Along with his athletic activities, he played trumpet in the band and performed in musicals, plays and competed in readers theater and group improv in speech.
Before coming to Charles City, Harskamp was dean of students at Marrs Middle School in Omaha as well a football, basketball, track and cross country coach.
Harskamp graduated from Sioux Center Community Schools and Buena Vista University, with a degree in elementary education and a minor in coaching. He also has a master's degree in educational leadership from Wayne State College. Harskamp is married to his wife Dana, who is an elementary principal in the Wapsie Valley Community School District. They have two children, ages 3 and 5.
Mitchell, the new associate activities director, graduated from Charles City High School in 2011 and continued her education at NIACC and the University of Northern Iowa, where she earned a degree in sports psychology. In her new position, Mitchell's roles include organizing and setting up extracurricular activities, informing non-conference teams on rules and policies, and creating new schedules for the following year.
The district stated that the search was already under way to fill Harskamp's co-principal position at CCMS.