Posted on
Yorkshire will remain a 'Boulevard'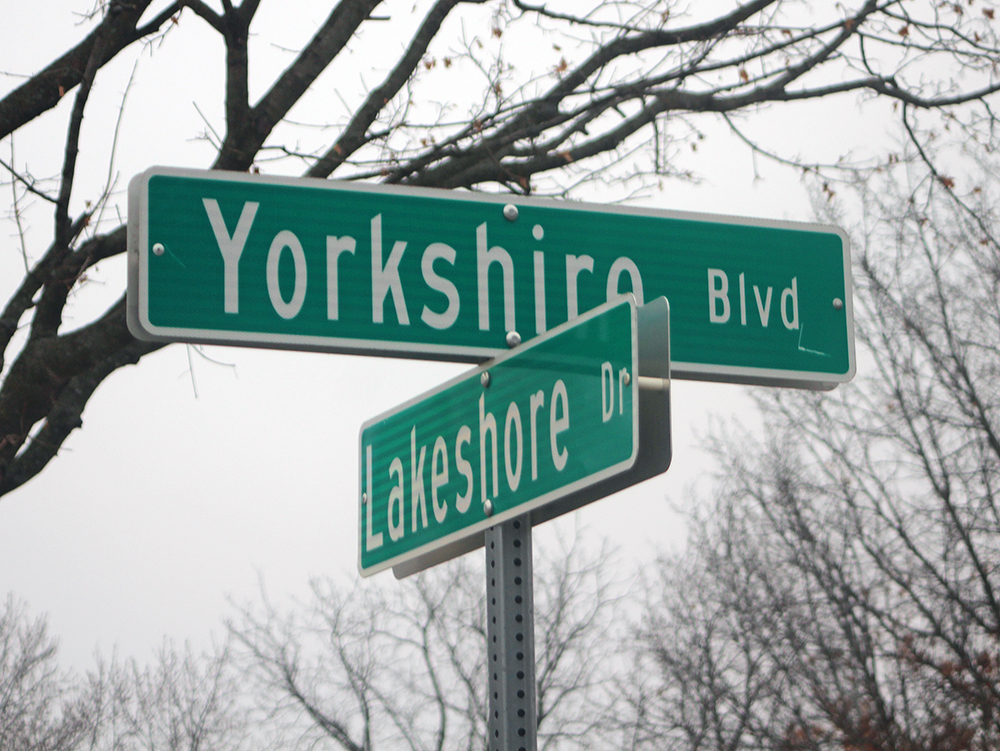 By James Grob, jgrob@charlescitypress.com
Yorkshire Boulevard in Charles City will remain Yorkshire Boulevard.
At Tuesday's meeting, the Charles City Council voted unanimously to draft a resolution to keep it that way. The resolution will be voted on at the next council meeting.
"It's been labeled a boulevard, but as we've learned over the last few months, in a lot of official places, it's known as 'drive,'" City Administrator Steve Diers told the council. Diers said the issue first came to his attention during the federal census process, and that it is possible that some people who live on the road may not have been officially counted.
There were also concerns that the name discrepancy might impact the E911 process, but the council has been informed that it would not.
The street is located on the east end of town, off Lakeshore Drive just past the Elks Lodge on Clark Street.
At a council meeting in December, Diers told the council that the street is platted as 'boulevard,' but at some point it started showing up as "drive" in various places. He said that various entities, including the U.S. Postal Services and the U.S. Census Bureau, have it listed as "drive."
At the same meeting, Dennis Petersen, who lives on the street, said that the discrepancy creates more problems than just a debate over a name.
"Our passports, drivers licenses, credit cards, insurance, Social Security, Medicare — the list is longer than my arm," Peterson told the council. "We have to go back and change everything."
No one seems to know when or why the street changed from boulevard to drive, but City Engineer John Falls said that all addressing goes back to the state E-911 system. Fallis said that the street is referred to as "boulevard" in all the city mapping and by the Charles City Police and Fire Departments, and that's what they would prefer.
City staff had reached out to Yorkshire residents regarding whether they would prefer their street to be known as boulevard or drive. Of the 26 homes that have a Yorkshire address, 19 residents responded to the survey. Of those, 11 prefer drive, five prefer boulevard, and three have no preference. Seven did not respond.
Council member Phoebe Pittman said that ultimately, there could be some residents for which it will be a hassle to change all the paperwork, but added that she grew up on a street where the name caused similar confusion, "and we always got all of our mail, all of our bills, all of our census information."
"In the long run, I think it's probably going to work out OK for everybody," Pittman said. "Nobody's going to be perfectly happy."
Previously the council had been advised that if it decides to use "drive," action will be required, since the platted street name is boulevard, but no action will be necessary if the decision is to continue using "boulevard" as the street name.
Diers changed his opinion on that, however.
"I'd like to see a resolution passed one way or the other, because right now, there's a question out there," Diers said. "It would be nice to have documentation stating one way or the other."
The post office has indicated that it could easily adapt to whatever the council decided. The Floyd County Assessor's office informed the board of the same thing.
Council member Jerry Joerger made the motion to keep the street as "Yorkshire Boulevard."
"No matter which way we go, there are going to be people who are going to have to change their information anyway," Joerger said. "Since it was platted that way and the sign says boulevard, I think we should keep it the same."
Diers said that if the road were changed to drive, it would probably have to be re-platted on official maps. City attorney Brad Sloter didn't know for certain if it would have to be re-platted, but indicated that if they just kept it as boulevard, he wouldn't need to look into that.
"It sounds like it would be the same amount of work involved either way," said council member Philip Knighten. "It's going to be some work for some people, regardless."
Knighten recommended that a clear explanation be given to all who reside there.
"I don't feel strongly one way or the other," Knighten said. "I just want the people who reside there to have a clear understanding of why we went the way we decide to go."
The council was assured by staff that letters would be sent out and the residents would receive a clear explanation.
"Hopefully we won't have to hand-deliver the letters," Diers joked.