Posted on
Grassley visits Pub, takes questions from Farm Bureau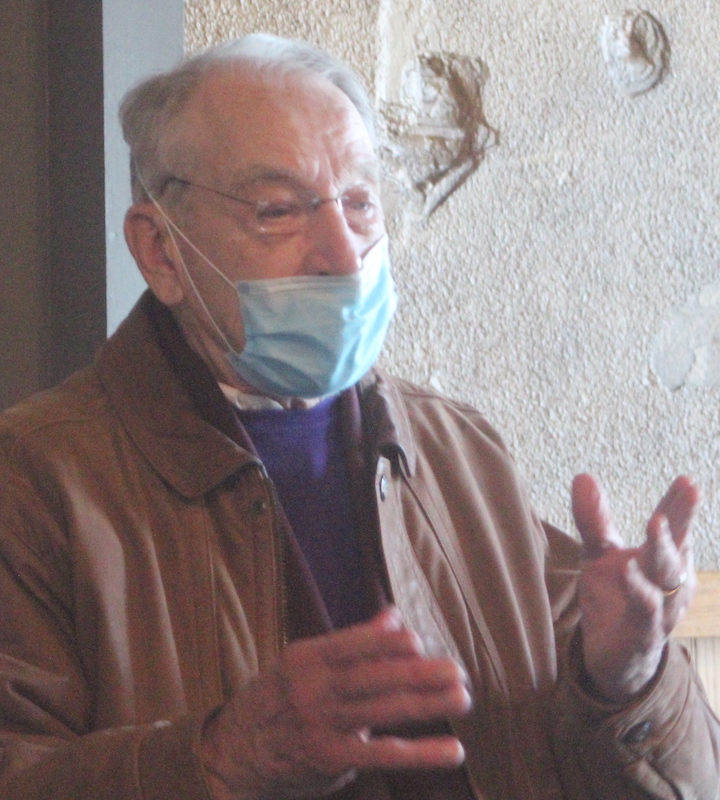 By James Grob, jgrob@charlescitypress.com
Sen. Charles Grassley (R-Iowa) said that although he wasn't ever comfortable with former President Donald Trump's style of governing, he supported Trump on most issues, and liked that Trump came into Washington and "upset the apple cart."
"I wish that would happen every four years," Grassley said. "If he just wouldn't have always taken everything so personally all the time, he'd probably still be president."
Grassley, who was first elected to the Iowa House in 1959, to the U.S. House in 1971 and has served in the U.S. Senate since 1981, didn't have much more to say about Trump on Friday at The Pub on the Cedar in Charles City, as about a dozen members of the Floyd County Farm Bureau and other area Farm Bureaus were there to question Grassley, as well as offer support.
Grassley said it was more constructive to look ahead and focus on the policies of the new administration.
Farm Bureau members asked Grassley questions about national spending on COVID relief, future farm bills, trade policy, environmental policy, and President Biden's cabinet appointments, among other issues.
Grassley had positive things to say about most of Biden's cabinet nominees, and thought most would get confirmed without much of a fight.
In particular, Grassley expressed support for former Iowa Gov. Tom Vilsack, even though Vilsack is a Democrat. Vilsack has been nominated to serve as secretary of agriculture, a position he held under former President Barack Obama.
"I hope he gets confirmed 100-0. I think he'll be overwhelmingly approved," Grassley said. "Vilsack is very good."
Grassley said he didn't expect Biden to make many changes to current farm programs in the next couple years, and expected any major changes to be placed on the back burner until a new farm bill is up for consideration.
"One thing farmers need is certainty," Grassley said. "Even if I thought that minor changes were needed, I would be hesitant to make them, because that would open the door for everyone to want to change things."
Grassley did express concerns about a few of Biden's cabinet nominees, especially Secretary of Interior nominee Rep. Debra Haaland.
Grassley said Haaland has a long record as a vehement opponent of fossil fuels, and if her policies were implemented, it could harm Iowa's ethanol industry.
If confirmed, Haaland, a New Mexico Democrat, would be the first Native American person to hold a Cabinet position, a significant symbolic step for the federal department charged with overseeing most federal-tribal relations.
Several other Republicans in the Senate have raised objections to Haaland's views on oil and gas policy, which some have called radical. Haaland's confirmation hearing is scheduled for Tuesday.
In regard to Biden's proposed COVID relief package, Grassley echoed the thoughts of economist Larry Summers, who has said the $1.9 trillion relief package is just too much money.
Grassley said that $4 trillion has already been put into COVID relief, and a high percentage of that money has not yet been spent. He said he was especially opposed to the proposed $15 minimum wage, which is part of the relief package.
He said there were one or two Democrats in the U.S. Senate who have expressed reservations about the high price tag of the package, so he was hoping something smaller would ultimately be presented, although it probably wouldn't be small enough for him to vote for it.
Regarding trade issues, Grassley said that it was often better to be a part of international trade agreements, as the United States would have more leverage against China in conjunction with other nations with the same interests, than it would have in bilateral negotiations.