Posted on
Bilharz among first women recruits at San Diego Marine Corps training depot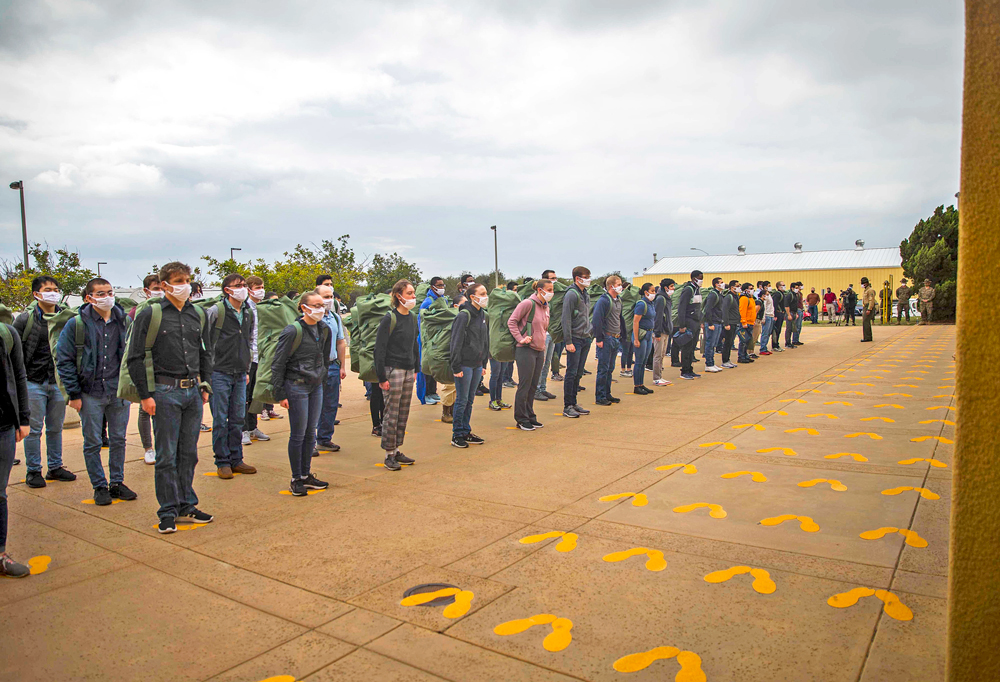 By Bob Steenson, bsteenson@charlescitypress.com
A young Charles City woman is becoming a part of history right now as one of the first females ever to go through basic training at the Marine Corps Recruit Depot in San Diego.
Mackenzy Bilharz, a 19-year-old Charles City High School graduate, is one of 60 young women selected to be in the first cohort at what up until now had been a men-only institution.
There have been women Marines for more than 100 years, but all who have gone through the rigors of boot camp have done so at Parris Island, South Carolina. No woman has been trained in San Diego — until now.
Mackenzy's dad, Travis Bilharz, said it came as a surprise when his daughter — the middle of three siblings with older sister Alysha and younger brother Kaleb — announced she wanted to enter the armed forces.
During her junior year, her dad was telling her she had better start thinking about colleges and making college visits.
"She said, 'Well, I think I want to go into the military.' And I'm like, What? We'd never talked about that before," Travis Bilharz said. "She said, 'Yeah, I think I want to go into the military."
He said she initially thought about going into the Army, but "that didn't pan out the way she wanted it to," so she decided on the Marine Corps. She signed her enlistment papers about a year ago in Des Moines.
It probably shouldn't have come as too much of a surprise. Travis Bilharz's father was in the Army, but Travis, his brother, and a cousin — local police officer Brad Bilharz — are all former Marines. Brad's son, Dylan, is currently serving.
"So I think she's the fifth Marine in the Bilharz family," Travis said.
In 2019, Congress ordered the San Diego boot camp to integrate women into its training battalions by 2028. Even at Parris Island, men and women have mostly trained separately, and there, too, the Corps is under directions to integrate.
Staff Sgt. Ayesha Zantt, a Marine drill instructor, recently transferred to San Diego from Parris Island, where she had led recruits since 2017. Women training in San Diego is a big step for the Marines, she said.
"It's history," she said. "It's important."
Though she will not be this cohort's drill instructor, she was the first one they met upon arrival at the depot. Zantt boarded the first bus of men and women and yelled instructions as the new recruits disembarked.
Mackenzy, who played basketball and ran cross country and track in high school, was supposed to have reported to basic training at Parris Island last September, but the date kept being pushed back because of COVID-19, Travis Bilharz said.
She found out in October that she had been selected to go to boot camp in San Diego.
"There's only 60 girls in the whole United States they picked to do this … she's the only one from Iowa," Travis said.
"They picked the most physically fit ones, the ones that they thought had the best chance, the best of the best out of all the female poolies," he said, using the term for Marine recruits who have passed all the entrance requirements but have not yet started basic training.
Mackenzy finally left for San Diego on Jan. 25, but her introduction to Marine Corps life was still two weeks away, as the recruits all had to wait out a quarantine before showing up on Feb. 9 to take their positions on the famous yellow footprints that show new recruits where to line up.
Mackenzy could talk with her family while in quarantine, but once they start training, recruits are allowed to make only one quick phone call home to let family know they have arrived safely, then after that they can communicate only by letter while going through the 13-week boot camp.
"We got one letter from her on Friday. Her brother got a letter from her yesterday (Tuesday), but it was basically the same one that we got," Travis Bilharz said. "She's saying that she's doing well. She likes it. That's what she tells us, anyway."
Despite the recruits being isolated at the training depot, families of this particular group have been able to track their progress and activities somewhat on social media and through regional and national press coverage.
"There's lots of Facebook pages and families that put stuff on so families know what they do day by day. This is such a big deal because it's the first platoon of females that's been out there, so it's been publicized quite a bit," Bilharz said.
"She was actually on the TODAY show today," he said Wednesday. They recorded the segment and were able to pause it when Mackenzy appeared in the picture.
Graduation day for the platoon is May 7th, but Bilharz said they don't know yet whether they will be able to attend.
COVID-19 concerns have kept the base closed to the public, but he said they're holding out hope that it will be open by May.
After graduation, Mackenzy will continue her training as part of her four-year enlistment.
"She supposed to be doing motor transport, so she'll be driving the big trucks," Bilharz said. "She won't know exactly that that's what she gets to do until after boot camp, but that's what she signed up for, and more than likely she'll get that."
The 60 women form one of the six platoons that comprise Lima Company, living in a squad bay in the company's barracks.
Capt. Ashley Sands is overseeing three Lima Company platoons as lead series commander, including the women. Sands said that while she's excited to be a part of integration, she does not think things will be that different.
"We're going to be training essentially the same ways that we have been for years," Sands said. "But I think it really is just a big moment in terms of being able to do this for the very first time."
Col. Matt Palma, the commanding officer of the recruit training regiment, said the women of Lima Company will endure the same training obstacles as the men — including the grueling "Reaper" hike at Camp Pendleton that is part of the last phase of training. During the hike, recruits traverse rugged terrain and charge up a steep ridge while carrying 55-pound packs.
"We're going to train them so they can be successful — they're gonna do it," Palma said. "They're gonna hike the Reaper with the pack just like the males and we're gonna train them to do it."
The Marines are behind other military services, which integrated their recruit training by the 1990s. Women comprise about 8% of the Marine Corps, the lowest percentage of the services.
Lima Company will serve as a "proof of concept," which means it will be used to demonstrate that San Diego can effectively train women alongside men, Palma said. The depot has requested to train another cohort of women this summer but is still waiting on a decision.
— The Associated Press contributed to this report.