Posted on
From challenges to triumph: Charles City High School Class of 2021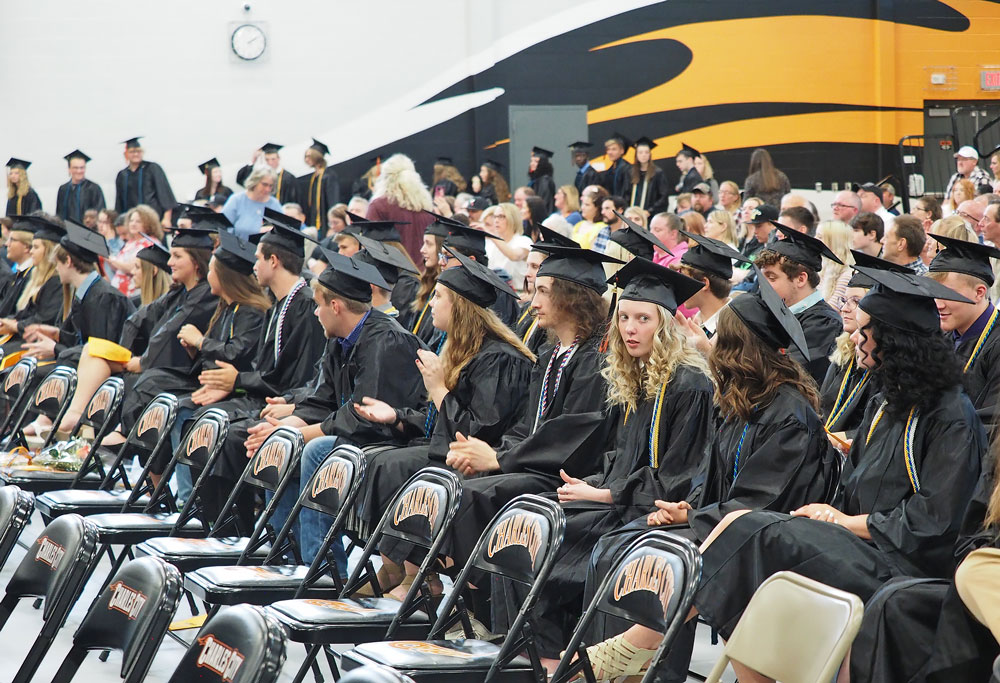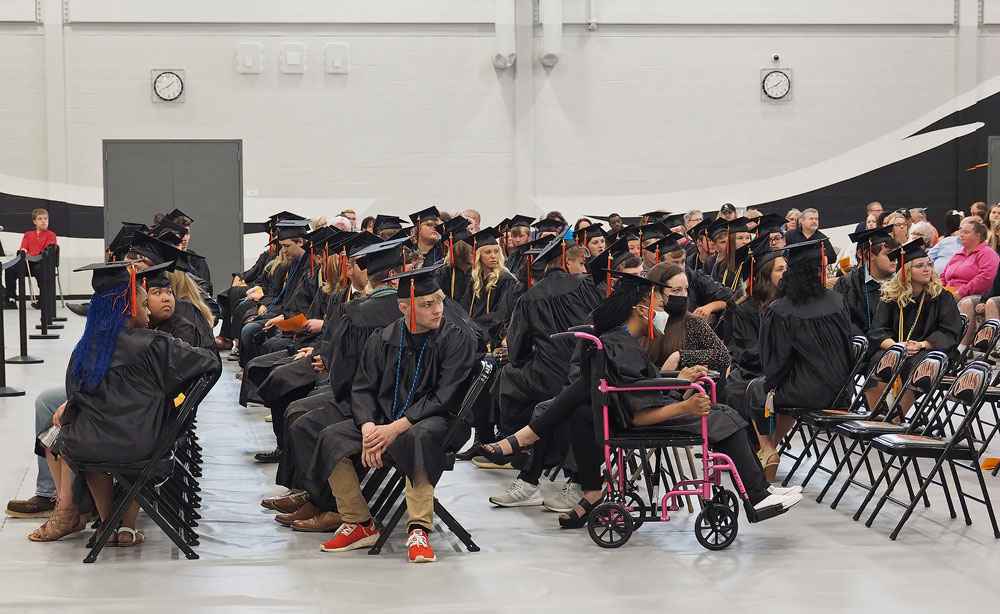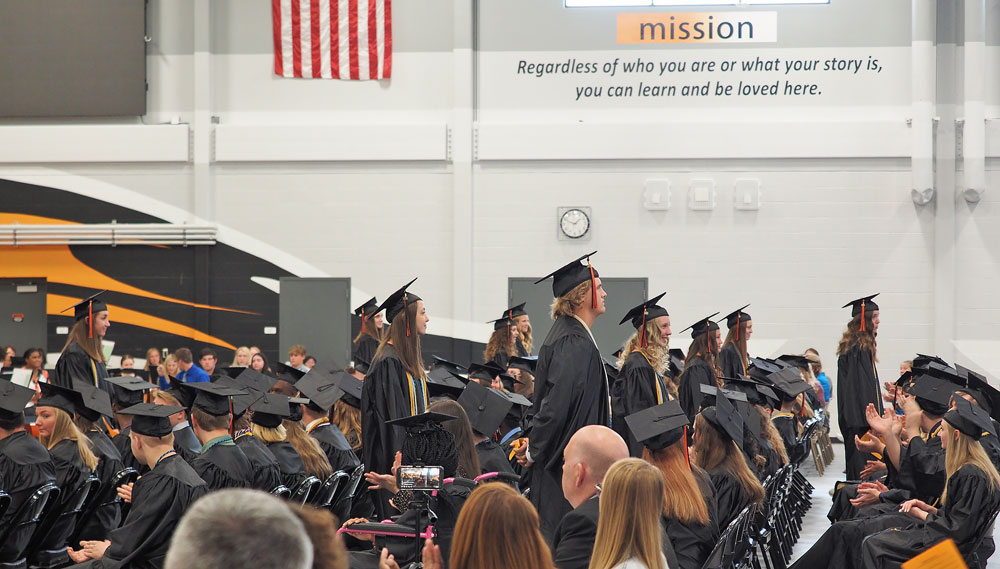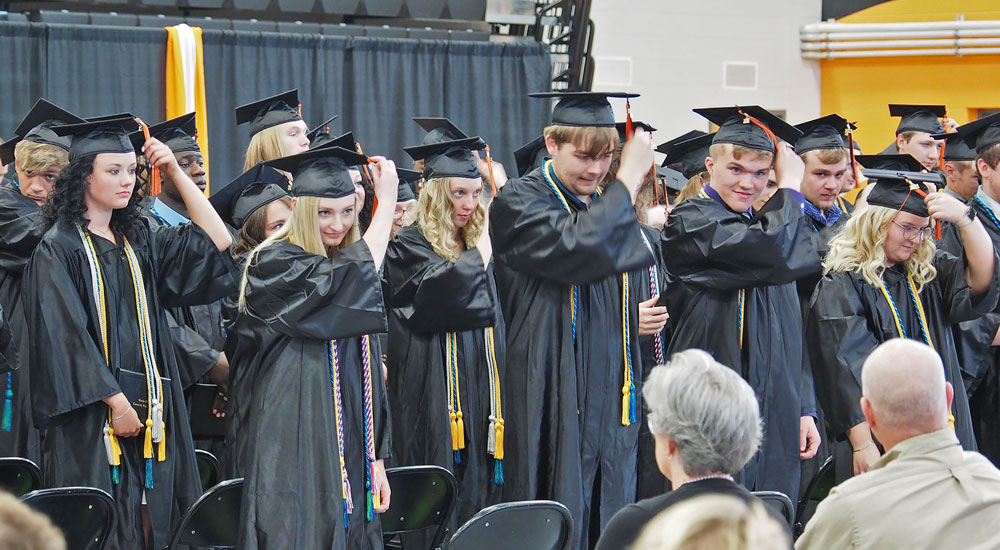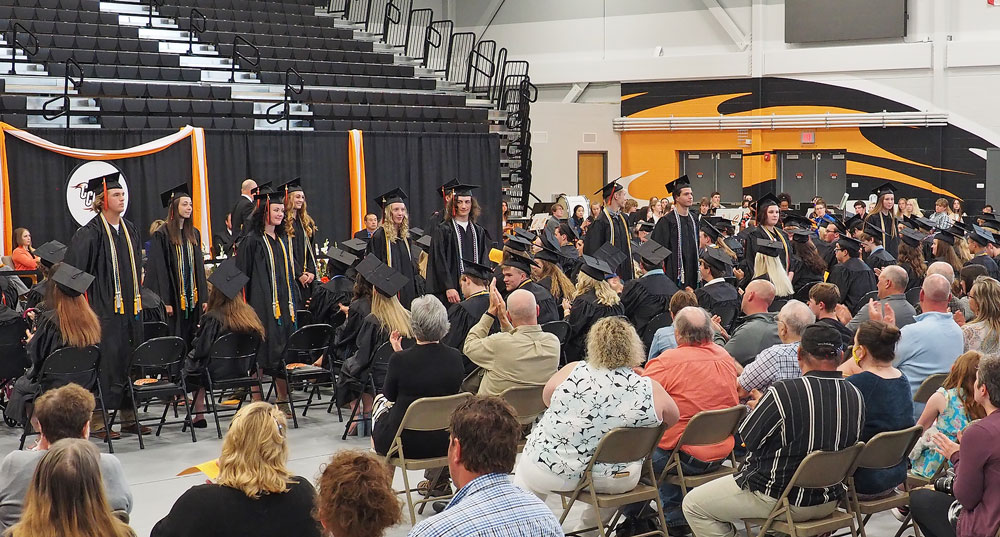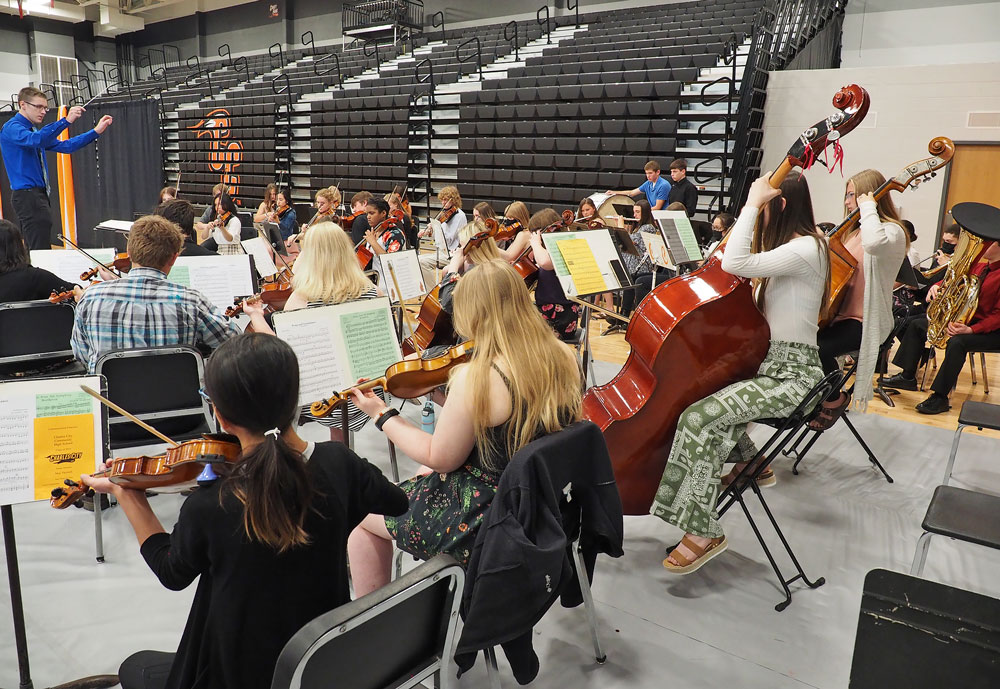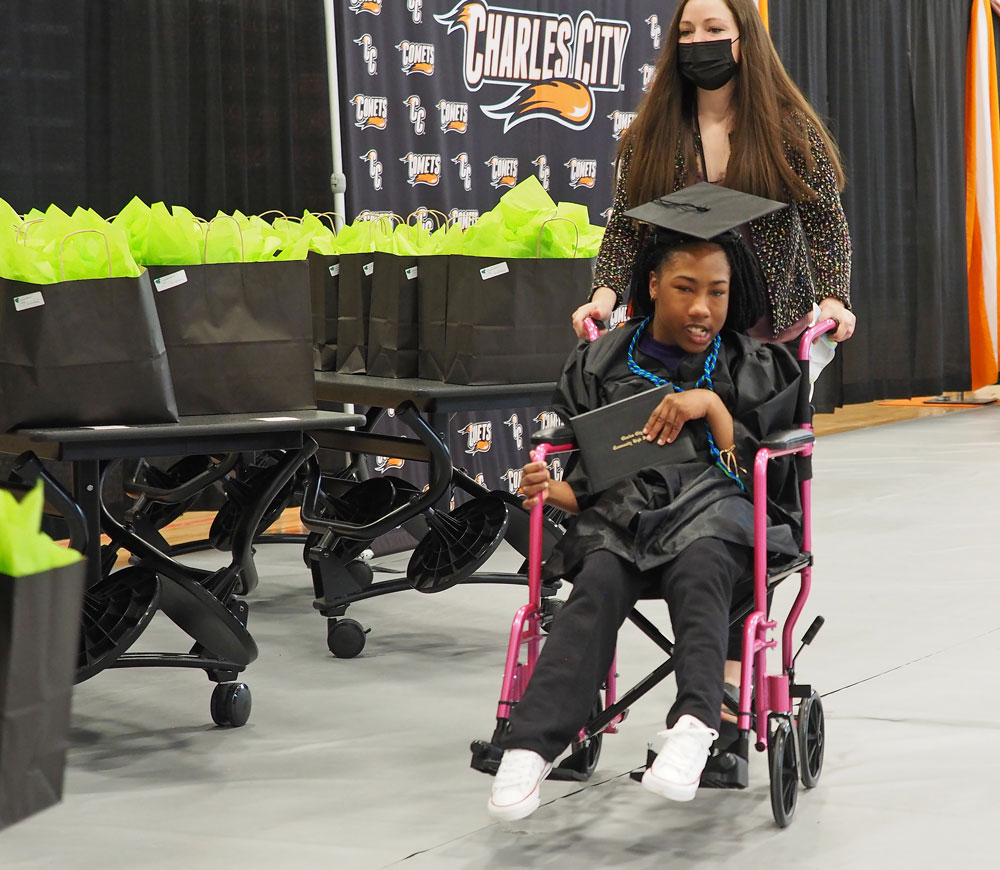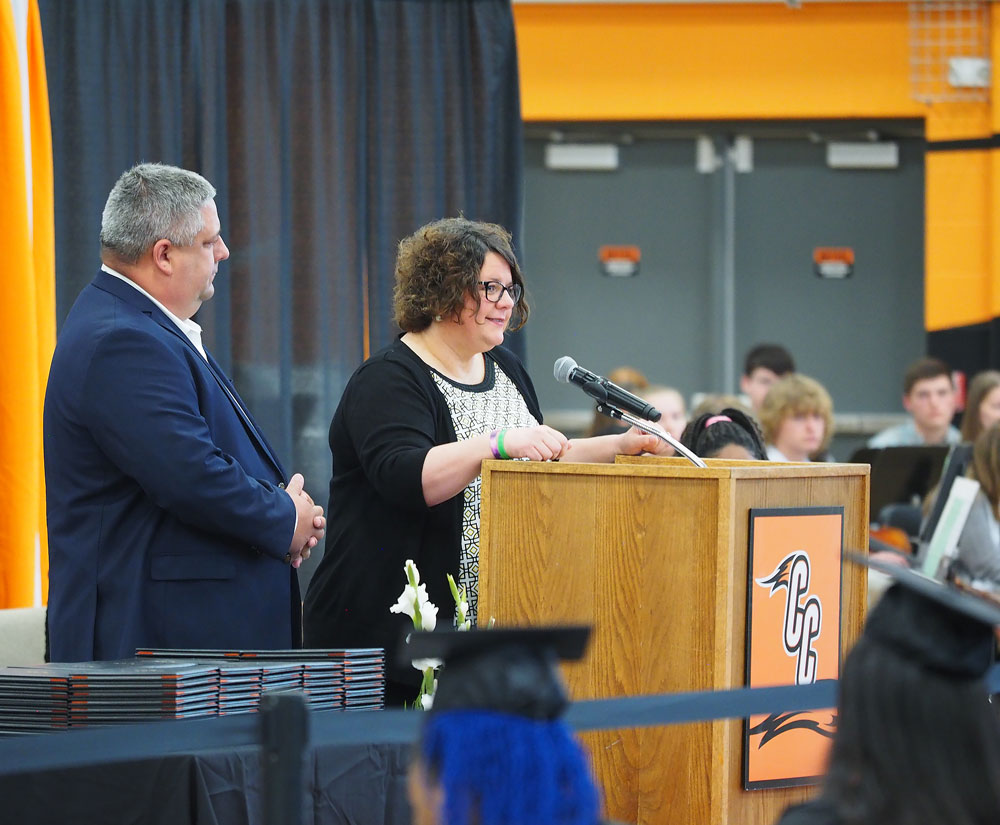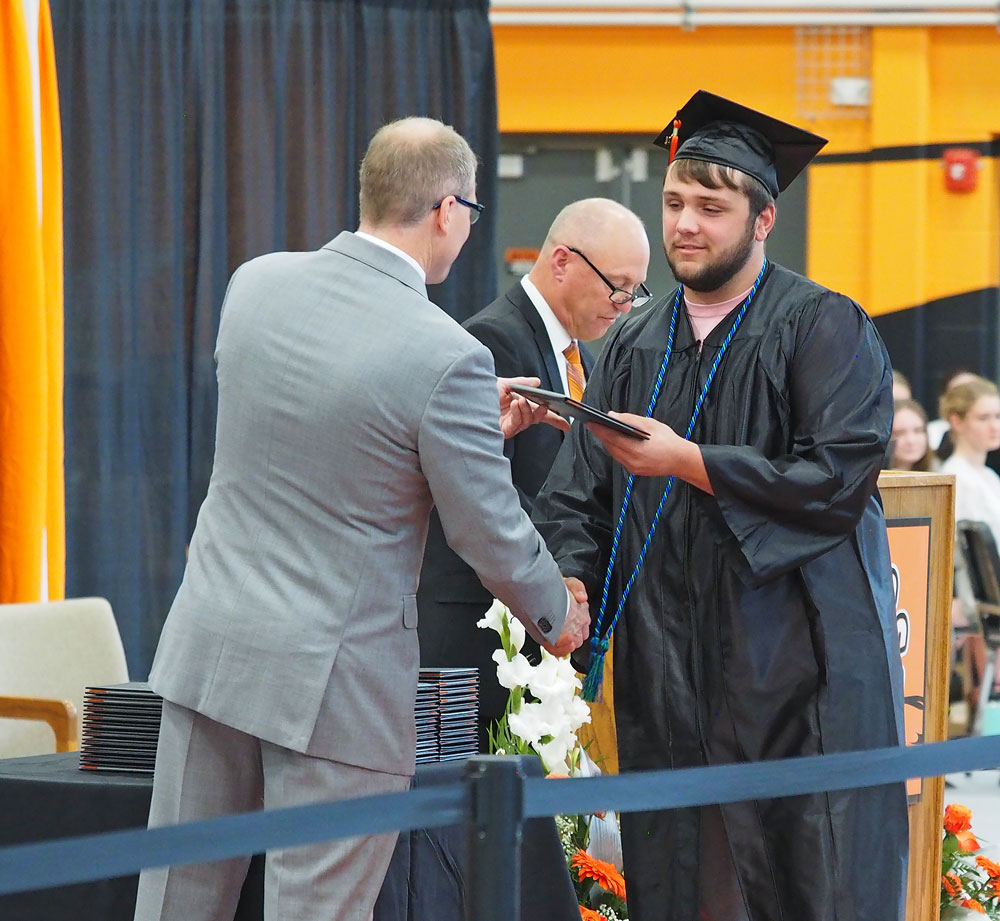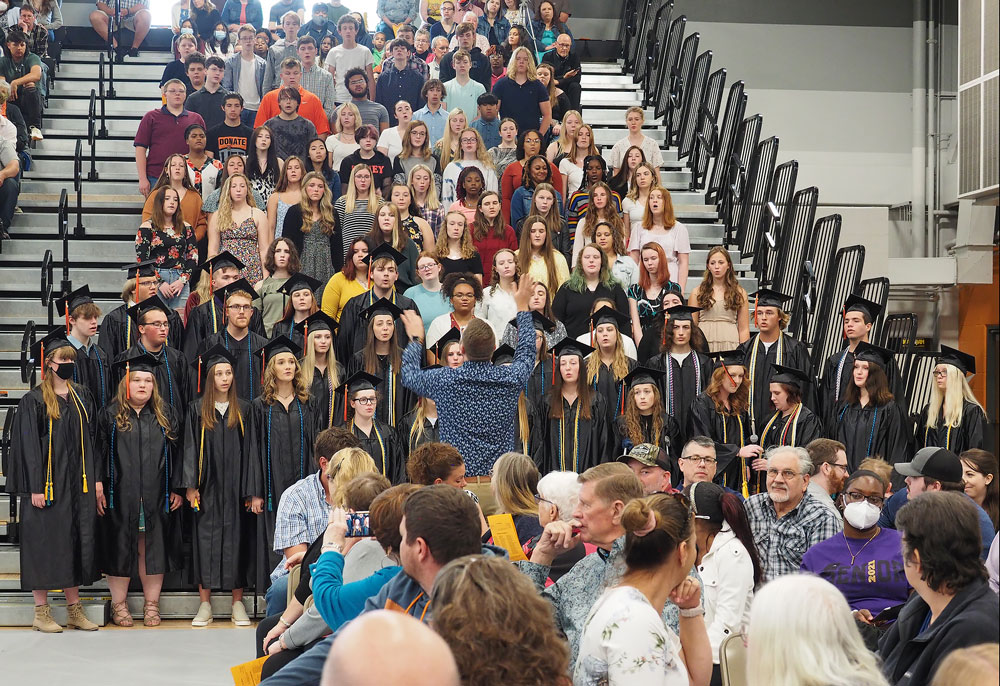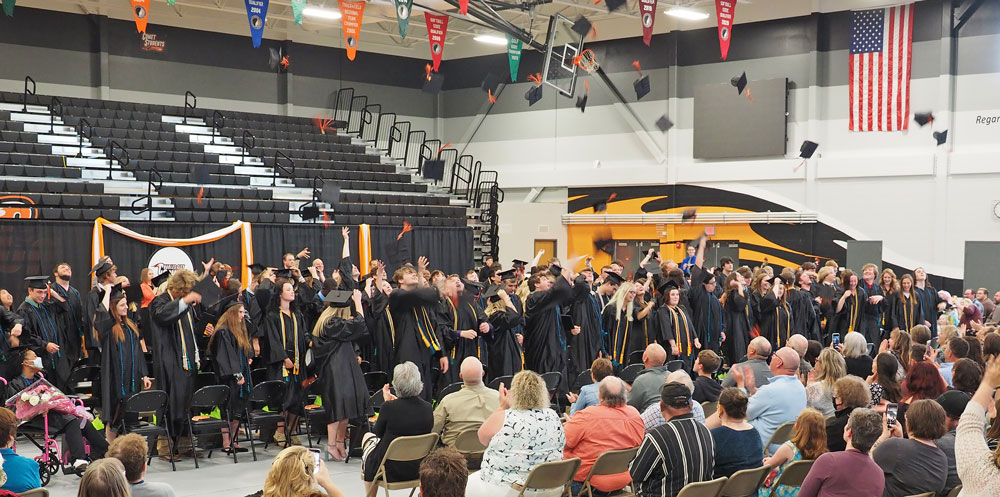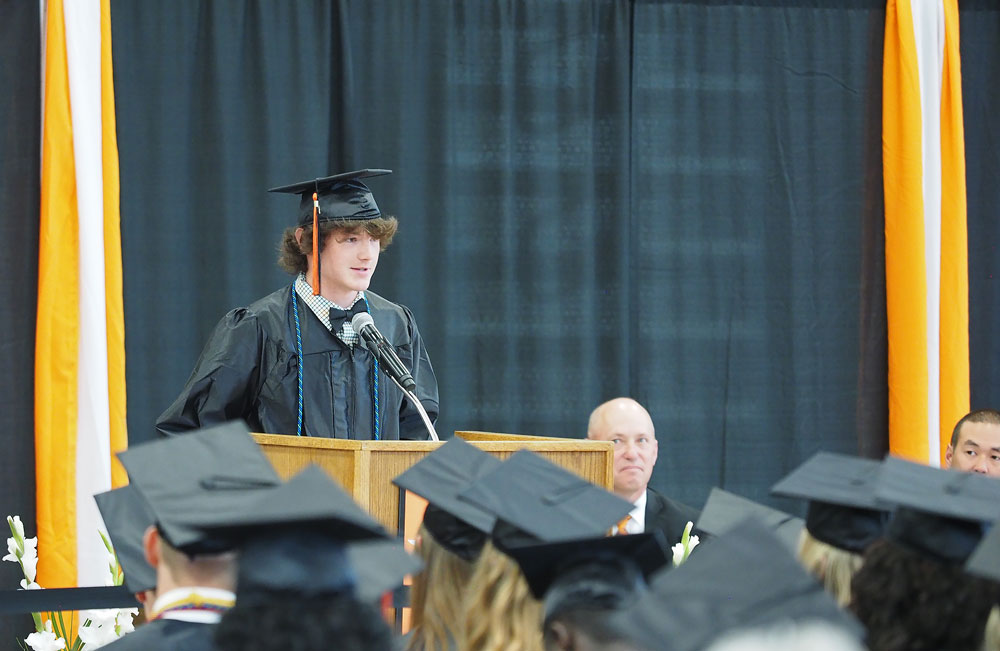 By Bob Steenson, bsteenson@charlescitypress.com
One hundred and thirteen young persons transitioned from seniors in high school to alumni at the Charles City High School graduation ceremony Sunday afternoon in the Comet Gym.
It was a ceremony with all the traditional elements — "Pomp and Circumstance," words of wisdom from school administrators, student speakers, music from the choir and the band, awarding diplomas, graduates giving their caps a joyful toss in the air.
Those traditions — held at a familiar time in a familiar place — marked the ends of high school careers that were likely more different than any in memory.
Last year at this time, masked graduates of the Class of 2020 and their families paraded in individually to receive their diplomas in an outdoor ceremony at the front of the high school, with families observing social distances, no crowds, fewer hugs and handshakes and a surreal feeling to it all.
The actual 2020 graduation ceremony — again masked and socially distanced — took place months later on the football field, just weeks before many of the graduates would be heading off for other schools.
This year, everything felt, well, sort of normal.
"After a school year of hybrid schedules, masks, quarantines, we were finally able to be mask-free our last week of high school, and just in time for graduation," commented Libbie McKeag, one of two student speakers chosen by the student body and staff.
Here's the Class of 2021 by the numbers:
• Graduates: 113.
• On the honor roll with a GPA 3.0 to 3.49 — 23.
• On the honor roll with GPA 3.5 or higher — 50.
• Members of the National Honor Society — 31.
• Silver Cord recipients for 200 or more hours of community service while in high school — 12.
• Classmates missing but certainly not forgotten — one.
High School Principal Bryan Jurrens noted that there was one empty chair among the graduating class, with a single rose on the chair as a memorial to Logan Luft, a classmate who was killed in an ATV accident in July 2017, before the start of their freshman year.
Logan's parents, Wendy and Lenny Luft, donated blue and green cords for each graduate to wear, and gave each graduate a goodie bag containing a "Luft Tuff" blanket and T-shirts.
Speaking to the class, Wendy Luft said she remembered receiving phone calls from teachers and students after the class attended its freshman retreat. She was told how the class members started talking about Logan and how they were heart-broken that he was no longer with them.
"That afternoon you ended with a solemn commitment to embrace your high school years, making the most out of every new opportunity," Luft said.
"Well, you nailed it. We have watched you show up in crowds to support each other, taking more pictures than usual, and embracing every chance to make special memories," she said.
"As all of you know, there are going to be moments in life that are extremely difficult. The kind that suck the breath right out of your lungs — when you feel like things are too much and facing another day is just too hard. How you handle those situations will truly define who you are," she said. "Don't give up. Figure it out. Figure a way to get through it and don't ever forget that each one of you is from the class of Luft Tuff."
Speaker McKeag said each member of the Class of 2021 is like a puzzle piece, one of "a 7.64 billion-piece puzzle of the world population."
She talked about how events had shaped the class, including Luft's death and the COVID-19 pandemic that changed so much for the class.
All those things — as well as fellow classmates, teachers and parents — helped shaped the puzzle piece that each person is, she said.
The other student speaker, Kaden Barry, said that five years earlier he had been speaking at the grand opening of the new middle school about what an exciting time that was.
"And here we are, as seniors, ready for another exciting time as we move on in the next chapter of our lives," he said.
"The last four years taught us many things. The biggest thing they taught us is how to meet adversity head-on. Last year we were all pretty excited about an extra week of spring break — until it turned into something we never could have imagined," Barry said.
"Stuck in our homes, away from our friends, away from anything comfortable, and in a situation that no one was prepared for. But here we are. We got through it. And once again, as a team, we get to celebrate a successful four years together," he said.
After the diplomas were awarded, high school Associate Principal Larry Wolfe again offered the advice that he has shared with so many previous classes, advice that "Grandma Wolfe" wrote on his graduation card in 1982 — "Work hard. Dream big. Do Good. Now go make us proud."
Members of the Class of 2021 graduating class are:
Nicholas Ryan Aikey, 1;
Damien Garret Alton, 1;
Gillian Marie Anderson, 2, 3, 5;
Xavier Alexander Avelar;
RoseMarie Lou Baldus, 2, 3;
Kaden Joseph Barry, 1;
Alexander Dean Bauer, 2;
Jackson Patrick Biggerstaff, 1;
Quincy Remington Bill, 2;
Evan Marko Bjelica, 2, 3;
Zachary Allen Bogue;
Rebecca Jeanette Boyd, 2, 3;
Jeremiah Deion Chapman;
Caden Thomas Collins, 2;
Nicole Galvan Concepcion, 1;
Camryn Jill Connell, 2, 3, 4, 5;
Austin De Connerley;
Antwone Paris Cooper, 1;
Ashlynn Marie Cother, 1;
Allie Nadine Cross, 1;
Donald James DeBoest, 1;
Douglas James Ebel;
Ivane Frianeza Estaris, 2;
Daniyah Delisa Farley, 2;
Ally Marie Faulkner, 2, 3, 5;
Carrie Irene Field, 2, 3, 5;
Paul Jon Field, 1;
Michaela Rae Flood, 2;
Keisha Ann Fritz, 1;
Marissa Catherine Gallup, 2;
Sadie Lynn Gebel, 1, 2, 3;
Jasmine Elizabeth Gerleman;
Nathan Paul Girkin, 1, 3;
Saul Gonzalez, 1;
Aleczander Michael Goodsite;
Zachary Colton Graeser, 2, 3, 4;
Josephine Nichole Groesbeck, 2;
Ryan Delton Hallett;
Carter Cameron Hanson;
Morgan Elizabeth Haus, 2, 3, 4;
Trever Michael Heitz, 2, 3;
Christina Marie Hermanson, 1;
Josiah Glenn Hervert, 2;
Justin Harvey Heyer, 2, 3;
Devin Douglas House;
Jarrett Ray Huffman;
Roush Claire Jaeger;
Aaron Jacob Jensen, 1;
Kitarra Victoria Johnson;
Carter Ryan Johnston;
Lakiya Faith Jones;
Cameron James Kakac;
Adison McKenzy Kapping;
Kayla RaeAnn Kellogg, 2;
Koyer Dean Kellogg, 1, 3;
Karter Russell Kilby;
Kaylee Ann King, 1;
Daniel Richard Laube, 2, 3;
Joshua Michael Laue, 2;
Tyrese D Laws;
Nia Renee Litterer, 2, 3;
Katie Lynn Mahler;
Toni Danielle Maloy, 2, 3;
Olivia Delia Martin;
Israel Mboma Masamba;
Connor William McCann;
Libbie Gladstone McKeag, 2, 3, 4, 5;
Jacob Robert McKenna, 1;
Kellie Raquel McWilliams;
Avery Carol Merta, 2, 3;
Sarah Ann Mitchell, 2, 3;
Jadon Scott Moss;
Joseph Ryan Nettleton III, 2, 3;
Sofie Marie Nettleton, 2, 3;
Tyler Ray Neuroth;
Rylie Jo Patrie, 2, 4, 5;
Kolten Rylan Patten;
Emma Elizabeth Perez, 2;
Sydney Lucille Peterson;
Danielle Taylor Reetz, 2, 5;
Michael William Reh Jr, 4;
Jarrett Jeffrey Ritter, 2, 3, 4;
Nicholas William Ritzman, 1;
Aliya Rae Rodemaker, 1;
Drew Michael Roethler, 1, 4;
Emma Mae Marie Roney, 2, 3, 4, 5;
Brianna Lee Ross, 1;
Sydney Marie Ross, 2, 3, 4;
Jacquelyn Anne Elizabeth Rutherford, 1;
Cael Michael Ruzicka, 2, 3, 4, 5;
Mandi Rose Sande;
Payton James Severin;
Hope Devonna Slinger, 2;
Cameron Lee Smith;
Jamal Brandon Smith;
Sydney Rosetta Spieker, 2;
Alec Russell Staudt, 2;
Drew Charles Staudt, 2, 3;
Bryanna Nicole Stephens;
Carly Lynn Stevenson, 2;
Danielle Christine Stock, 2, 3, 5;
Antonio Uriostegui;
Lillian Gene Usher, 2, 3, 4;
Heather Marie Viers, 2;
Ricki Lamarie Walls;
Olyviah Martina-Kae Weber;
Owen Gilbert Weber;
Cole Allen White;
Megan Ann White;
Brittany Jean Willadsen, 2;
Cade Steven Williams, 2, 3;
William Richard Wilson, 2;
Eliza Gabriel Wolford, 2, 3;
NOTES:
– Honor student (3.0 GPA or higher).
– High honor student (3.5 GPA or higher.
– National Honor Society member.
– Silver Cord (150 or more hours community service while in high school).
– Academically distinguished (Top 10 GPA).