Posted on
Glenda Link
Glenda Link, 92, of Charles City, passed away Tuesday, Sept. 15, 2020 at 11th Street Chautauqua where she has resided for 5½ years in the Memory Unit.
A private family graveside service will be held at Sunnyside Memory Gardens. Pastor Russ Leeper, from St. John Lutheran Church, will officiate. Pallbearers are Lynn Hildebrand, Ryan Boehmer, Dave Boehmer, Dan Lantz, Rob Hagarty and Rick Hagarty.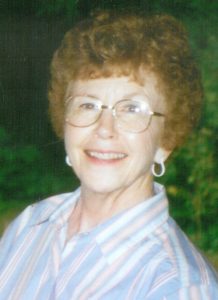 Glenda Otto was born July 24, 1928 to Fred and Nora (Tolle) Otto. She graduated from Nashua High School in 1946. She taught at Country Schools in Floyd County for the next few years and was active for years in the Former Rural Teacher Club.
In 1947 Glenda was united in marriage to Arvin Tibbitts. They raised their four children, Karen, Dick, Joyce and David on a farm West of Colwell. Glenda was a beautiful seamstress and loved making matching dresses for the girls and herself. Glenda was a 4-H leader for many years and a member of the Colwell Culture Club. She was active in Circle and teaching Bible School at St. John and later at Messiah Lutheran. Many remember Glenda's friendly smile and cheerful personality at Farm Fleet, where she worked for 20 years before retiring.
In 1977 Glenda married Fred Hildebrand at Messiah Lutheran Church, where she was eagerly welcomed by her new church family. She and Fred enjoyed gardening, camping, dancing, traveling and getting the family together for Holidays. Fred passed away in 1986.
Glenda loved spending time with her grandchildren, attending their concerts, dance recitals, ball games, graduations and weddings. Each summer she made apple crisp for each family…more than once! That's a lot of apple crisp! She loved to bake and was best known for her famous ground cherry pies and homemade caramels.
Glenda married Elihue "Beek" Link at Messiah Lutheran in 1992. Beek and Glenda did a lot of traveling to visit relatives and going south for the winter. They loved to dance and go out to eat with friends. Beek passed away in 2001.
Glenda's deep faith in God helped her get through the loss of three husbands, managing to pick up the pieces and stay strong. She was a prayer warrior for her family, friends and anyone else who needed it. Glenda spent a lot of time reading the Bible. Even after she couldn't remember many people, the great-grandchildren could always get a positive reaction from her.
Glenda is survived by her daughters, Karen Hagarty and Joyce (Dave) Boehmer and son, David (Patti) Tibbitts. Step children Craig (Phyllis) Hildebrand, Lynn (Julie) Hildebrand, DeOnne (Dale) Flack, Linda Klemesrud, Mike (Sonja) Link, Debbie Hayman, Cindy Maag and Greg (Edie) Link. Grandchildren, Brandi (Dan) Lantz, Rob (Tina) Hagarty, Ryan Boehmer, Nate Tibbitts, Lisa Nelson, Scott (Amanda) Boehmer, James (Jill) Boehmer and Kallie (Travis) Marvin. Sister, Wilma Pennington, sister-in-law, Ruth Otto and brother-in-law, Bill (Janice) Tibbitts. She is also survived by many step grandchildren and great grandchildren.
Glenda was preceded in death by her son, Richard (Dick) Tibbitts in 2016, husbands, Arvin Tibbitts, Fred Hildebrand, and Beek Link, her parents, a brother, Argyl Otto and brother-in law, Charles Pennington.
Memorials may be sent to the Alzheimer's Association or St. John Lutheran Church.
Hauser Weishaar Funeral Home, (641) 228-2323, 1205 South Main Street, Charles City, Iowa 50616 is in charge of local arrangements. Online condolences may be left on the Tribute Wall for the family at www.hauserfh.com.