Posted on
John Gerhard
John Gerhard, 59, of Postville, formerly of Marble Rock, died Saturday, Oct. 17, 2020, at Gunderson Health System, LaCrosse, WI, due to complications of the Covid-19. Private family services will be held at Retz Funeral Home, Greene with Fr. Ralph Davis of St. Mary Catholic Church, Roseville presiding. Interment will be in Roseville Cemetery. Public visitation will be 4–7 p.m., Friday, Oct. 23. 2020 at Retz Funeral Home, 519 N. 1st Street Greene, Iowa. Please wear a mask during the visitation. Memorials may be directed to the Family of John Gerhard, PO Box 21, Greene, Iowa, 50636.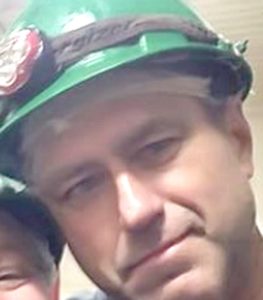 John Vern Gerhard was born Nov. 3, 1960, in Charles City, Iowa a son of Gary and Donna (Osier) Gerhard. John was educated in the Rudd, Rockford, Marble Rock School system.
John lived his life to the fullest and ran wide open with no fear, but he had a heart of gold and would help anyone who needed a hand. He liked to restore old equipment and tractors and had a special knack with engines of all sizes, including lawnmowers.
John lived in Kansas for many years where he drove semi and worked in the feed lots and on farms. He worked for several years at White Industries in Charles City and most recently in maintenance at Agri Star in Postville.
Left to remember him are his parents: Gary and Donna Gerhard, Greene; brother: Tim Gerhard, Mason City; sister: Jackie Adams, Greene; brother: Mike Gerhard (Laura Wood), Clear Lake; his girlfriend: Donna Cordes; three children: Adam, Cole and Kaycee; step-daughter: Kylie; nieces and nephews: Kristie Bales; Jamie (C.J.) Goltz; Ashley (Brian) Gansen; Chase (Gabi) Adams; Madison (Chris) Engels; Cade (Heidi) Gerhard; Maci Gerhard; numerous aunts, uncles, great nieces, nephews and friends.
John is preceded in death by his grandparents: Carl and Catherine Gerhard and Don and Geri Osier.
www.retzfh.com