Posted on
Donald Dean Bluhm
Donald Dean Bluhm, age 84 of Charles City, IA, died Saturday, Feb. 13, 2021, at the Banner Baywood Hospital in Mesa, AZ.
Funeral services will be held at 11 a.m. Saturday, Feb. 27, 2021, at Trinity United Methodist Church in Charles City. Interment will be in Riverside Cemetery, Charles City. Join the family live on the Hugeback-Johnson Funeral Home Facebook page.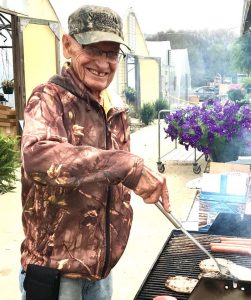 Visitation will be 9-11 a.m. Saturday before the service at the church.
Hugeback Johnson Funeral Home and Crematory in New Hampton has been entrusted with arrangements.
Donald Dean Bluhm was born August 20, 1936, in Charles City, IA, the son of William and Daisy (Law) Bluhm. He was the youngest of his parents' five children, and he attended country school through the eighth grade before attending Charles City High School, where he was a member of the Class of 1954.
After graduation, he worked at Oliver and later served in the U.S. Army. After receiving his honorable discharge, Don returned to Charles City, where he returned to work at Oliver.
One of the best decisions he ever made was the day he drove his shiny, new car to the A&W Root Beer stand in Charles City, for it was there that he met Judy Darrow. The two began dating, and on July 20, 1962, they exchanged wedding vows at the United Methodist Church in Charles City.
Don and Judy had three children — Delwin, who went by Matt, Donna, and Debra — and they grew up in a home with a loving father and who taught them the value of hard work.
He continued his career at Oliver, which later became White Farm, and worked there until the plant closed in 1993. Don did everything at the famed tractor plant — from tool design to working in the foundry to serving as a supervisor — but he was the kind of guy who always had two jobs.
His brother opened Bluhm's Greenhouse in the 1950s, another brother and Don took over the operation, and in 1970, Don bought the greenhouse — which remains in the Bluhm family to this day — and operated it until 1988. It was truly a family affair as Judy worked in the greenhouse, and when the kids came home from school, they'd help their parents, too.
Don's kids remember the family would be sitting down for dinner at 8 p.m. and they'd hear a knock on the door. Someone needed flowers and plants, and Don never said no. Instead, he'd take the customer to the greenhouse and help them get what they needed. Look up "great customer service" and there should be a picture of Don Bluhm accompanying it.
During the "slow times" for the greenhouse, Don would lay carpet. Not that he didn't have fun; he was an avid sportsman and loved to bow hunt and fish. He also enjoyed playing cards, but mostly, his free time was dedicated to his family.
After White Farm closed, Don worked for seven more years — finally retiring in 2000 from American Tool and Engineering — and the Bluhms became "snowbirds." They spent winters in Mesa, Arizona, and even after Judy passed away in 2013, Don continued to travel to the Southwest each winter.
As good of a father as he was, he may have been an even better grandfather. Don had six grandchildren and two great-grandchildren, and he always made time for them.
Don always had a big garden, one that he worked right up until last summer, and he always produced a bountiful harvest, canning many of his vegetables and enjoying them throughout the year.
For 84 years, he lived life to the fullest, and the sadness his children, grandchildren, and great-grandchildren feel about his passing is tempered by the fact that they know he's reunited with the love of his life. And who knows? Maybe Don and Judy are driving a shiny, new car into Heaven's A&W Root Beer stand.
Survivors include two daughters, Donna LaBarge of Tampa, FL, Debra Peterson of Charles City; six grandchildren, Kristi Majewski, Shawn LaBarge, James Bluhm, Kylie (Will) Knecht, Abby Peterson, and Alex Peterson; two great-grandchildren, Mariah Lappe and Skyler LaBarge; one sister, Avis Seelye of Charles City; one brother, Roger (Phyllis) Bluhm of Waverly.
He was preceded in death by his parents; his wife, Judy in 2013; his son, Delwin "Matt" Bluhm in 2019; two brothers, William "Bud" Bluhm and Allan Bluhm.