Posted on
Bohlen stays hot for state bowling title; Comet boys place 3rd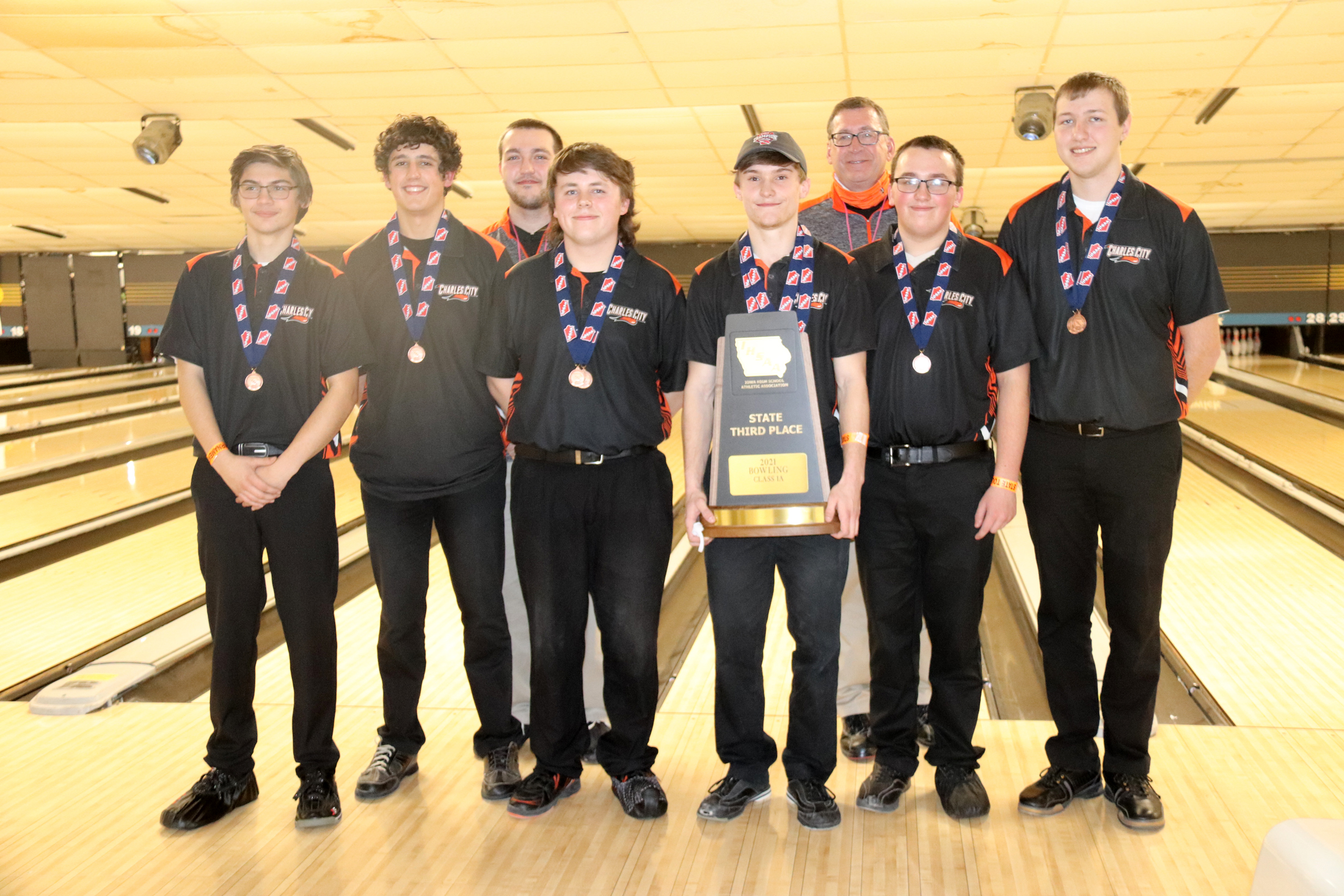 By John Burbridge
sports@charlescitypress.com
WATERLOO — Throughout the homestretch of the high school bowling season, Charles City junior Cael Bohlen remained hot.
And so did his equipment.
"I baked my ball before we came down here," Bohlen said, and … yes … we heard him correctly.
"My grandfather has a ball oven at his place, so we use that."
So why does one bake a bowling ball?
"It lifts the oil absorbed in the ball," Bohlen said. "When we bowl at home [Comet Bowl], the lanes are more dry so it doesn't need it all the time. But here, the lanes are a little more slick."
At the Class 1A Boys State Bowling Tournament held Wednesday at Cadillac XBC, Bohlen proved to be a master ball-baking chef, and that was not only in the … um … "Baker" Rotation round.
For the second-straight individual game dating back to the state-qualifier the week before where Bohlen rolled a near-perfect 299 game, Bohlen threw 11 strikes out of 12 first balls — only miss was a solid 8-pin in the sixth frame — on way to rolling a 279.
Bohlen continued to roll well in the second game with a 10-strike 267 game.
The 546 earned him the Class 1A state individual title — it was the third highest two-game series rolled in boys state competition history.
Last year, Bohlen placed runner-up for individual honors to Troy Edmunds of Camanche, whose 566 series is the state tourney's all-time high.
Two other Comets finished in the Top 10 among individuals — junior Dillan Ross, who rolled a 459 for ninth place; and rangy senior lefty Nathan Girkin, whose 457 is the highest series ever recorded by a 10th-place finisher.
With a 380 series by junior Kaleb Cotton, a 339 by junior Landon Luft, and an impressive five-game Baker score of 1,127 (224.5 average) which included games of 256 and 235, the Comets compiled a total pinfall of 3,308 — the third highest in school history, the team's second best of the season, and the greatest pinfall Charles City has ever recorded at the state tournament.
In 10 of the last 12 Class 1A state tournaments, the Comets' team score would have been good enough to win a state title.
This year it was bested by Class 1A team champion Louisa-Muscatine (3,414), whose girls team won its fifth-straight state title two days before; and runner-up Camanche (3,351), who was the Class 1A champion last year.
"Your goal is to always get down to the state tournament and win it all," said Charles City head coach Doug Bohlen, Cael's grandfather … the guy with the bowling ball oven. "But I can't complain about the way our kids bowled. It was a great tournament for them."
"It's just like in pro bowling … you can be throwing strike after strike, then you put one in the pocket and leave a split. That usually means someone is going to beat you. That's how tough the competition is."
It was the second-straight year in which the Comet boys placed third at state. In 2019, Charles City was state runner-up. Overall, the Comet boys have made eight appearances at the state tournament.
In the last frame of the season for him and the rest of his team, Cael Bohlen left a 2-10 split at the tailend of the fifth Baker game.
"I thought 'This could be my first open' after not having an open frame at the state qualifier," he said. "I didn't want that to happen."
Bohlen went on to convert the split, which provoked the biggest Comet team celebration of the afternoon, and struck on his next ball to complete the 235 game.
"I believe going a whole tournament without an open is a greater achievement than bowling a 300 game," said Cael Bohlen, who is still pining for that elusive perfect game — his near-perfect game at the SQ was his second 299 of his prep career with the first coming last season as part of a school-record 569 series.
"Going into this season, I worked more on picking up spares," Bohlen said. "Like with most people, the 10-pin for me is the hardest. You've just got to concentrate five-times harder to pick it up."
Like a "baker" striving to keep his kitchen clean, clean bowling games are especially important for an anchorman like Bohlen.
Strikes can be contagious, but so can open frames. With Bohlen marking in every frame, it at times helped the Comets right their ship and stay within title contention whenever several missed spares caused the team to list a little.
"I strive under pressure," Bohlen said. "I play three varsity sports, so I know what it's like to be put in these big situations."
Class 1A Boys Bowling State Tournament
Feb. 24
AT CADILLAC XBC, WATERLOO
Team Placing
(Trophies to Top 3)
Louisa-Muscatine 3,414
Camanche 3,351
Charles City 3,308
(CC Ind. — Cael Bohlen 546, Dillan Ross 459, Nathan Girkin 457, Kaleb Cotton 380, Landon Luft 339, Koyer Kellogg 326)
Monticello 3,293
Clarinda 2,987
Shenandoah 2,949
Vinton-Shellsburg 2,884
Forest City 2,639
Top 10 Individual
Cael Bohlen (CC) 546, 2. Levi Staley (LM) 496, 3. Allen Stauffer (LM) 494, 4. Jacob Hartman (C) 485, 5. Kayden Johnson (Durant) 479, 6. Troy Edmunds (C) 463, 7. Maison Gerdts (LM), 8. Keaten Bieri (LM) 460, 9. Dillan Ross (CC) 459, 10. Nathan Girken (CC) 457.