Posted on
Floyd County Medical Center adding another certified nurse midwife to staff this summer
By Bob Steenson, bsteenson@charlescitypress.com
The number of midwives at the Floyd County Medical Center will double this summer when Danielle Wadsworth becomes the second certified nurse midwife on the staff.
The county hospital and clinic announced recently that Wadsworth had accepted an offer to join the medical center. She will be working with Judi Halbach, ARNP, CNM, who started the medical center's midwifery program in April 2019.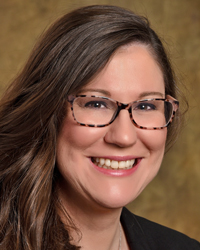 "We'll be sharing the practice," Wadsworth told the Press this week. "Currently she (Halbach) is the only midwife, so she is on call all the time.
"We'll be sharing so the patients will have kind of split appointments. That way, whoever's on call when they come in to deliver, they'll have met both of us and know both of us very well before they get to that point," she said.
Becoming a certified nurse midwife means Wadsworth can work in the hospital with women through labor and delivery, but also work in the clinic with women's health.
"I really wanted that aspect of it. Midwifery is kind of perfect because I get the best of both worlds," she said.
"We do full-scope midwifery — the well-woman care, the GYN, the prenatal, postnatal, intrapartum," Wadsworth said.
"I am just drawn to the whole woman experience, the process of the childbearing years. I think it's awesome that I can work with somebody and give them education on preconception counseling and help them with birth control options, and I can also work with women who are post-menopausal. I just love that aspect of it," she said.
"Being able to help them through all the different stages of their life is really cool to me — and being able to catch babies is just a plus," she said.
Wadsworth was raised in Ossian, in northeast Iowa, and met her future husband, Ed, while they were attending Ellsworth Community College in Iowa Falls. They then attended Iowa State University, and after graduating took their degrees — hers in apparel merchandising design and production, his in education — and headed to the East Coast.
She worked in the fashion industry in Manhattan and Ed was an agriculture teacher in Hackettstown, New Jersey, for a while, before Wadsworth decided what she really wanted was to so something in the medical field.
"That's when we moved back up here, because I grew up here so my family's here. They could kind of help us out as I started my journey," she said from Ossian Wednesday.
"I always had a passion for helping people," Wadsworth said, adding that when she started having children of her own she met amazing nurses and medical staff.
"I was just kind of struck and I loved it. I love women's health. I just have a passion for it, so I was kind of drawn to that area," she said.
Wadsworth enrolled in the nursing program at Northeast Iowa Community College in Calmar, graduating in 2017.
"I wanted to be a labor and delivery nurse for sure," she said. "I knew that I wanted to continue on and be an advanced practitioner, but I didn't really know what that meant. And I didn't have a ton of exposure with midwives until my nursing program. Then I was like, wow, I can do that? That's awesome!"
Becoming a certified nurse midwife requires a bachelor's degree in nursing before beginning work on a master's degree in nurse midwifery. Wadsworth had a bachelor's degree, but not in nursing.
A bridge program at Bethel University in St. Paul, Minnesota, allowed her to take credits from her previous degree and combine them with a year of core nursing classes to obtain a bachelor's degree in nursing.
"After completing my year of nursing courses successfully, I was then accepted into the masters program. So in May I will actually receive two degrees — a Bachelors of Science in nursing and a Masters of Science in nurse midwifery," she said.
Wadsworth said her training includes a year and a half of clinical experience.
"We have to have so many births, so many well-woman exams, so many PAP smears, so many postpartum visits. So the last year and a half of our program we're doing didactic work and doing clinical work. I'll have over 1,000 hands-on patient hours when I'm done," she said.
She did her first two semesters of clinical work with a midwife at the Winneshiek Medical Center in Decorah, where she works.
"This last semester is my integration semester and I've been down at MercyOne-Waterloo with a midwife there," she said. "So I've seen a mixture of low- and high-risk patients between the two clinics."
Wadsworth said she became aware that Floyd County Medical Center was looking for another midwife through a teacher at Bethel who had previously had Halbach as a student.
"She was in contact with her and she was like, 'I have the perfect person for you,' and so Judi invited me to apply and I applied and I met them and thought, 'This is awesome. I can definitely see myself here. So it just kind of worked out."
Wadsworth said she will graduate in a couple of weeks then take her board examinations in June. She isn't sure how long after that it will take to complete her certification, but she plans to join the FCMC staff "this summer some time."
She said she and Ed are planning to move to the area, and he is applying for teaching jobs. They have four children — daughter Remington, 9, and three sons, Gunnar, 7, Maverik, 2, and McHenry, 8 months.
Wadsworth said she's looking forward to beginning her new career in Charles City.
"There is nothing more intimate than handing a baby that you just delivered over to its parents," she said. "Being able to step back and watch them fall in love with this little bundle of joy that they hoped and prayed for, truly is a remarkable experience and I always feel honored that they have allowed me to be part of their special moment."