Posted on
Floyd County jury convicts Morris of child endangerment resulting in death of a child, but not murder
A Floyd County jury found a Charles City man guilty of a charge of child endangerment resulting in death, for the death of his infant son, but did not find him guilty of first-degree murder as he had been charged.
Instead of convicting him on the murder charge, the jury of seven men and five women found Shane Michael Morris guilty of involuntary manslaughter, which is an included offense under an indictment for first-degree murder.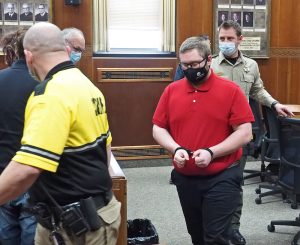 A conviction of first-degree murder is a Class A felony that would have come with a mandatory sentence in Iowa of life in prison without the possibility of parole. The child endangerment charge is a Class B felony, punishable by a prison sentence of up to 50 years.
Morris, now age 27, was charged in March 2020 with killing his 3½-month-old son, Xander, who had died at a Mayo Clinic hospital in Rochester, Minnesota, on Aug. 4, 2019.
According to Floyd County District Court documents and court testimony, Morris was caring for his son early Aug. 3, 2019, after Xander's mother left early for work. At about 7:30 a.m., Morris took his son to Floyd County Medical Center because Xander was having trouble breathing, and contacted Xander's mother to meet them there.
After treating Xander for almost an hour, including intubating him, a call was made by the medical center to Mayo Clinic for helicopter transport to that facility, and Xander arrived there about 10:15 a.m.
About 45 minutes after arrival at Mayo, a bulge was noticed on the back of Xander's head, a CT scan was ordered and a skull fracture was discovered, along with swelling of the brain.
After consulting with neurology and pediatric surgery departments, it was determined that no surgery was appropriate and Xander continued receiving support for his breathing through intubation, sedation and other medication.
Later that evening, after ongoing monitoring of the pressure in the child's brain and EEGs to determine brain activity, the family was advised that a decision should be made whether to continue mechanical life support.
"Life support was discontinued on August 4, 2019, at 4:30 p.m., and Xander was pronounced dead at 4:53 p.m.," a court record states.
Morris eventually told an agent from the Iowa Division of Criminal Investigation that he had fallen while carrying the baby, that the baby struck the edge of a counter and that Morris then fell on top of Xander.
But the prosecution made it a point to emphasize that Morris had not given that explanation to anyone at the Floyd County Medical Center, to any of the doctors or nurses who had been treating Xander all day at Mayo, or apparently to anyone else until pressured by DCI Special Agent Matthew Schalk later in the evening of Aug. 3 to explain what happened.
Schalk had traveled to Rochester to investigate a possible child abuse case that had been reported to the Iowa Department of Human Services and Charles City Police Department by Floyd County Medical Center.
The explanation given by Morris "just doesn't make sense," one of the prosecuting attorneys said over and over Wednesday afternoon in the closing arguments of Morris' trial.
Maureen Hughes, an Iowa assistant attorney general helping the Floyd County Attorney's Office with the prosecution, said Morris' account of what happened on the morning of Aug. 3, 2019, doesn't fit with the facts of the case, and in her closing arguments she referred to days of testimony from the doctors who treated Xander and from medical experts in child abuse that the injuries Xander had would be unlikely to have been able to be caused by an accidental fall.
An autopsy was performed at the Southern Minnesota Regional Medical Examiner's Office on Aug. 5, and concluded the cause of death was blunt force trauma to the head and the manner was homicide, meaning it was inflicted by another person.
"Xander was so cute and so young. He had so much life left to live, but that life was brutally taken from him when he was injured and killed by his own father," Hughes said in her closing arguments.
She said there were no signs of injury or anything else wrong when Xander's mother left for work, "but that all changed when Xander was left alone in the defendant's care," she said.
"Xander was a baby. He woke up. He was hungry. I'm sure he was crying. He needed his father to do the things for him that he couldn't do. Unfortunately, we'll never know exactly what the defendant did, because the defendant made sure that there was no one there to report," she said.
"But Xander's injuries and the defendant's actions tell us what happened. Xander suffered a skull fracture, a significant skull fracture that he could not have gotten on his own. What happened to Xander, those injuries, don't match the defendant's story he later gave," Hughes said.
"After that happened, the defendant didn't tell anyone what happened, because he knew what he did. He was hoping he could get away with it. Hoping it wasn't true. Hoping he didn't shake him as hard as he knew he did," Hughes said.
But Charles City attorney Judith O'Donohoe, representing Morris, said the state had not proven the charges beyond a reasonable doubt, pointing to what she said were holes and inconsistencies in testimony presented by the prosecution's witnesses and saying that authorities decided early on that Morris was guilty of child abuse and shaped the investigation to fit that conclusion.
O'Donohoe said Morris was afraid to tell anyone what happened for fear he would be blamed, adding that perhaps he was "a coward," but he was not a killer.
"What is it that would have caused Mr. Morris on August 3rd, 2019, to turn from a loving father, which I think is uncontested, into a killer of his own child?" O'Donohoe asked.
"That question is part of the proof if you're going to try to claim that Mr. Morris is a murderer of his own child, of what happened. And I don't believe we've heard anything on that point," she said in her closing arguments, saying the prosecution had not met the burden of proof beyond reasonable doubt and the jury should find him not guilty.
The jury received its instructions from District Court Judge James Drew and began deliberating Thursday morning. At about 3:30 p.m. it was announced the jury had reached a verdict.
Morris, who had been released on bail, was taken into custody Thursday afternoon as Judge Drew said he was no longer eligible for bail after being convicted of a forcible felony.
Drew set sentencing for 10 a.m. March 25 in Floyd County District Court.