Posted on
John William 'Pepper' Hild
John William (Pepper) Hild was born Dec. 23, 1938 in State Center, IA to John J and Roberta (Fiester) Hild. After graduating high school in Charles City, IA he attended the University of Iowa as a member of the Phi Gamma Delta fraternity. John married Shirley Nolte on Dec. 13, 1958 at Newman Center at U of I. He graduated with an education degree in 1960. Later he earned a master's degree from Mankato State, MN. John spent most of his 36-year career teaching elementary students in the Bloomington, MN school district. He also served 36 years in the Army National Guard retiring with the rank of Lt. Colonel.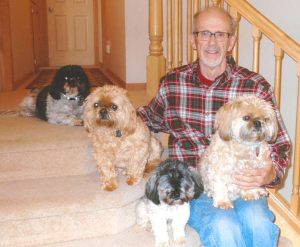 Pepper and Shirley lived in south Minneapolis for 27 years before retiring to their lake home in the Brainerd Lakes area. From 1997-2004 he served on the board of the Cullen Lakes Association. Shirley passed in 2009 and in 2011 John moved to Rochester, MN.
John loved to fish, read, antique shopping, gardening, rug hooking, keeping up with old friends and cookies. He had a wonderful, dry sense of humor and enjoyed playing Cribbage with family. He had a special love for his five canines: Riley, Charlie, Max, Gus and Sam.
He is survived by his children: Danielle (Matthew) Hecker, Lincoln, NE, John F (Kasira) Hild, Fairfield, CA, Michael (Jacqueline) Hild, Montrose, CO, and Katherine (Bradley) Lynne, Preston, MN, nine grandchildren and 4 great grandchildren. Predeceased by his sister Bev.
Private interment of cremains in Nisswa, MN. Memorials to Mayo Clinic Hospice, Rochester MN.