Posted on
Michael Eckenrod
Michael John Eckenrod, age 54, of Grand Junction, Colorado passed away peacefully at his home on Sunday, July 18, 2021 surrounded by family after a long and courageous battle with cancer.
Mike was born Dec. 15, 1966 in Charles City, Iowa. He was the son of Lorraine and the late Richard Eckenrod.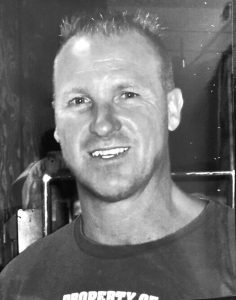 Mike attended Charles City High School then went on to attend NIACC in Mason City, IA earning a basketball scholarship from 1986 to 1988 graduating with an AA degree and finished his education on a basketball scholarship at Mesa State College in Grand Junction, Colorado from 1988-1991 graduating with a BA degree.
Mike was employed at UPS for 26 years. His love for basketball led him to become a high school and college basketball referee for over 20 years.
He enjoyed all sports! He loved basketball, working out, golfing, having a good time and of course the Iowa Hawkeyes. Most importantly Mike enjoyed being around his friends and family and making memories.
Mike was preceded in death by his dad, Richard Eckenrod; sister and brother in law, Linda and Ron Apel; nephew Steve Apel; and niece, Faith Eckenrod.
Mike is survived by Jen Meyer, Grand Junction, Colorado; his mom Lorraine Eckenrod of Charles City, Iowa; his brothers Keith (Cindy) Eckenrod, Tom (Lori) Eckenrod both of Charles City, Iowa and Bill (Jill) Eckenrod of Waverly Iowa. Also sisters Deb (Kirk) Bailey, Jean (Jerry) Wiltse, Nancy Eckenrod of Charles City, Iowa and Karla (Jeff) Klein of Prior Lake, Minnesota as well as many nieces and nephews.
Services for Mike will be held on Saturday, Aug. 21, 2021 at 1 p.m. at Bethany Alliance Church, Charles City Iowa, with visitation one hour prior to the service. Following the church service there will be a Celebration of Life service at Wildwood Golf Course. Mike wanted to be honored by getting together, laughing and telling stories. Please bring a favorite story or memory to share. Hawkeye attire is encouraged and preferred!
In lieu of flowers, a Mike Eckenrod scholarship will be set up at Charles City High School and a memorial bench/plaque will be purchased for Wild Wood Golf Course and the YMCA of Charles City.