Posted on
The Weekly Word: The Final Word
By the Rev. Matt Howlett, Pastor, First Baptist Church, Charles City
What an exciting honor to be writing the final Weekly Word column for 2021. What a year we have had as well.
As we close out one wild and interesting calendar year, I realize I have the opportunity to be the final message of faith many of you will receive this year. With that in mind, I will keep the message simple.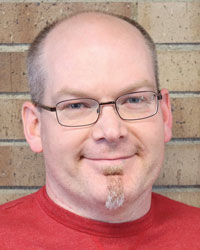 God loves you. If you remember nothing else, please carry that with you to the new year. God loves you so much that he sent his Son to take your place. He sent his son, so that you and I would not have to suffer the punishment we rightly deserve for our sins.
Know that Jesus went up on the cross. He suffered humiliation, scorn and unimaginable pain. He was the perfect, sinless sacrifice for all of our sins.
God loves each of us, regardless of the mistakes we have made and the sins we have committed.
No matter what has happened in your life throughout this year – if you have suffered many hardships or received abundant blessings; if you have walked a path of righteousness and faith or have fallen into darkness and despair – God loves you.
As we come to the final hours of the year, know that tomorrow is a new day and a bright new beginning. Whatever the last year has brought you, make 2022 the year you hold in your heart the knowledge that God loves you.
God loves you no matter what. God will forgive anything you have ever done. God can redeem anything that has been done to you.
The final word I have for you this year are ones many of us know by heart and have heard since we were very young. The Apostle John in his Gospel verse 3:16 gives us the final word to close out 2021 and carry us into a bright new year.
"For God so loved the world that he gave his one and only Son, that whoever believes in him shall not perish but have eternal life."