Posted on
Buss offers new opportunity for Charles City small business owners
By Molly Ann Howell, Special to the Press
Sometimes when you work from home and/or own your own business, finding a quiet space to work can be difficult.
Or at least that's the problem Marathon Videography's owner Jacob Buss was having when he worked out of his own home, and that's why he decided to rent out a building in downtown Charles City to help other people like him who were facing this problem.
Buss now rents out a space at 703 N. Main St., the former Charles City Dental Association building, for his own business featuring high quality videography for weddings, sports, businesses and real estate. But he also has space available for others.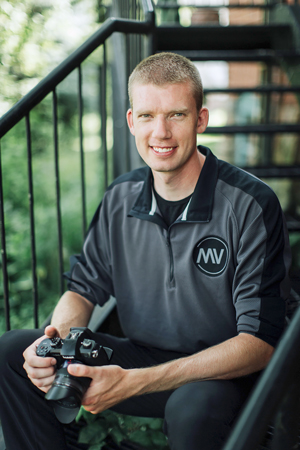 He explained in an interview that he wanted to create an affordable option where people can work, especially for small business owners who may just be starting out. He wanted Charles City to have another option for people starting out in business to work besides the library or a coffee shop.
"…[Y]our business doesn't feel official when you're working at home, and it's hard for perception purposes of the community to see you as an actual business," he said.
Buss has a special interest in creative entrepreneurs like himself, such as photographers and videographers. So he built a studio and supplies his clients with backdrops, lights and just about everything else they could need.
Stephanie Williams is the owner of Blue Bird Photography, and she began renting office space from Buss back in August. She said they've had a great business relationship so far.
"Jake's been really easy to work with. He's a great guy," Williams commented. "He's made everything really easy, super accommodating. Anything I need he's definitely on top of getting it for me."
Williams also stated that moving downtown has been great for her business.
"I've run my business out of my home for the last five years, so being able to move downtown has been kind of nice and freeing," she explained. "My current clientele has been super appreciative of having kind of a different location."
But the space isn't just for photographers and videographers.
Dwanna Sykes is a hairstylist, and she moved into her new salon space at the location in November.
She recently relocated to Charles City from Dubuque, and she said building up new clientele in a new city has been a little bit slow going, but that ultimately, she's been an "off and on again steady busy."
Buss explained that people can rent the studio space from him on either a monthly or daily basis. In addition, he has an electronic studio calendar to keep track of who is using the space.
To use the studio or an office space at the location you can reach out to Buss at 319-939-3337 or at [email protected]