Posted on
23 groups share almost $138,000 in Floyd County Community Foundation grants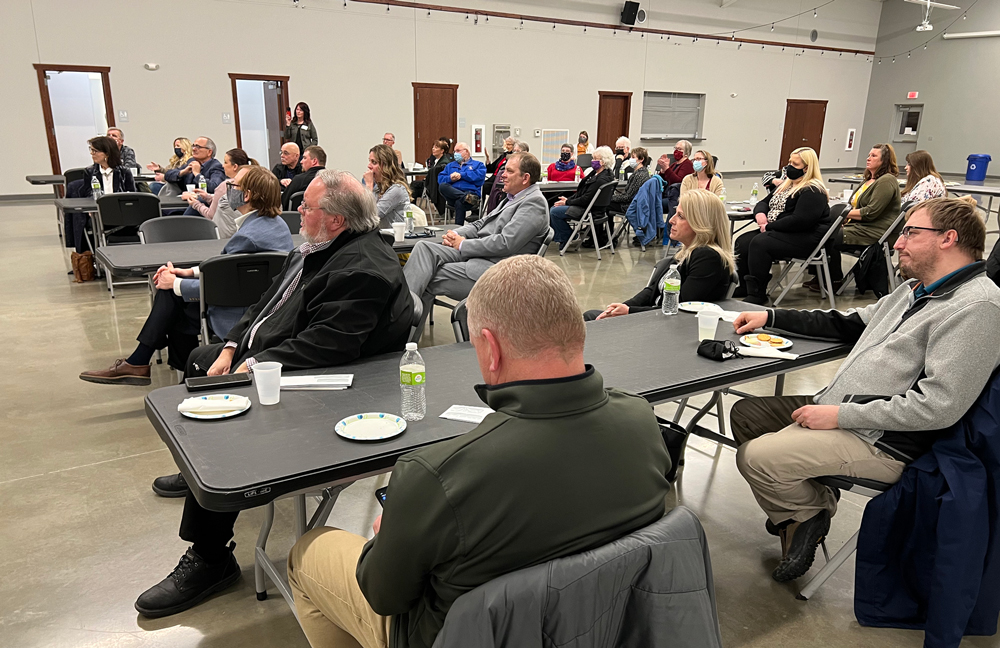 A total of $137,589.74 was awarded to almost two dozen Floyd County groups Wednesday evening at the annual Floyd County Community Foundation awards ceremony.
"Tonight what we're celebrating is projects in Floyd County for community betterment," said foundation committee member Kurt Hoeft, who acted as master of ceremonies.
"Making our communities better for the people who live in them, make them more attractive, meeting the needs of the communities — this year we're very, very excited," he said.
"We're going to give out a little bit less than $138,000 to 23 organizations that requested funds. It's wonderful. Last year we had $104,000, so this is great that we have more money to give out with all the pandemic stuff going around," Hoeft said.
Amy Staudt, chair of the FCCF governing committee, said, "The Floyd County Community Foundation is thrilled to support these 23 projects that are working to strengthen communities across Floyd County."
Awards are given to organizations proposing projects in five categories — arts and culture, community betterment, education and youth development, health, and human services.
Here is the list of grant recipients in each category, along with a description of the project that was provided by the organization:
ARTS & CULTURE
Charles City Arts Council: Town of Colors Mural Project, $5,000 – This project will provide artwork by professional artists in public spaces for the enjoyment of residents and tourists. These murals will not only beautify our community but will also have a strong impact on the social and economic culture of our town.
City of Charles City: Library – Inspired Art Programs, $9,320 – The Charles City Public Library will provide a variety of creative programs with local art instructors for kids, teens and adults. Each age group will experience six sessions and will create artwork that can be taken home or displayed.
Floyd County Fair Society: The Sea Lion Splash Show, $10,000 – The Sea Lion Show originated when they took in beached sea lions that were unable to be returned to the wild due to age or injury. This educational show lets audiences learn all about sea lions as they are entertained and features both California and South American sea lions.
Floyd County Historical Society and Museum: Chautauqua Talks: Guest Speaker Series, $3,000 – This speaker series will provide an educational opportunity to learn about and discuss different perspectives and the diverse narratives from the county's history. The museum will address the lack of diversity and inclusion by collaborating with Iowa State Historical Society, Humanities Iowa and the Charles City Cultural Equity Board.
Floyd County Quilts of Valor: Floyd County Quilts of Valor, $3,132 – Our goal is to honor veterans in Floyd County with a handmade quilt made by the members of Quilts of Valor. Many veterans have never publicly been thanked for their service and receiving of these quilts is a means to acknowledge their service.
The American Passenger Train History Museum: Renovation of the Historic 1912 Milwaukee Road Railroad Depot, $2,500 – The American Passenger Train History Museum plans to restore the depot to serve as the museum entrance, a community meeting space, and a rec trail trailhead. The museum will eventually provide an opportunity to see the history of the Passenger Train in America, provide a community meeting space, and with coordination with the Recreational Trail Trailhead, provide additional parking, restroom accessibility and other opportunities for residents.
COMMUNITY BETTERMENT
Charles City Civic Foundation: Main Street Charles City – Downtown Bicycle Racks, $1,300 – The Design Committee of Main Street Charles City will purchase four new bicycle racks to replace old racks and be placed in high traffic areas downtown. This will increase accessibility and convenience to encourage more bicycle use downtown. The new racks will also be more attractive and functional than the current ones.
City of Nora Springs: Downtown Community Betterment, $4,754.25 – The city is completing a community betterment project which includes updating the town banners and replacing the trash containers downtown. Banners will be purchased for the 10 light poles in the downtown area for each season. Three new trash containers to be placed in the downtown area to deter littering and help keep the downtown area clean.
Marble Rock Fire Department: SCBA Air Bottle Replacement, $10,000 – These bottles provide safe, quality breathing air while responding in emergency, hazardous situations. This project directly also affects the life safety of both residents and firefighters by allowing rapid and aggressive victim rescue and fire suppression/mitigation operations.
Rotary Club of Charles City: Bleachers and Christmas lighting, $8,000 – This project will replace worn and damaged bleachers at Sportsman's Park with new aluminum bleachers to provide safe seating for spectators watching softball games. The lighting project will draw people to downtown Charles City to increase local spending and bring the Christmas spirit to our community.
Rudd Evergreen Cemetery: Cemetery Expansion, $4,500 – The cemetery will expand into an adjacent lot through the process of clearing the mature trees and roots. After this process is complete, we will determine the path for traffic, level the ground, and seed the area for grass.
EDUCATION & YOUTH DEVELOPMENT
Boy Scouts of America, Winnebago Council: Eliminating Barriers to Success, $1,000 – Grant funds will cover the New Scout joining fee for up to 40 Floyd County youth joining the Scouting movement, helping low- to moderate-income families participate in Scouting.
Charles City Family YMCA: Pool Equipment – Vacuum and Lane Line Reel, $5,000 – The YMCA will replace the swimming pool manual vacuum with an automatic vacuum that will improve cleaning the pool fully and efficiently. The Lane Line Reel will allow for easy, mobile storage and make installation of lap lane lines more efficient.
City of Charles City: Foster Grandparent Program – In-Services for AmeriCorps Seniors, $5,000 – With this grant funding, the Foster Grandparents will hold monthly training covering a variety of topics to prepare our volunteers to interact with children struggling with education due to behavioral, developmental or other issues that interfere with learning.
Girl Scouts of Greater Iowa: Floyd County Girl Scouts Citizen Science Investigators, $1,000 – Girl Scouts of Greater Iowa will offer the program "Citizen Science Investigators!" to 35 Floyd County Girl Scouts at low to no cost. This high-quality STEM program includes both virtual and in-person learning components. Floyd County girls will learn about the importance of trees and water and learn how they, as citizen scientists, can contribute to their communities.
TLC: The Learning Center: The GRAND Plan Commercial Kitchen, $10,000 – This commercial kitchen will facilitate the breakfast/lunch meals provided to children at TLC. The kitchen will be accessible to the Charles City School District, community members, and organizations that will partner with TLC for events held in the North Grand location facilities.
HEALTH
Charles City Meals on Wheels: Charles City Meals on Wheels, $4,000 – This program helps residents of Charles City to remain independent by delivering a hot meal to clients who are physically, mentally or emotionally unable to prepare their own meals. Meals on Wheels help residents have at least one freshly prepared, nutritious meal each weekday.
Floyd County Medical Center: Laptops & Document Scanners, $10,000 – The Floyd County Medical Center will purchase laptops to be distributed to various employees allowing them to work from home if/when the need arises. The document scanners purchased will be deployed in both the hospital and the clinic to help transition our record retention from paper to digital.
HUMAN SERVICE
Avalon Center: Avalon Center Expansion, $10,000 – Avalon Center is remodeling a new building to expand counseling and social services capacity, meeting the growing needs of our rural community. The main floor of this building will house 6 therapy offices to assist with this expansion of services to Floyd County and surrounding communities.
Jordan River: Messiah Food Pantry, $11,583.49 – The Messiah Food Pantry bridges the food insecurity gap in the local and surrounding communities. This pantry aims to reduce short term food needs for families, children & students experiencing the stress of financial constraints by providing monthly access to the pantry.
Lutheran Services in Iowa: Families Together in Floyd County, $3,500 – Families Together provides prevention programming at no cost to at-risk parents of children ages 0-18 in Floyd County. The program works to reduce abuse and promote healthy, safe, and self-sufficient families. In FY21, 84% of families remained free from abuse while in the program.
Northeast Iowa Food Bank: Feeding Families, $10,000 – The Northeast Iowa Food Bank embraces a multifaceted approach to ensuring all in need have access to nutritious food. This approach of Feeding Families is a combination of current programs such as the BackPack Program, Mobile Pantries, and Elderly Nutrition working together to distribute food to those families in need in all our communities.
Trinity United Methodist Church: Our Brothers Keeper, $5,000 – Our Brothers Keeper helps families with non-food basic needs such as rental assistance, utility payments and assistance with vouchers for other items when available. This program also guides people to additional assistance programs through collaboration with community partnerships.
Decisions on grant awards are determined by a local governing committee, which consists of volunteers from Floyd County. Committee members are Sue Bortz, Lisa Garden, Randy Heitz, Kurt Hoeft, Sheila Koudelka, Jane Larson, Tracy Merfeld, Amy Staudt, Teresa Stevens-Marth and Erika Troyna.
Grants applicants must be a 501(c)(3) designated organization or government entity serving Floyd County in order to be considered for funding. The 2022 grant cycle opens Aug. 15 with an application deadline of Sept. 30. The grant guidelines and application can be found at www.floydccf.org.