Posted on
New rules open up Floyd County spending possibilities for federal American Rescue Plan funds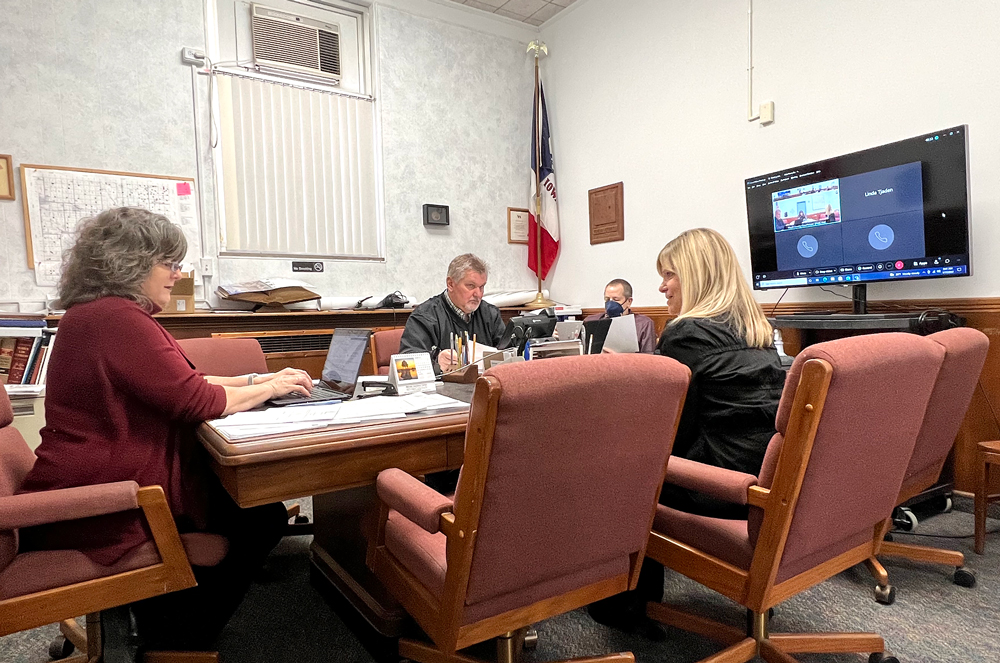 Possible ways for Floyd County to use about $3.1 million in federal American Rescue Plan Act funds expanded dramatically with the release last week of new spending guidelines from the U.S. Department of Treasury.
Floyd County — like many or most cities and counties that got a share of ARPA funds — has struggled with how the money can be used because of what officials have described as vague or even conflicting initial instructions.
County supervisors have talked broadly about possible uses such as economic development projects, infrastructure projects and soliciting project ideas from groups in the county, but have identified few specific uses, other than to cover county revenue losses that can be attributed to COVID-19, or for forced-air hand dryers in the new restrooms in the county law enforcement center and courthouse update project.
They have spent some time discussing ways the money might be used to help bridge funding gaps in paying for the law enforcement center and courthouse update project, but many of those ideas were thwarted by a requirement that funds have to be used for costs that had been incurred after March 3, 2021.
Initial interpretations were that that the money needed to be spent in ways related to revenue losses caused by COVID-19, for premium pay for employees involved in essential work, on projects that had some health care component or on specific kinds of infrastructure.
The new – final – rules say the money can be spent "on any kind of regular 'government services' up to $10 million," according to information from the North Iowa Area Council of Governments (NIACOG).
"There are a few prohibited uses, but otherwise they really opened it up," said Supervisor Chair Doug Kamm, discussing the topic at the board's regular weekly meeting Monday morning.
Supervisor Linda Tjaden said she and County Auditor Gloria Carr plan to talk about potential uses to bring back to the board, but she also wants to continue to get proposals for uses from county groups that would like a share of the funds.
The information from NIACOG said, "The term 'government services' was intentionally left very broad to allow cities and counties a wide range of flexibility for selecting how to spend their grant allocation."
"As summarized by the Department of the Treasury, 'government services' generally include any services traditionally provided by a government, such as road building and maintenance, and other infrastructure; general government administration, staff, and administrative facilities; provision of police, fire, and other public safety services (including purchase of fire trucks and police vehicles); environmental remediation; health services; and construction of schools and hospitals," NIACOG said.
Among the few prohibited uses of the money are for pension fund liabilities; to replenish financial reserves; for payments on bonds or other debt services; or for payments required by settlement, judgment or consent decree.
Also at the board meeting Monday morning, the supervisors:
• Reviewed a tentative agreement between the county and the Teamsters Local No. 238, representing unionized county employees. The agreement is for a three-year contract and calls for a 5% pay increase the first year, 4% the second year and 3% the third year.
The board could not approve the contract because of an incorrect date listed in the agreement, and will likely approve it at the meeting next week.
• Decided all three supervisors will be involved in a meeting soon with the single applicant for the county engineer position. Supervisor Doug Kamm, who has been leading the effort to find a new county engineer, said he and others involved in the search met with the candidate last week and "everyone came away with the impression we need to hire this guy now."
The interview meeting will be closed to the public if the candidate requests a closed meeting, Kamm said.
The Iowa Open Meetings Law allows a closed meeting "To evaluate the professional competency of an individual whose appointment, hiring, performance, or discharge is being considered when necessary to prevent needless and irreparable injury to that individual's reputation and that individual requests a closed session."
• Discussed the progress of the law enforcement center and courthouse update project. Brian Shindelar, project superintendent for the Samuels Group, the county's construction manager, said Zephyr Aluminum was working on removing windows, Advanced Asbestos was working of removing asbestos from the window frames, and Young Plumbing was removing the window air conditioners (see story, Page 1).
Paulson Electric was working on rough-ins for hand dryers in the atrium restrooms between the LEC and the courthouse and the tile contractor was working on the tile on the lobby stairs.
Carr said at least the ground floor restrooms need to be finished before March, because the plan is to use the new emergency operations center in the law enforcement center as a voting site for the special election to be held March 1.
The election will ask Charles City voters and rural Floyd County voters whether they want so approve continuing a 1% local option sales tax for another 10 years. The current 10-year tax expires Dec. 31 this year.
Carr said poll workers especially need access to restrooms because they put in long days on election days.