Posted on
Window replacement begins on Floyd County courthouse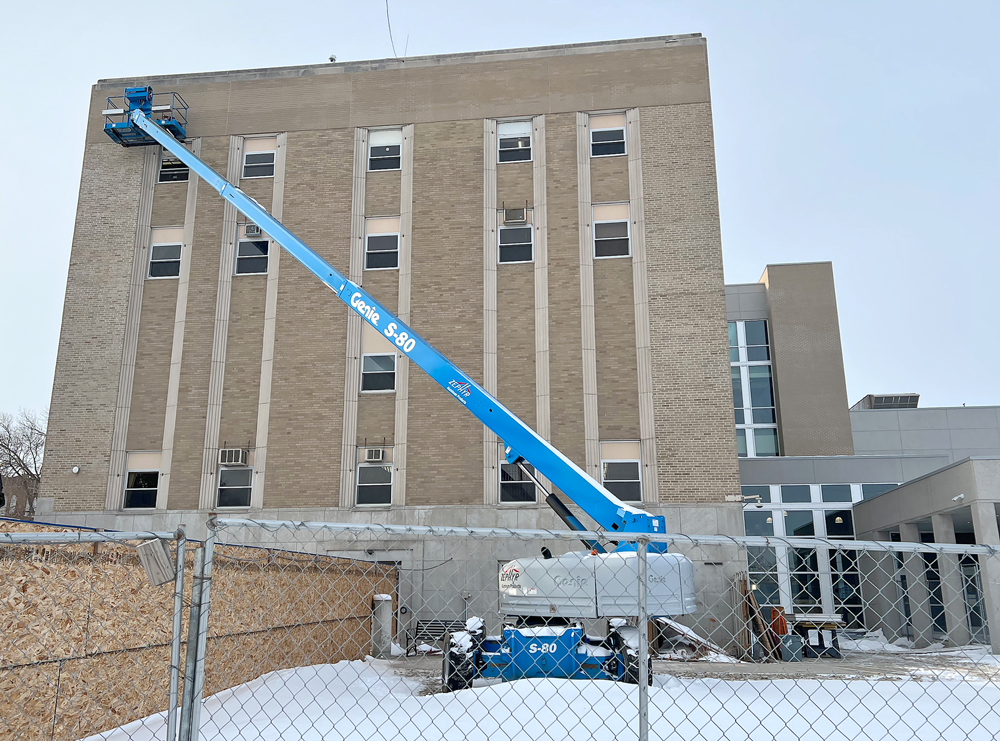 Windows were starting to be replaced on the fourth floor of the Floyd County courthouse Monday morning as the Sheriff's Office continued moving out.
Sheriff Jeff Crooks said the move from the current Sheriff's Office and county jail on the top floor of the courthouse to the new facilities in the Floyd County Law Enforcement Center — including moving the detainees — should be complete within the next couple of weeks.
Furniture, equipment and supplies are being moved to the new LEC connected to the courthouse now, and Crooks said at some point very soon the office secretaries would be relocated to the new LEC.
Once that move takes place, people will no longer go to the fourth floor for civil papers, weapons permits, sexual offender registration, etc., he said, but will go to the new Sheriff's Office in the LEC, entering through the new entrance in the atrium that connects the two buildings.
Crooks said an announcement of when that will be in effect should come very soon.
He also said they are close to the point when the detainees in the county jail will be moved over to the new 32-bed facility in the law enforcement center. There are currently 13 detainees in the old jail.
"We're ready," Crooks said Monday morning.
"Pat's got a group over training right now," Crooks said, referring to Chief Deputy Pat Shirley. "We've got training today and tomorrow with everybody, then Wednesday-Thursday will be fire evacuations."
The fire evacuation training – on how staff will evacuate, but especially how detainees will be handled during an evacuation – is part of the training required before the state jail inspector will certify the facility ready for use.
Crooks said it looks like the jail inspector will sign off once that training takes place, and won't need to make another onsite visit.
One other final inspection will be by Jeff Sherman, the county environmental health administrator and sanitarian, of the new jail kitchen.
"He had already done a basic inspection," Crooks said. "Now we've got to put some food in there and he'll inspect it with all the food in there."
The process of replacing almost 100 windows in the courthouse is complicated by the presence of asbestos-containing caulk and glazing in the original 1941 window frames. The windows have been replaced once, but the original asbestos-containing materials still remain.
The process will be for Zephyr Aluminium, of Dubuque, to remove the existing windows, then Advanced Environmental Testing & Abatement Inc. of Waterloo will remove the asbestos-containing materials, then Zephyr will install the new windows.
The inside area around the windows will need to be isolated with plastic sheeting taped to the ceiling and walls while asbestos-containing materials are being handled.
On Monday, a couple of windows were removed from the fourth floor and temporarily replaced with sheets of plywood as the companies began the replacement project.