Posted on
Charles City will again host RAGBRAI overnight stay this summer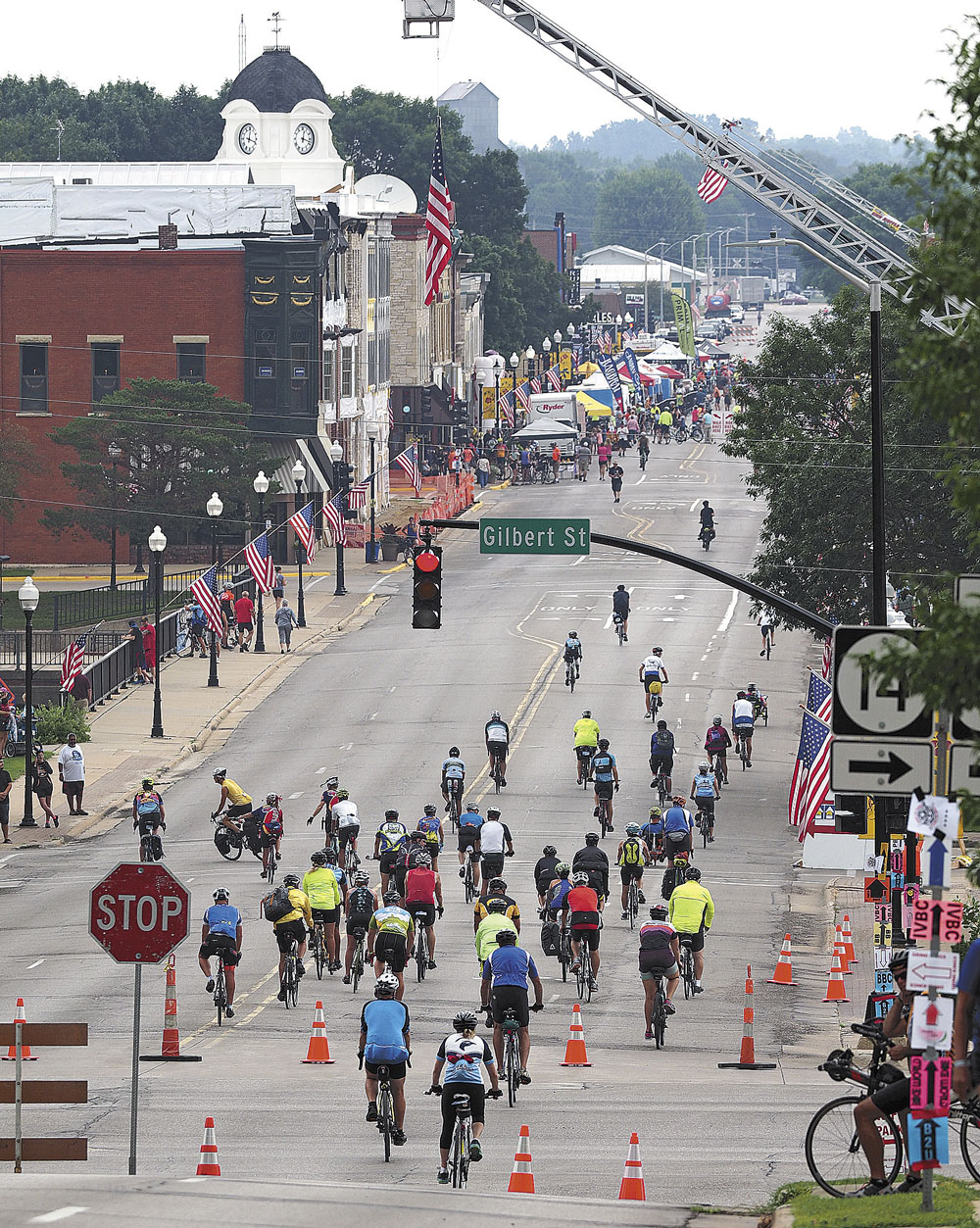 Teeming thousands of hungry, thirsty bicyclists and their support crews will make Charles City home for a night this summer as the community again hosts an overnight stop for RAGBRAI.
The Register's Annual Great Bicycle Ride Across Iowa announced its 2022 route during an event Friday evening, and Charles City was named as one of seven overnight stops along the 430-mile, week-long journey.
"Almost every year we get a letter from the Register asking if we want to be considered," said Charles City Community Development Director Mark Wicks. "We are always welcoming an opportunity."
Ginger Williams, the community marketing and tourism director, was in Des Moines for the announcement party Friday, Wicks said.
"We had an inkling that we were going to be among the finalists considered, but we did not know for sure until the announcement," he said.
The annual event is a great opportunity to showcase your community, Wicks said, but it's also a huge job that will take a community effort.
"We're going to need an army of volunteers to step forward to be involved, but it's a great chance to get involved with something really neat. And it's short term. We know that we have between now and the end of July," he said.
"RAGBRAI will come and take part in community meetings to help guide us through this. An executive committee will be formed and there will be lots of subcommittees. People have a great chance to get involved, whether they want to get involved a lot or just a little bit," Wicks said.
"They can be very creative. Charles City has always knocked this out of the ballpark, so we will look to do it again," he added.
RAGBRAI XLIX (49) this year will start Sunday, July 24, in Sergeant Bluff, according to the organization.
Along the way it will spend Sunday night in Ida Grove, Monday night in Pocahontas, Tuesday night in Emmetsburg, Wednesday night in Mason City, Thursday night in Charles City, Friday night in West Union and then end the annual ride on Saturday, July, 30, in Lansing.
The exact routes, which will also list all the communities riders will go through between the overnight stops, will be revealed in March.
Every time RAGBRAI has passed through Charles City it has been an overnight host community. This will be the sixth time Charles City has hosted an overnight stay. The last time was just five years ago in 2017. Before that it had hosted in 1982, 1996, 2002 and 2010.
The ride this year will cover 430 miles, the RAGBRAI organization said. It will climb 11,900 feet vertically from west to eastern Iowa before coasting back down into the Mississippi River valley on its final day.
In past rides, an extra loop or optional detour was offered for those who wanted to ride at least 100 miles in a day and earn their century patch. This year, the trip again includes a 100-mile day as part of the regular route, from Emmetsburg to Mason City.
This year would have marked RAGBRAI's 50th ride, had the 2020 ride not been canceled by COVID-19.
The event began in 1973 as two Des Moines Register columnists, John Karras and Donald Kaul, challenged each other to ride their bikes across the state and write about the experience, and they invited anyone interested to tag along. They did it again the following year, and that year a Sports Illustrated writer went along, writing stories about the event and giving it national publicity.
Kaul died in 2018 and Karras died this past year, in November. This year's event is being dedicated in Karras' honor.
According to the event's website, ragbrai.com, "RAGBRAI … is an epic eight-day rolling festival of bicycles, music, food, camaraderie and community. It is the oldest, largest, and longest multi-day bicycle touring event in the world."
Since that inaugural ride with several hundreds participants, RAGBRAI has become a cultural phenomenon, and can be an economic boon to bars, restaurants, groups and communities that happen to fall in its path each year.
"It's a great opportunity for the community for organizations to do fundraisers, because these people are going to be looking to be fed and housed and showered and entertained," Wicks said. But making a pile of money isn't a given.
"You've got to work it, too. Everybody is kind of competing for the almighty dollar with that," Wicks said.
RAGBRAI sends each host community a thick playbook with advice on how to organize to host the event, Wicks said, and it is updated every year with new things learned and best practices. The RAGBRAI organization also provides some money up front for communities to help them get organized.
One of the changes that began being clear the last time Charles City was part of the route was the change in how people want to spend the night.
RAGBRAI started as mostly a camping event, with the bicyclists pitching tents each night. Then more and more people wanted to stay in local residents' homes, Wicks said. Lately there have been more and more RV's, driven ahead by a bicyclist's family member or other support crew so they're ready in the next community when the bicyclists arrive.
"I know the last time they were here we had RVs coming out our ears, so that's something we have to plan for and adjust to," Wicks said.
"We always seem to come up with creative ideas in the community that make people remember Charles City in a very positive way. That's why I say it's a good way to showcase your community, because RAGBRAI riders, they remember the really good towns," Wicks said. "They also remember the towns that weren't so good, so we've got some work to do. We've got a reputation of being a great host."
About 8,500 bicyclists for the entire route are selected each year through a lottery, and about 1,500 more day passes are given out. Additional cycling clubs and groups from around the state, nation and world also take part.
In additional to those "official" participants, thousands more participate unofficially, riding along all or part of the ride. The Des Moines Register estimates about 16,000 bicyclists participate each year.
Even more people gather in the host communities each night to take part in the food, refreshments and entertainment.