Posted on
Charles City Parks & Rec Board hears pool proposal possibilities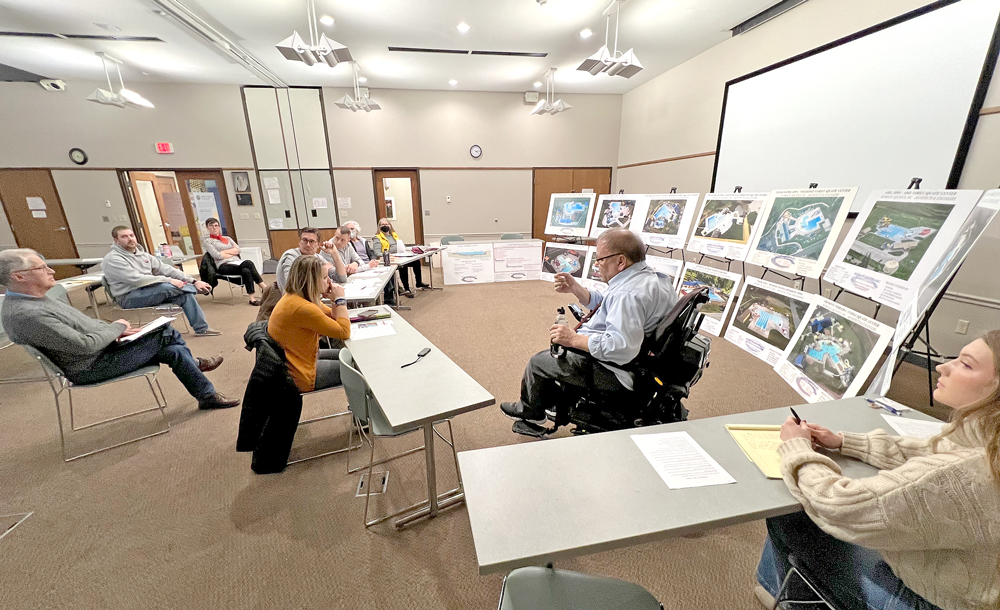 A representative of an aquatic center design company spent most of Wednesday's Charles City Parks and Recreation Board meeting telling the board members how to pick a company to help figure out options regarding the city swimming pool – and why his company would be a good choice.
The Parks & Rec Board has been discussing what to do regarding the municipal pool for more than two years. The facility is more than 30 years old, has significant cracks, leaks and potential problems with its mechanical components and is becoming increasingly difficult – and expensive – to keep running, Parks and Recreation Department Director Tyler Mitchell has said.
And a new pool might be able to have additional amenities, some board members have said.
The main purpose for the visit by Roger Schamberger, business development director for Burbach Aquatics Inc., of Platteville, Wisconsin, was to help the board come up with a request for information (RFI) or a request for proposals (RFP) that could be sent to pool design firms so that they could provide the board with the same kind of information that Schamberger provided Wednesday.
He told the board he would give it templates for the RFI or RFP that they could send companies, as well as an RFQ – request for qualifications.
Generally, he said, the board should look for experience in municipal pools, what other types of projects they do, how long the companies have been in business, how they size a pool for a community, how they involve the public, how they support the process from start to finish, and other criteria.
The board members should also contact their counterparts in communities that have worked with the companies to get feedback, Schamberger said.
As far as Burbach, he said the company had been in the business 44 years and it exclusively does indoor and outdoor aquatic facilities, having been involved in more than 600 in its history.
He and his assistant had set up a series of 14 large aerial photos of pools his company had done, some in Iowa, across the front of the Zastrow Room at the public library, where the meeting was being held.
Burbach said if his company got the contract to work with the city, the first thing it would do is a comprehensive examination of the existing pool. That process would take about three months, and it would be best to include the time when the pool is being emptied, he said.
"With your pool you may want to renovate instead of replace," he said, noting that it already has a zero-depth entry, a water slide and other amenities.
"First we go through it and look at 30 or so different things," he said, including how it does or doesn't conform to current codes and regulations, the condition of the pool itself, the mechanical equipment, piping, and the ground under and around the pool.
The company would come up with estimates of renovation costs and a recommendation if it is a good candidate for renovation, or whether replacement would be a better option.
Responding to a question from Mayor Dean Andrews, Schamberger said that to figure out an appropriate size for a pool, the company looks at other municipal facilities within 30 miles, other types of area facilities such as beaches on lakes or rivers, and other facilities such as YMCA's that may have a pool but a different fee structure than a municipal pool.
He said Burbach Aquatics would also look at the community's current population and 25-year population projections.
Andrews also asked about how his company would get public input, and how it would help with fundraising.
Schamberger said for the feasibility study phase of the project, it would help the city set up a nine-member committee, including Mitchell, an elected official, and members of the public representing a cross-section of the community.
He said the feasibility study can be as much as a nine-month commitment for the committee members, as the group helps come up with conceptual site plans, holds public meetings, answers questions from the public and gathers input. It will help look at sizing as well as potential amenities.
One question to answer is whether the community wants a swimming pool or a recreational center. One study showed that 70% of the people who go to a swimming pool don't go there to swim, but to play in the water, enjoy the other amenities and socialize, he said.
The company would come up with not only construction cost estimates, but operating cost estimates as well, Schamberger said.
He said his company helps work with the community and the nine-member committee on fundraising, taking advantage of a lot of grants and other funding that are available for municipal pools, and would help work to support a referendum for public money, adding that his company has a 98% success record of helping pass bond measures.
The typical process of designing and building a new aquatic center can be about two years from start to finish, he said.
Also at the Parks & Rec Board meeting, the board:
• Heard from Mitchell about potential rates for this summer at Wildwood Golf Course and at the Lion's Field Swimming Pool.
Proposed Wildwood season ticket fees are $420 for a single, $490 couple and $530 family. Daily green fees will be $12 for nine holes and $20 all day on weekdays, and $15 for nine holes and $20 for 18 holes on weekends and holidays.
The charge to rent the Wildwood clubhouse ballroom will be $250, with no additional trash charge if the renters take all their own trash away, but a $100 trash charge to leave the trash.
The extra trash charge had been $25, but Mitchell said some events were taking advantage of that, leaving a whole dumpster worth of trash after an event that would cost $75 to $80 to dispose of.
The board is considering changing the way it charges for family passes at the swimming pool. Mitchell introduced a plan that would charge $75 for one person, $130 for two people and then $10 more for each additional person.
"If you want grandpa and grandma on there because they take the kids to babysit, you can put them on. You're not fighting the divorced parents, where we were getting angry calls all the time. You can put both divorced parents on there and the kids, it just adds one person" he said.
The board members on the Parks & Rec Pool Committee will look at the suggested change and make a recommendation to the full board.
• Agreed to let Brad McKenzie continue work on getting a "mini-pitch" soccer and other use court for the community through Musco Lighting, saying that the board will commit to providing a location for the court if McKenzie can provide verification that all the funding for the project has been taken care of, through private fundraising, discounts from Musco or other sources.