Posted on
Charles City area is dry, but spring rain is more important than more snow
Enterprise Media Staff Report
Remember those torrential August rains and October downpours that slowed down last fall's harvest?
Turns out, the frustrations area farmers felt back then have turned into gratitude, because that precipitation has become important with the relatively snow-free winter so far in the area.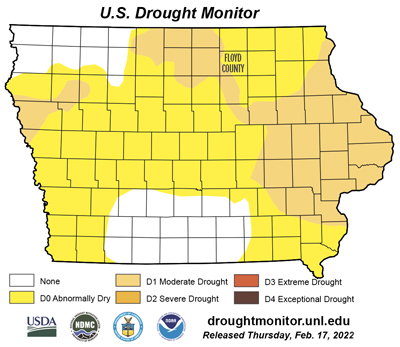 "We're pretty dry, honestly, right now," said ISU Extension Agronomist Terry Basol recently. "But if we hadn't that precipitation last fall, I think we'd really be worried about our soil moisture profile going into planting this year. As frustrating as they were – we were chomping at the bit to bring the crop in – they're looking pretty golden right now."
The latest U.S. Drought Monitor report, issued last Thursday, shows most of Floyd County and all of Chickasaw County as "abnormally dry." The northwest tip and southwest corners of Floyd County are a step worse, listed as "moderate drought" in the chart published weekly by the U.S. Department of Agriculture, the National Weather Service and a couple of other sources.
From September through January, Floyd County is only a little under two inches short of the average amount of precipitation for those months, but that's because of significantly higher-than-usual rain in October and November.
For the season, Charles City has received only a little over 15 inches of snow. With only a week of February left and March, it would take some major snowfalls to get up to the almost 34-inch average winter snowfall for the area — not that anyone wants that.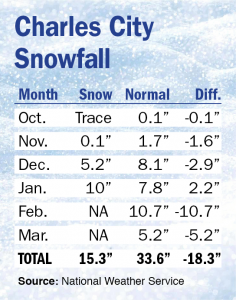 Nashua has received just 13 inches of snow this season.
Basol said area farmers aren't hoping for snow as much as timely rainfalls after the frost goes out of the ground.
"What happens sometimes even with a winter with lots of snow is that a lot of it runs off when it melts," he said. "I'm not saying snow doesn't help with soil moisture, but rain — when the ground isn't frozen — is still a lot better.
"What I think the guys would love to see is a thaw, some nice rains and let that moisture peculate down into our soil," he said.
Despite some concerns about soil moisture profiles, Basol has talked to a number of farmers who are planning their spring planting.
"Obviously, we have a long way to go, but farmers are getting ready," he said. "They're planning where they're going with corn, where they're going with soybeans. They've got their machinery in the shop, making sure when we get to April, they're ready to go."
— New Hampton Tribune/Nashua Reporter Editor Bob Fenske and Charles City Press Editor Bob Steenson contributed to this report.