Posted on
Calendar maneuver forces Iowa Senate District 30 election
Because state redistricting put two incumbent Iowa senators in the same new district, Sen. Waylon Brown will have to run for reelection two years earlier than he normally would have – even though the other senator in the new district has announced she is not running.
Brown announced Monday, the first day of filing for state offices, that he would seek re-election.
Ragan and Brown both live in the new Senate District 30, that was created as part of state redistricting after the 2020 Census.
The Press originally incorrectly reported that because Sen. Amanda Ragan, D-Mason City, had announced she was not seeking reelection, Brown, R-St. Ansgar,  would not have to run this year and could serve out the last two years of his term before having to run again.
That incorrect report was based on Ragan's announcement in February she was not seeking re-election.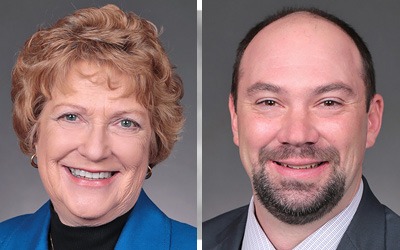 Iowa election rules state that if two incumbent senators are placed in the same new district after redistricting, and both are seeking to continue serving past the next election, then that senate seat must be up for election, even if one or both of the senators still has two years left in his or her term.
On Saturday, the Iowa Office of Secretary of State released a list of those Iowa Senate districts that would have to hold an election this year, even though they had just held one in 2020.
Senate District 30, which includes two northwest townships in Floyd County and all of Cerro Gordo, Mitchell and Worth counties, was included on that list.
Responding to questions from the Press this week, Kevin Hall, the communications director for the Office of Secretary of State, said, "As of Feb. 2, 2022, two incumbent state senators filed declarations of residency with the Secretary of State's Office affirming that they live in 'new' state Senate District 30."
Ragan "refused to submit a letter of resignation pursuant to Iowa Code section 42.4(8)(b)(2) by the Feb. 16, 2022, deadline," Hall said.
"Submitting such a resignation would in no way have impacted her ability to serve out her current term, as such a resignation is not effective until January 2023. Because she failed to submit a letter of resignation, State Senate District 30 is required to appear on the ballot in 2022 for a two-year term and again in 2024 for a full four-year term," Hall said.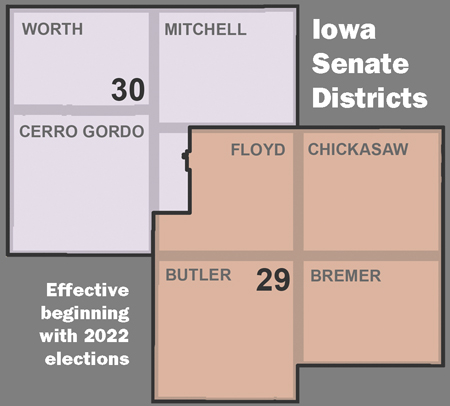 "By refusing to tender an official resignation, Senator Ragan did in effect force a member of the other party to face election two years before his term is up, even though she has publicly stated an intention not to seek re-election," Hall said in response to a question asking if that is what had happened.
Previously Ragan, who was first elected in a special election in 2002, had represented the western two-thirds of Cerro Gordo County including Mason City, all of Franklin County and part of Butler County in Senate District 27.
Brown, who was first elected in 2016, represented Iowa Senate District 26, which included all of Floyd, Chickasaw, Howard and Mitchell counties and part of Worth, Cerro Gordo and Winneshiek counties.
Ragan last won reelection in 2018, so she would have been up for election again this year if she had decided to run. Brown was elected to his second four-year term in 2020, so his term normally would have run until the end of 2024.
Whitney Mixdorf, a Clear Lake business owner, has announced she will seek the Democratic nomination to run against Brown in District 30.
Brown, in his announcement he will run for reelection, said, "In the last six years, I have proudly supported important legislative priorities, advocating for common-sense licensing reform, pro-agriculture legislation, high quality schools, and historic tax reform. I look forward to continuing my work in the Iowa Senate and serving rural Iowa."