Posted on
Charles City and rural Floyd County voters overwhelmingly approve local option sales tax for 10 more years
The turnout was underwhelming but the results emphatic as two small groups of voters agreed to authorize continuing the local option sales tax in Charles City and the rural part of Floyd County for 10 more years.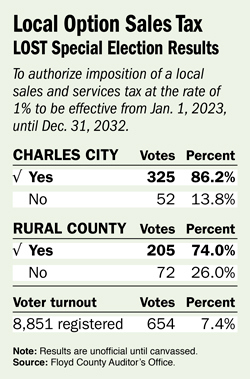 In Charles City, more than 86% of the voters said "yes" to continue the 1% tax on sales and services in the city, 325 to 52.
In rural Floyd County – all of the county except the incorporated cities – voters approved the 10-year extension by a 74% majority, 205 to 72.
Simple majorities were required for passage in both areas.
The votes were technically an authorization to impose the tax for the time period from Jan. 1, 2023, to Dec. 31, 2032, rather than an extension of the existing tax, but it's a distinction without a difference. The current 1% tax in both the city and rural county expires Dec. 31 this year and an identical tax will go into effect immediately now that it has been approved by the voters.
Despite repeated urgings by city and county officials for voters to participate in an election they called crucial to their finances, and extensive media coverage, the voter turnout was only 7.4% of the registered voters in Charles City and rural Floyd County.
In the county, the revenue from the tax will be used "100% for funding secondary roads, including rock, bridges and culvert repair and/or replacement and construction projects in the unincorporated county."
In Charles City, the tax will be used up to 10% for public safety projects, and at least 90% for street and road construction and repair.
The 1% tax on sales and services has been in effect since 1997 in Charles City and since 1998 in rural Floyd County and has been renewed twice in each jurisdiction. The tax is also in effect in every other city in the county, without a sunset date.
The local option sales tax is that extra penny tax that is added to the state's 6% to bring it up to the 7% total tax paid on sales and services almost everywhere in the state.