Posted on
Area beef producer receives grant to help expand operations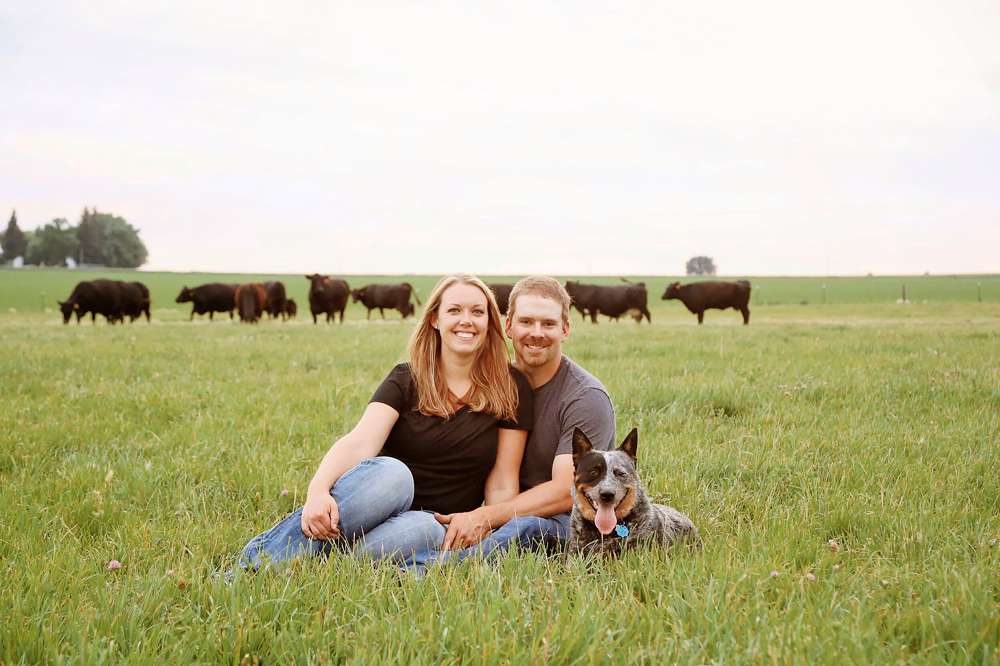 An area beef producer recently received a grant from the Iowa Department of Agriculture to help expand its direct marketing operation.
SkyView Farms, located near Nora Springs, is being awarded $9,770 to expand its current direct sale beef business to a beef, pork, poultry and egg food hub serving Iowans.
"I'm looking to help other producers market their products locally," said Laura Cunningham, who owns and operates the cattle farm with her husband, Aaron. "We're raising some of the highest quality meats right here in northern Iowa, and I have a skill set that I think other producers can benefit from."
The Cunninghams are caretakers of a herd of black Angus cattle, and farm row crop acres of corn, rye and alfalfa to provide food for their herd. They have been direct marketing their beef for about eight years.
Iowa Secretary of Agriculture Mike Naig announced this week that the Iowa Department of Agriculture and Land Stewardship has awarded nearly $250,000 in grants to help 13 Iowa farmers, businesses and non-profits increase or diversify their agricultural product offerings. The grant program helps expand new ways to process, market and sell Iowa-grown products.
"Iowa agriculture is the envy of the world as our farmers continue to lead the way in producing healthy, high-quality, affordable food. It is essential that consumers have access to the Iowa-grown products they know and love," said Naig. "The Choose Iowa grant program makes this possible through value-added projects that help Iowans grow their businesses and access new markets. I am proud to invest in these projects that continue to position Iowa as a top place to grow, today and in the future."
Laura Cunningham said that she and her husband have gone through a learning process over the last eight years as they've marketed directly to area restaurants and families, and that learning process was expedited by the COVID-19 pandemic.
"With this grant, we're going to be creating a food hub," she said. "During COVID, we were selling out so quickly, I wanted to make sure that customers who were calling and wanting local beef and local products were connected with other farmers."
She said she learned of other people who were raising and attempting to direct market their products. Even though the pandemic has now begun to subside, she has found that there are several producers who still want to market this way, as well as customers who prefer that type of exchange.
"It requires a lot of resources," she said. "You need freezers, you need an ability to reach people and put time and resources into marketing."
She said that there are area producers who want to market direct but lack the storage or ability to market their products that way.
"These are all skills that we've been able to hone over the last eight years," she said. "So now we're going to create a food hub system with other producers."
Laura said she will be working with pork producers, chicken and poultry producers, eggs, honey and more. In total the project will cost about $30,000. She said she hopes to have the operation up and running in about a year.
Both Laura and Aaron grew up on farms in Floyd County. College led Laura to Iowa State University to major in agricultural business with a focus on entrepreneurship, agronomy and animal science. Aaron attended North Iowa Area Community College majoring in ag operations and management.
Other agriculture groups receiving grants include Stensland Creamery, located near Larchwood, which is being awarded $25,000 to increase its on-farm dairy processing capacity and product offerings. Country View Dairy, located near Hawkeye, is being awarded $20,030 to increase production capability, enabling them to enter more retail markets and serve more Iowa schools.
Austin Schulte, located near Norway, is being awarded $25,000 to begin on-farm dairy processing of cheese, increasing opportunities for workforce and consumers in the area. Kerns Farms, located near Clearfield, is being awarded $25,000 to purchase stationary and mobile cold storage to expand their mobile meat delivery service.
T-A Family Premium Meats, located in Marquette, is being awarded $25,000 to construct a retail store to showcase Iowa meats, cheeses, honey, maple syrup, cider, sauces, spices, and other specialty foods. Iowa Food Hub, located in Waukon, is being awarded $18,000 to access additional markets, add more distribution routes, and serve more customers in Iowa.
Franklin Street Brewing Company, located in Manchester, is being awarded $25,000 to purchase and install a canning line that will increase their production and purchases of Iowa-grown hops and grains. Whitetail Valley Farm, located near Stanton, is being awarded $21,000 to increase their production and sales of apple-based beverages.
Local Harvest CSA, located near Solon, is being awarded $5,750 to establish an on-farm kitchen to extend their production season and expand their market of value-added fruit and vegetable products. Clear Sky Flowers, located in Leon, is being awarded $2,500 to increase storage capacity and improve transportation methods of their flowers to create alternative methods to the current supply chain disruptions.
ChopLocal, based in Wayland, is being awarded $25,000 to increase access to their online meat marketplace for producers and consumers. Brun Ko Farm, located near Exira, is being awarded $15,000 to increase vegetable production by increasing washing and storage capacity.