Posted on
CCHS to present '12 Angry Jurors' at The Charles this weekend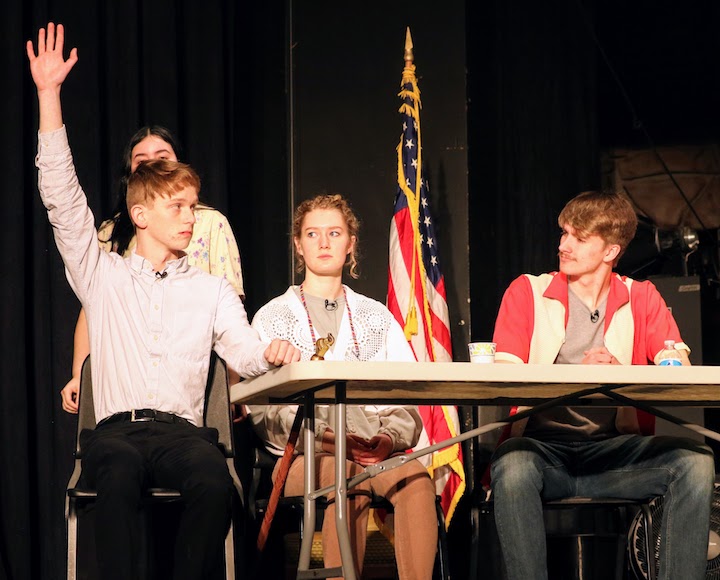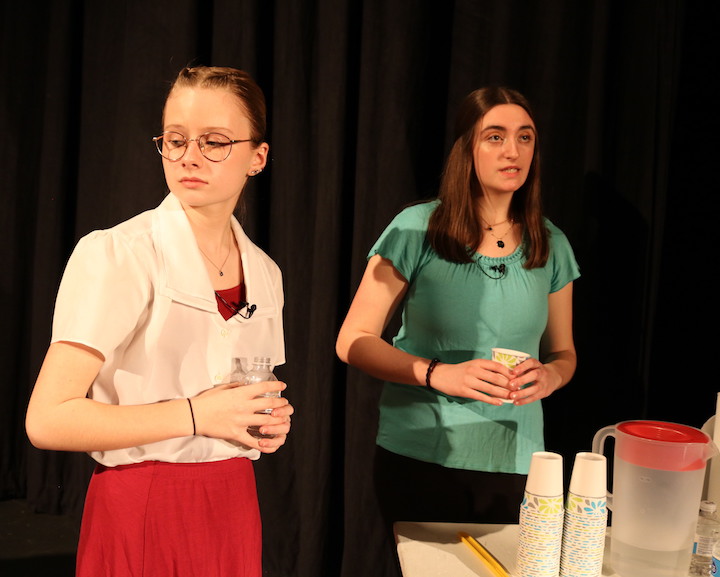 The story is almost 70 years old, but its message is still important today.
The CCHS drama department will present the play "12 Angry Jurors" on Friday and Saturday this weekend at The Charles Theatre in Charles City. Friday's show will be at 7 p.m. and Saturday's show will be at 2 p.m.
The play tells the story of a jury of 12 people as they deliberate the conviction or acquittal of a teenage defendant on the basis of reasonable doubt, forcing each one of the jurors to question his or her own morals, values, prejudices and preconceived notions.
The play, directed by Michelle Grob and Erika Joiner, was originally called "12 Angry Men" and written for men only, in a time before women could serve jury duty. Most modern productions cast the play as gender neutral, with a mix of both men and women in the various roles.
"As we've gotten into it, a lot of the kids have mentioned that the message behind this play is still pertinent today," Grob said. "It's quite frustrating to them, and quite sad, that we're still battling with the same issues of prejudice, as they were when the original play was written almost 70 years ago."
The 14 roles include 12 anonymous jurors, a guard and a judge. The 12 jurors are being played by Susana Gonzalez, Kaity Heckers, Griffin Franksain, Sophia Jensen, Taylor Myhre, Emma Schmiedel, DaShawn Griffin, Anders Haglund, Harper McInroy, Clayton Rand, Teagan Prigge and Elise White.
The guard is being played by Blake Hoeft and the judge is being played by Anna Herbrechtsmeyer.
Katie Prichard is running lights for the show, while Hannah DeVore is the stage manager and is also running sound. Kirah Vickerman is the assistant stage manager.
Tickets to the show will be available at the door. Cost is $5 per ticket and seating will be limited. The Charles Theatre will be selling concessions. Doors will open 45 minutes prior to showtime.
The original play was written by Reginald Rose, adapted from his 1954 teleplay of the same title for the CBS Studio One anthology television series. It was first staged in a 1964 London production and made its Broadway debut in 2004, when it ran for 328 performances.
Grob said there were many reasons for choosing a serious, dramatic play as the CCHS production.
"One of the goals of the drama department at Charles City High School is to give the students in drama a variety of shows to do over four years," Grob said. "We have done several different musical styles in our musicals, and for our plays in recent years we've had comedy and voice acting — now we're doing a really serious play."
She said the cast is rising to the challenge.
"We have a lot of kids who are really serious actors, and now is their chance to show it," Grob said. "It's an opportunity for them to stretch their different talents."
Another factor in choosing the play is the fact that CCHS is no longer able to be in the North Grand Auditorium, but will instead be performing on the much smaller stage at The Charles Theater.
"We could not be in the theater until two weeks out from the show, and we couldn't even build anything on the stage until this past week," Grob said. "We can't do a show where we need to change sets a lot. We need one set, and this show fits the bill."
She indicated that the audience will be in for a treat this weekend.
"It's a pretty powerful play," Grob said. "We have very devoted actors and actresses … the characterization has been fabulous."