Posted on
Charles City Singers wrap up 47th season with concert Sunday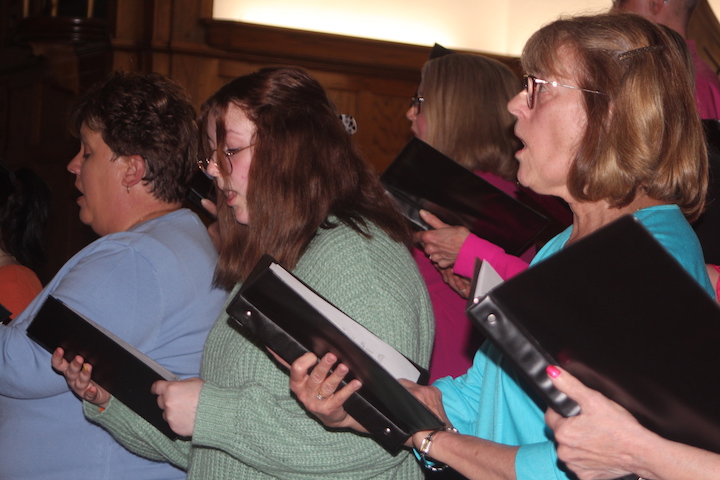 The Charles City Singers wrapped up their 47th season Sunday evening with a live performance at St. John Evangelical Lutheran Church.
The concert was entitled "Birds, Beasts and Bugs," a choral concert celebrating creatures, and was a nod to Earth Day, which was last Friday.
The Singers are directed by Scott Blankenbaker. Tricia Baxter was the accompanist.
The community vocal music group typically performs two shows each year, one before Christmas and one in the spring. They took a break during the pandemic, but returned last fall and in December presented their first concert since 2019, with a live performance entitled "Strife, Hope, Light, Life."
Soloists Sunday included Allison Hocking, Melanie Johanningmeier, Mark Pittman, Alan Powell and Isaac Jonson. The show also included an audience sing-along to "All Things Bright and Beautiful" by W.H. Monk.
The Charles City Singers are Marcie Andrews, Kate Campbell, Sue Davis, Chris Eldridge, Anders Haglund, Kaity Heckers, Allison Hocking, Linda Hughes, Melanie Johanningmeier, Isaac Johnson, Roxanne Johnson, Kelvin Kiefer, Keith Kraun, Kaitlyn Kruger, Karen Krumwiede, Susan Leeper, Lilie Mohring, Mark Pittman, Alan Powell, Cora Rubendall, Emma Schmiedel, Scott Stroud, Derek Sturtevant, Lyle Western, Linda Willemssen and Barbara Wohlers.