Posted on
Beverly Jean (Grahlman) Handley
Beverly Grahlman Handley passed from this world to the next on Nov. 23, 2021 at 86 years of age.
Beverly was born on Aug. 26, 1936, to Alfred and Virginia (Arthur) Grahlman. She lived nearly all her life in Marble Rock, Iowa.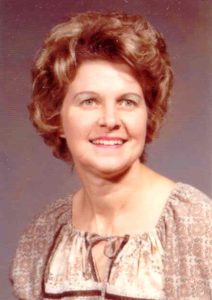 Beverly married her high school sweetheart, Max Handley, on June 26, 1955. They had two children, Jill Annice Handley and David Alan Handley. Education was an important facet of her life and she was overjoyed when Jill and David received their J.D. and M.D. degrees respectively.
When David started kindergarten, Beverly began college. She graduated from the University of Northern Iowa with a Bachelor's Degree in Home Economics Education in 1972. This required driving two hours round trip every day, and was at a time when adult students were quite rare. Her academic accomplishments were recognized when she was inducted into Kappa Delta Pi (education honor society) and Phi Omicron Upsilon (family and consumer science honor society).
Immediately after graduation, she began teaching at Charles City Community Schools and continued there until her retirement in 2001. While teaching, she earned her Master's Degree in Education from Drake University. In 1994, she was inducted into Alpha Delta Kappa (honor society for women educators).
Throughout her life, Beverly was an active participant in many organizations: Iowa Federated Women's Club of Floyd County; Marble Rock Study Club; Floyd County Historical Society; American Association of University Women; Stoney Point Players; Big 4 Unit of Iowa Retired School Personnel; Home Economics Graduates Club; Marble Rock High School Alumni Association; Republican Party; Election Official and 4-H Club Leader.
Beverly had been a member of the Marble Rock United Methodist Church for over 60 years, and contributed as a coordinator, officer, or chairperson (rarely was she merely a member!) of the following: Iowa Annual Conference Delegate; Sunday School Teacher; Vacation Church School Teacher; United Methodist Women; Pastor-Parish Relations Committee; Memorials Committee; Women's Society Reading Program; International Women's Day/Bell Ringing; Spiritual Growth; Friendship Day; Memorials; and World Day of Prayer.  She participated in mission projects to help those in need, by sewing pillowcase dresses and shorts; assembling layette kits, school kits, and spring baskets for UMCOR relief kits; and knotting fleece blankets. She was mentor for a confirmation class member for several years.
Beverly had many interests and hobbies. She usually read two newspapers a day and watched at least two news programs. She was a fantastic cook, rarely making the same recipe twice. The birthday cakes she made for Jill, David, and her grandchildren were "over the top as they were like pieces of art." She wrote and self-published a book of microwave recipes. Her cooking was featured in the April-May 2012 issue of Our Iowa Magazine. Beverly was also responsible for publishing a Cookbook featuring recipes from former Pastor's wives'.
Beverly was a skilled seamstress. She was had a sense of style, with an eye for how to assemble or decorate anything. Her creative problem-solving always led to the least expensive, most beautiful solutions (however, these always required the most elbow grease as well). She also enjoyed collecting and displaying antiques.
Although Beverly seemed to be in perpetual motion, she always had time for her children and grandchildren. Every moment was a teaching moment, although her children did not realize that until they were adults. She was a thoughtful listener who asked questions so that others could discover their own answers.  She was a strict mother with high standards, but was also the first to praise something truly noteworthy.
Beverly had a sense of adventure and preferred experiences over material things.  She had traveled to many states and Eastern and Western Canada. She took Jill to her first rock concert when Jill was in the 5th grade. One of Beverly's mantras was "it can't be work if you can do it while listening to music."
Beverly is survived by her husband Max; her children Jill (Mark) Handley and David (Chris) Handley; her grandchildren Tycho (Natalee) Andersen, Caroline Handley, and Rebecca Handley; and her sister Terry Boehlje.
She was preceded in death by her parents, and her sisters Jerry Green and Connie Adams.
Please join us for visitation at 10 a.m., Tuesday, Dec. 28, 2021 at the Walter F. Bohl Community Center. A Memorial Service will follow at 11 a.m., officiated by Pastor Dennis Burns of the United Methodist Church. All are welcome to a luncheon and more visitation after the service.
Beverly requested inurnment of her ashes with those of her husband, Max, after his death. Resting place will be the West Side Cemetery, Marble Rock.
To continue Beverly's legacy of servant leadership, she would value your support of Alpha Delta Kappa honorary education organization, American Association of University Women or the Marble Rock United Methodist Church Scholarship Fund if you wish to provide a memorial.
Services have been entrusted to Retz Funeral Home, 423 Bradford St. Marble Rock, 641-823-4457; www.retzfh.com.