Posted on
Herbert Stoen
Herbert Stoen, age 92, of rural Decorah, IA, died on Friday, Dec. 24, 2021, at Meadows of Mabel in Mabel, MN
Funeral services were at 11 a.m., on Tuesday, Dec. 28, 2021, at the Big Canoe Lutheran Church rural Decorah, with Rev. Waldemar Gies presiding. Burial was in the Church Cemetery.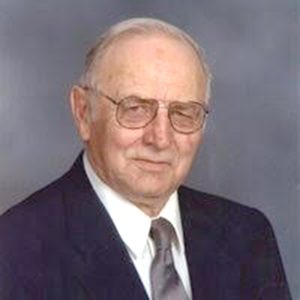 Visitation was held from 4 to 6 p.m. on Monday, Dec. 27, 2021, at the Schluter-Balik Funeral Home, 604 South Ave in Decorah and also after 10 a.m. at the church on Tuesday.
Everyone attending was asked to please wear a mask.
Memorials may be made to St. Jude Children's Research Hospital, 501 St. Jude Place, Memphis, TN 38105; or to the Big Canoe Cemetery Fund, 1381 Big Canoe Road, Decorah, IA 52101
Herbert Milford Stoen was born on August 2, 1929, at the Spring Grove, MN hospital the son of Henry and Martina (Sollien) Stoen. He was baptized and confirmed at Big Canoe Lutheran Church.
Herbert married Kathryn Bany on March 20, 1949, at her parents farm in Bremer County, IA. Herbert lived on the family farm for ninety-one years before spending the last year at the Meadows in Mabel. He loved the staff and the excellent care and especially the pie.
After his retirement from farming, road construction and road maintenance with Winneshiek County, he developed a multitude of hobbies. He became a self-taught woodworker, making many pieces of furniture for family and friends. He loved to travel, whether it was in the motor home with Kathryn or at age 85, a trip to Norway with his children.
Herbert kept the birds well fed at the "century farm" and was proud of his flowers (especially his Dahlias) and the lily pool. He was an expert at "making due" and making the house handicapped accessible so Kathryn could stay at home was a major accomplishment.
Herbert loved a good conversation and could talk to anybody! He loved visiting with his favorite waitresses at the Family Table in Decorah or with Wings in Dorchester. Traveling around, Herb would often say "I helped build that road." He will be missed for his kindness, acceptance, quest for knowledge and his hearty laugh.
Herbert is survived by his three daughters: Susan (Larry) Schnitzler, Eagan, MN; Kristine (Terry) Knoke, Nauvoo, IL; Joanne (Keith) Starr, Charles City, IA. Son: Erik (Ellen) Drewes-Stoen, Decorah, IA. Grandchildren: Jacob (Christina) Schnitzler, Luke (Kim) Schnitzler, Sarah (Trent) Seigfried, Rachel (Erin Hahl) Knoke, Vicky (fiancé, Lance St Laurent), Stephen Starr, Robert (Laura) Starr, Emily (Brady) Garden and nine great-grandchildren.
He was preceded in death by his wife, Kathryn, on January 10, 2002; daughter, Virginia, on December 4, 2011; parents Henry and Martina (Sollien) Stoen; sister, Thelma Ellingson; and brothers Raymond and Sophus Stoen.