Posted on
Esther Rolph
Esther Rolph, 98, passed away Jan. 12, 2022 at Floyd County Medical Center in Charles City.
A graveside service at Riverside Cemetery will take place at a later date.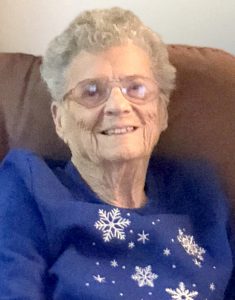 Esther Alice Royal was born Nov. 15, 1923 near Republic, Iowa to Katherine Elizabeth Gifford and Theophilus Paul Royal, and grew up in the Charles City area. She married Arnold Alan Rolph on July 4, 1942 in Kahoka, Missouri, and they had three sons: Dennis, Jack and David.
She worked as an egg inspector for the U.S. Department of Agriculture, and spent retirement camping, gardening and traveling to bluegrass festivals with Arnold. Esther was always on the move and was known by many friends and family for her welcoming nature and excellent cooking. She was also highly skilled at beating anyone handily at any card game and loved spending time with her large extended family and cheering on the Iowa Hawkeyes.
She is survived by her sister, Emma Hobert of Phoenix, Arizona; daughters-in-law: Linda Rolph and Michele Rolph both of Charles City; grandchildren: Roy (Patty) Rolph of Texas, Stephan Rolph (Fairlane Trinkaus) of Campbell, California, Allyson Rolph (Sarah Lee) of Duluth, Minnesota and Jessie (Mike) Brown of Altoona; great-grandchildren: Christian Rolph, Samantha Rolph, Logan Brown and Ethan Brown; and great-great-granddaughter, Jayden Gibson-Rolph. She is also survived by brother-in-law and sister-in-law, Skip and Myrna Ward of Charles City; and by many beloved nieces, nephews, in-laws and friends.
Esther was preceded in death by her parents; her husband; her three sons; brother, George Royal; and sisters: Ruth McManigle, Clara Gulick and Jennie Scott.
Hauser Weishaar Funeral Home, (641) 228-2323, 1205 South Main Street, Charles City, Iowa 50616 is in charge of local arrangements. Online condolences may be left on the Tribute Wall for the family at www.hauserfh.com.