Posted on
Kenneth Mahler
Kenneth Wayne Mahler, 76, of Ottumwa, died at 2:40 p.m. Feb. 13, 2022 at the Good Samaritan Society-Ottumwa.
Ken was born June 30, 1945 in Lake Charles, LA to Edward and Gertrude Nugent Mahler. He married Venita Richtsmeier in 1971 and they later divorced. He married Susan Rourke on Oct. 1, 2005.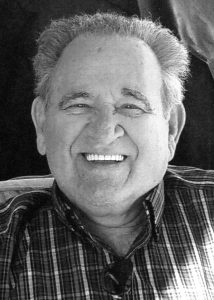 Ken was a high school graduate of Columbiana, OH, where he played center on the football team and he attended Mt. Union College on a football scholarship. He served with the US Army from 1965-69 and was stationed in Germany during the Vietnam Conflict.  Ken was a Buck Sergeant in the Army Security Agency.
He moved to Des Moines where he worked for Easter Seals. He lived on a farm in Dumont, IA where he worked as a dairy farmer and later worked as Deputy Sheriff in Butler County. He was the State DARE officer, helping many kids across the state.  Ken then became the Floyd County Emergency Management Coordinator, retiring in 2005. After retiring, he was a volunteer driver for RSVP in Ames, driving over 2,000 miles taking others to their doctor's appointments. He was a member of the Veterans of Foreign Wars and American Legion.
Moving from Ames to Ottumwa in the past four months, he attended the First Lutheran Church in Ottumwa. He especially enjoyed spending time with his dog, Ginger.
Surviving is his wife, Sue; his sons, Christopher (Becky) Mahler, and Evan (Carla) Mahler both of Hampton; three step-children, Danielle (DJ) Huffman and Ian Celania (Ashley King), both of Ottumwa, Christopher Celania (Artur Sibik) of Stockholm, Sweden; seven grandchildren; and his mother-in-law, Joan Rourke of Ottumwa.
He was preceded in death by his parents and father-in-law, Larry Rourke.
Visitation will be open at 11 a.m. Thursday, Feb. 17 at Reece Funeral Home in Ottumwa with the family present to greet friends from 6-8 p.m. Thursday.
Funeral services will be 10 a.m. Friday, Feb. 18 at First Lutheran Church in Ottumwa with Pastor Mark Johnson officiating. For those unable to attend, the service may be viewed live on the First Lutheran Church Facebook page. Burial will be in Ottumwa Cemetery with military honors conducted by Walter B. Schafer Post #775 Veterans of Foreign Wars and O.B. Nelson Post #3 American Legion.
Memorials may be made to Hospice Serving Davis and Wapello Counties or Heartland Humane Society.