Posted on
Gerald Sharp
Gerald "Jerry" Sharp, 78, of Charles City passed away Thursday, Dec. 16, 2021, at the Floyd County Medical Center in Charles City.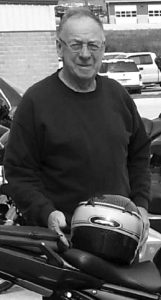 Jerry Sharp was born in Osage, Iowa, on Dec. 28, 1942, to Marvin and Doris (Anderson) Sharp. The family moved to Charles City within his first year of birth. He went to Charles City Schools. After school, he and Jean started their life together. From their marriage came four children, seven grandchildren and seven great-grandchildren.
Jerry worked for Oliver/White Farm for many years and then went to Superior Sports. Jerry retired from Harley Davidson in Charles City to work in his shop. Pops was a huge influence on dirt biking and wrenching, encouraging many to get into motorsports, with an emphasis of motorcycles and snowmobiles.
You could also find Pops going on various adventures riding the countryside with his buddies. Pops really looked forward to spending time with his family, especially his grandkids and great grandkids.
Pops will be dearly missed by many. It's never Goodbye, it's always "See ya." Pops was a friend to all.
The family would like to thank you for your support and prayers during this difficult time. Your shared memories, comforting condolences, and gesture of love are genuinely appreciated.
A celebration of life is planned for March 27, 2022 from 1-4 p.m. at Hot Shots Billiards, 700 Riverside Drive, Charles City.