Posted on
Comets, Chickasaws pay tribute to former wrestler and longtime fan Mike Reams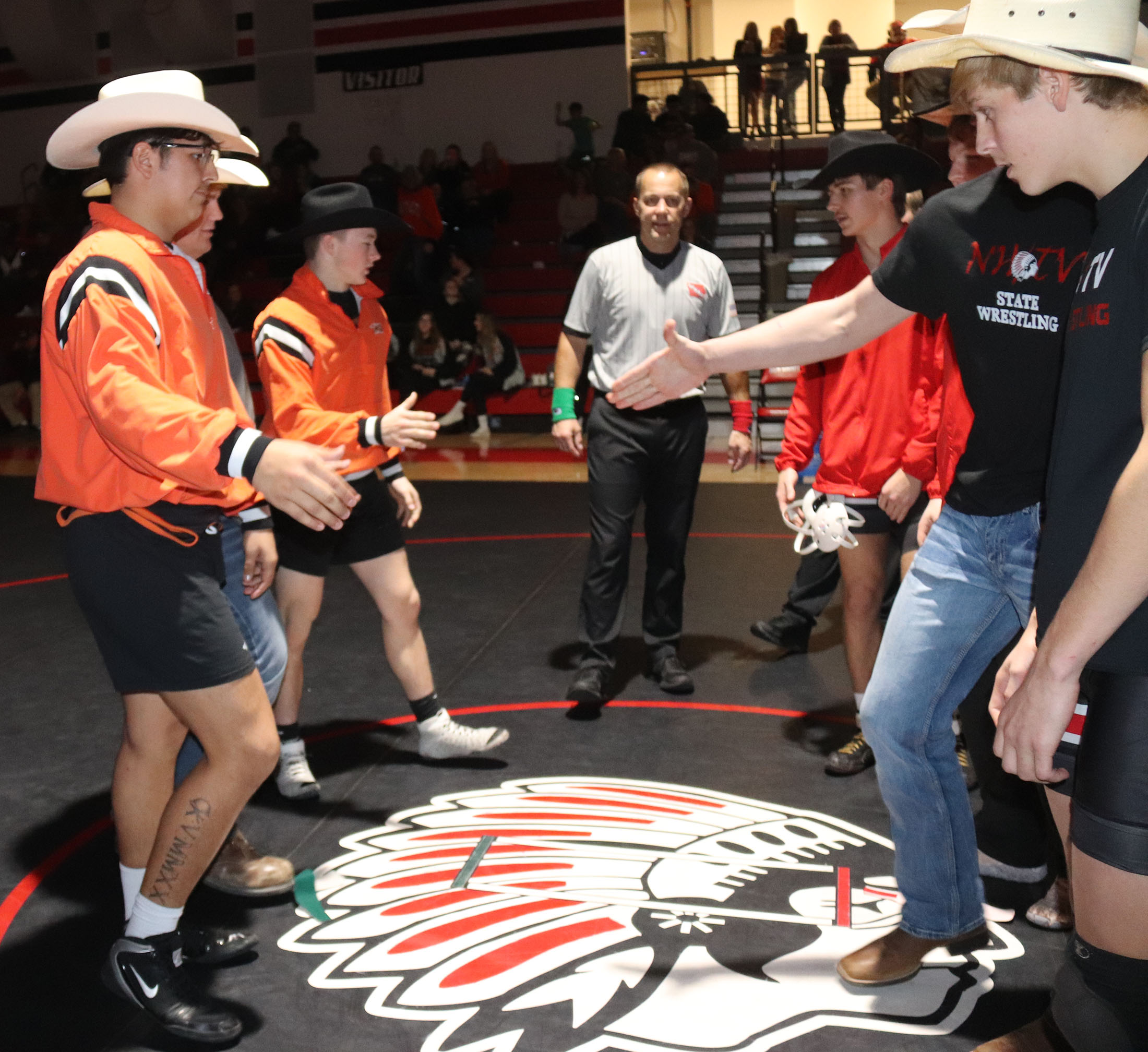 By John Burbridge
NEW HAMPTON — There were no Urban Cowboy sightings during Thursday's wrestling triangular at New Hampton, but quite a few Rural Cowboys.
Members of the Charles City and New Hampton-Turkey Valley wrestling teams wore cowboy hats during the pre-match captains' meeting in memory of former Comet wrestler and longtime wrestling supporter Mike Reams, who died on Tuesday at the age of 73.
Reams was involved in a prominent part of wrestling history when he lost in the final seconds to Dan Gable in the state finals — it was the first state title for the renowned legend.
As for Reams … he went on to serve his country in Vietnam two years after graduating from Charles City in 1966.
When he came home, he was a fixture at Comet wrestling matches, easily identified by his cowboy hat.
The Comet-Chickasaw dual was the third and final match of the evening after both teams defeated North Fayette Valley.
NHTV won all but two bouts while rolling to a 63-11 team victory.
Charles City did end the night on a high note when senior Colton Crooks pinned Kael Meyers 2:08 into their 152-pound bout.
For Crooks, that was his second win of the night in as many bouts as he previously earned a 20-3 technical fall right at the 5-minute mark of his 152-pound match against Kenny Kerr during the dual against North Fayette Valley.
Earlier in the dual — it started at 160 — Charles City senior Tino Tamayo got his team on the board with a technical fall victory over Zach Utley in the 220-pound bout. Tamayo, ranked No. 3 in the state among Class 2A 220-pounders, would have had a good night if was playing basketball as he compiled 23 points in the 23-8 final stopped less than a minute into the third period.
Charles City almost got another victory in the 126-pound match.
Dylan LaPolice was holding on to a 7-6 lead over NHTV's Tristin Willadsen as short-time approached in the third period. That was before Willadsen scored a reversal in the final seconds to win an 8-7 thriller.
In the earlier dual against the Tigerhawks, the Comets were awarded eight forfeit victories on their way to winning 62-12. But Charles City did win four out of the six matches wrestled.
In addition to Crooks's win, Carter Haberkorn recorded a fall at the 1:01 mark in his 106-pound bout against NFV's Cade Meyer; Nathan Lopez pinned Tigerhawk Logan Boehm 1:09 into their 132-pound match; and Jacob Sindlinger, who almost got a cradle-fall over Dillon Sparrgrove late in the first period of their 138-pound match, held on to earn a 7-5 decision to cap the dual victory for the Comets.