Posted on
Second-half comeback lifts Comets over Eagles 56-55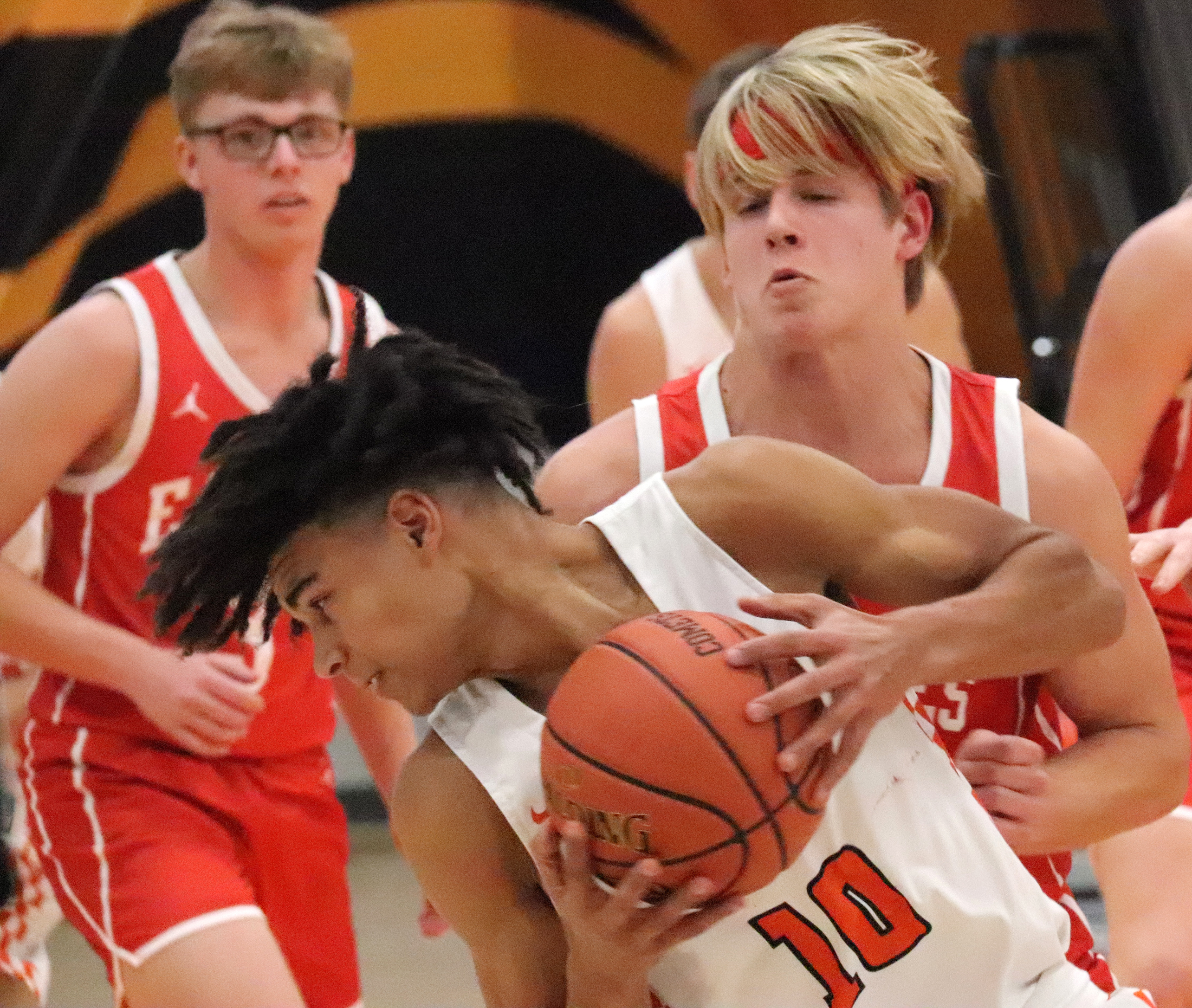 By John Burbridge
CHARLES CITY — If the eyewear industry ever needs a testimonial spokesman, look no further than West Hancock junior Rhett Eisenman.
The bespectacled shooting guard went six of six from 3-point range in the first half of Saturday's non-conference boys basketball game against hosting Charles City while helping the Eagles take a 15-point lead (39-24) at intermission.
But when the Comets opted for a more man-to-man approach in the second half, open top-of-the-key looks for Eisenman due to the Eagles' excellent ball movement were no longer there. And with a series of excellent defensive stands in the final minutes of regulation, the Comets managed to take and secure their only lead of the game in a 56-55 final.
Though he was cooled off in the second half, Eisenmann ended up leading all scorers with 18 points from his six-of-six first-half marksmanship. Rylan Barnes, the Eagles' leading scorer going into Saturday's game, picked up the slack in the second half where he scored 12 of his 15 points.
But the Comets' resident scorers also picked it up in the second half.
On three consecutive possessions in the fourth quarter, Charles City drained 3-pointers with Jeb Wandro drilling two of them and Jack Hanson hitting the other. All that drew the Comets within 3 (51-48) with 4:30 left in regulation.
When Chase Low drove the lane, finished at the hole while drawing a foul, then hit the subsequent free throw to complete the 3-point play, it put the Comets up for the first time (56-55) with 1:20 left in regulation.
From there, the Comets thwarted the Eagles with a pair of excellent defensive stands, forcing low-percentage shots and retrieving the misses with defensive rebounds.
The Comets weren't able to capitalize when West Hancock twice put them on the line for one-and-one opportunities. That gave the Eagles one more possession with 4.3 seconds left to win the game.
Having to travel the length of the floor, West Hancock was able to get off a shot for the possible buzzer win. But Barnes's 25-footer, with Comet junior Drew Martin sticking a hand in the shooter's face, drew nothing but air.
Jose Hernandez led the Comets with 16 points. Hanson scored 15, Wandro tallied 12 on four 3-pointers, and Low scored 10 while recording a double-double with a game-high 12 rebounds.
* On Monday, the Comets traveled to Lansing to take on the Kee Kee-Hawks and won 59-48 for another non-conference victory.
Chase Low led the way with 21 points.
Jack Hanson (13) and Jose Hernandez (11) also reached double-figures for the Comets, who improved to 6-5 overall.
Charles City will host Waverly-Shell Rock on Friday for their next game.
Scoring By Quarters
WEST HANCOCK 20 19 10 6 — 55
CHARLES CITY 12 12 15 17 — 56
Individual Scoring
WEST HANCOCK — Mitchell Smith 11, Rhett Eisenmann 18, Rylan Barnes 15, Evan Hinders 3, Logan Leerar 2, Jackson Johnson 6
CHARLES CITY — Jack Hanson 14, Jose Hernandez 16, Chase Low 10, Calvin Hanson 2, Jeb Wandro 12, Drew Martin 2