Posted on
Comets defeat Mohawks in OT to finish regular season, to face IFA in Substate first round on Feb. 21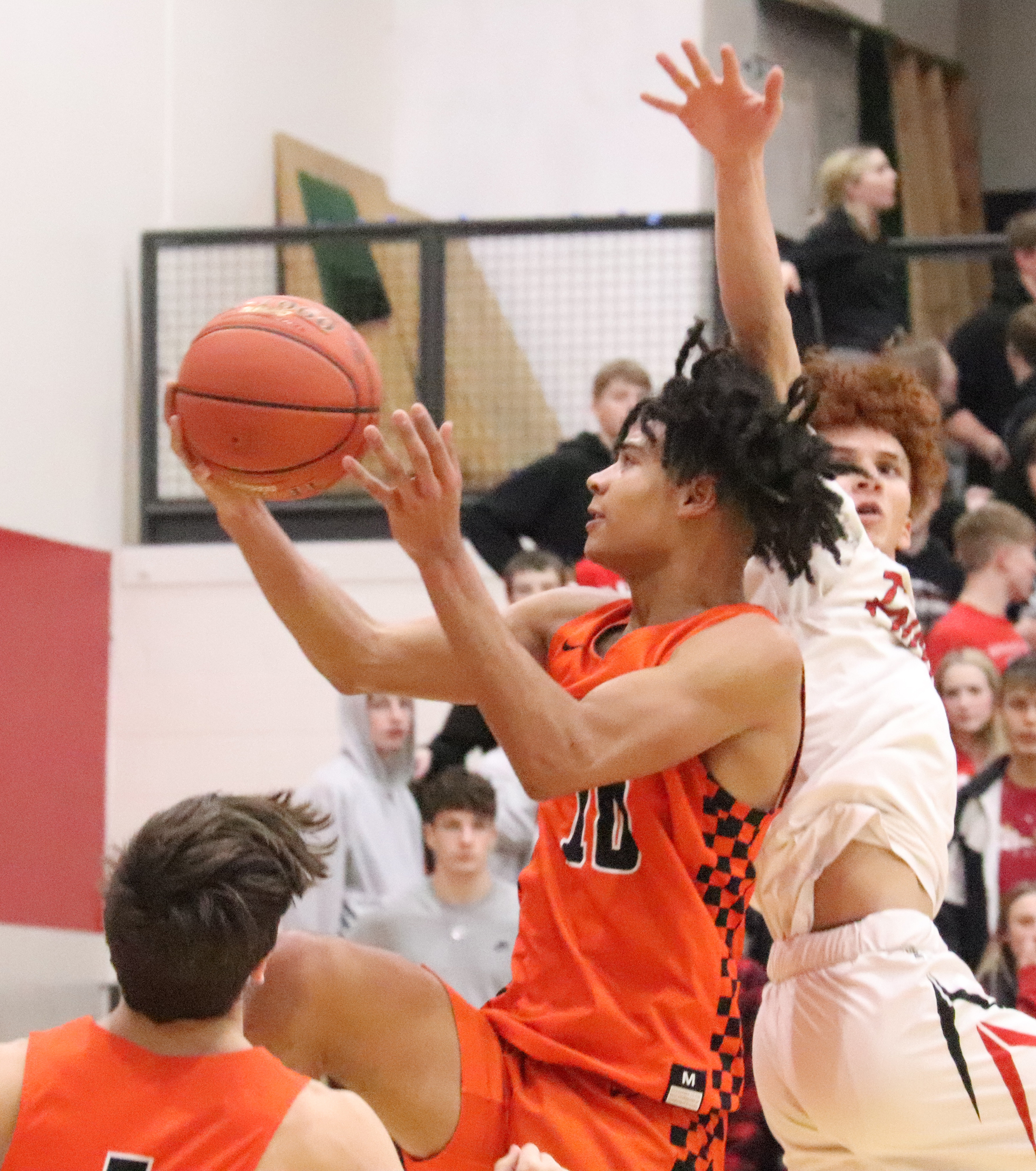 By John Burbridge
PARKERSBURG — Had Allen Iverson adopted an approach to the game incorporated by Aplington-Parkersburg senior Jayden Mackie, he might have been placed in the same tier with Jordan, Kobe and LeBron amid the NBA great hierarchy instead of being several rows back with Derrick Rose, James Harden and Carmello Anthony.
With his cross-over quickness and the elevation of a state-placing high jumper, the Falcon all-state guard more aptly uses his skills to create space horizontally and vertically for open-look jumpers less than 15 feet from the basket.
That helped Mackie score 21 points during Friday's non-conference game against visiting Charles City as the Class 2A Top 5-ranked Falcons rolled to a 79-59 victory.
Going into the game with an 18-2 overall record, A-P also got a game-high 24 points from junior Garrett Hempen.
The game was uptempo out of the gate with the Comets taking a 17-15 lead in the first quarter. But then the Falcons went on a run highlighted by Mackie's reverse layup while using pool-shark "English" off the backboard resulting in a 3-point play putting the Falcons up by double-digits (27-17).
While building its lead, Aplington-Parkersburg effectively moved the ball while finding open spot-up shooters beyond the arc resulting in 11 made 3-point field goals.
Jose Hernandez led the Comets with 17 points with Chase Low (14) and Mario Hoefer (13) also reaching double-figures for Charles City.
* On Monday, the Comets won their regular-season finale with a 69-65 overtime win over Mason City on the road.
Jack Hanson led Charles City (12-9) with 20 points, including 4 of 4 free throw shooting in the final minute of the added period.
Chase Low and Jose Hernandez each scored 14 points for the Comets, who led 54-44 late in the fourth quarter before the Mohawks outscored them 13-2 to take a 57-56 lead on Corey Miner's layup.
Miner, who led Mason City (4-15) with 22 points, later made good on both ends of a one-and-one free throw opportunity to tie the game at 59-59 with 3.1 seconds left in regulation.
The Comets won't be back in action until next Monday (Feb. 21) when they open Class 3A Substate 2 bracket play against Iowa Falls-Alden at IFA.
Boys Varsity
APLINGTON-PARKERSBURG 79, CHARLES CITY 59
Individual Scoring
CHARLES CITY — Jack Hanson 6, Jose Hernandez 17, Mario Hoefer 13, Chase Low 14, Calvin Hanson 2, Drew Martin 9.
APLINGTON-PARKERSBURG — Cooper Hoff 11, Jayden Mackie 21, Gavin Thomas 11, Garret Hempen 24, Kale Riherd 2, Christian Haugstad 4, Aiden Junker 3.