Posted on
Norma J. Pint
Norma J. Pint, 90, of Davenport, entered into the loving care of God in Heaven with her husband and daughter by her side on Sunday, Aug. 30, 2020 in hospice at Crest Health Center, Ridgecrest Village, Davenport, due to complications of Covid-19.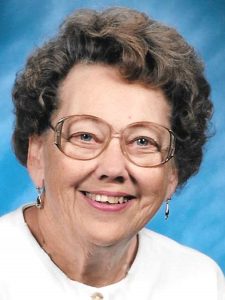 Due to the restrictions of the pandemic, a memorial service will be held at a later date at Grandview Baptist Church in Davenport.  Per her wishes, cremation rites have been accorded and inurnment will be in Riverside Cemetery in Charles City, Iowa. Memorials may be directed to St. Jude Children's Hospital, the Shriners Hospitals for Children, or to Grandview Baptist Church. McGinnis-Chambers Funeral Home is assisting the family with arrangements.
Norma was born on July 28, 1930 in Bassett, Iowa, the daughter of Ulysses M. and Vera F. (Romsdal) Regel. She graduated from Hanlontown High School in 1956. On Sept. 21, 1946, she met the love of her life and married Robert F. Pint in Las Cruces, New Mexico. They were blessed with two children, Donald and Vicki. Norma had an extensive career in the telecommunications industry. She served as an operator in Santa Fe, New Mexico, managed and operated a local telephone company in Hanlontown, Iowa. Norma held various positions at Northwestern Bell and in the AT&T networks in Waverly, Iowa, Charles City, Iowa, and Davenport for 30 years. She retired in 1986.
Norma and Robert spent their retirement years in various volunteer services.  Even when they wintered in Phoenix, Norma helped at the homeless school to make sure the children were properly clothed. Norma and Robert also enjoyed traveling extensively. They visited every state in the U.S., every Canadian Province, and many countries including, Mexico, Norway, China, Spain, Italy, Turkey, and Greece to name a few. They also made several special anniversary trips to Hawaii, including their 70th wedding anniversary in 2016.
Norma had a beautiful smile for everyone and a heart of gold.  She was always there for her family. She loved fishing, camping, sewing, crocheting, cross-stitching, many crafts, knitting, ceramics, painting, reading, puzzles, traveling, and spending time with family. Over the years, she enjoyed taking classes in crafting and ceramics. She was a former member of the Telephone Pioneers.
Those left to honor her memory are her husband of 74 years, Dr. Robert F. Pint of Davenport; and her daughter, Vicki Pint of Bettendorf.
In addition to her parents, she was preceded in death by a son, Donald R. Pint; and her sisters, Virginia and June.
Online condolences may be shared with Norma's family at www.McGinnis-Chambers.com.