Posted on
E15: Lower-priced option for modern vehicles
With gasoline prices at their highest average level ever, drivers may have started taking notice of a cheaper option available at some pumps.
This alternative fuel is known as E15, commonly sold as Unleaded 88, and is a blend of gasoline and ethanol that has been available at some stations for years.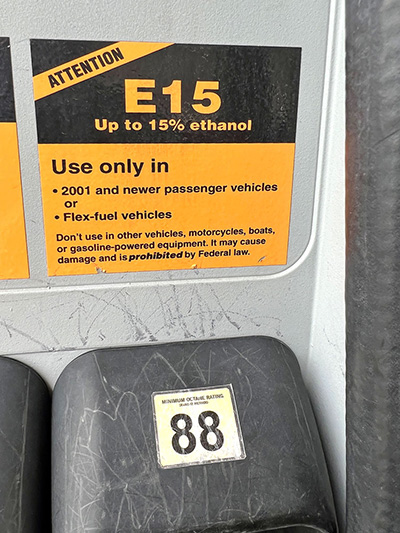 The Iowa Governor's Office announced Monday that Gov. Kim Reynolds would sign the Biofuels Access Bill today (Tuesday) at a ceremony in Johnston.
The Legislature passed the law this session which will require Iowa gas stations and other fuel retailers to begin offering E15 beginning in 2026, substantially expanding the availability of E15 in the state.
The bill provides exemptions for stations that meet certain criteria, including stations built prior to 2023 that sell fewer than 300,000 gallons of fuel per year and have no plans to replace storage tanks. Stations that choose to upgrade their systems to include E15 would have the ability to apply for state grants to help cover a portion of the costs.
Nationally, President Biden announced a plan last month whereby the Environmental Protection Agency (EPA) will issue emergency waivers to allow E15 to be sold nationally between June 1 and Sept. 15.
Nearly all gasoline sold today contains some amount of ethanol, usually 10%. E15 contains a higher percentage of ethanol (between 10.5% and 15%) than regular gasoline. This has some drivers wondering if it's the right choice for their vehicle, especially as the availability of E15 could expand in the coming years.
While E15's cheaper price may be enticing at the gas station, there are a few things for drivers to consider before fueling up.
"Some vehicles are prohibited from using E15" in their engines, explained Steve Robel, owner of Quality Auto in Charles City. These include all vehicles older than model year 2001. He added that while the fuel shouldn't cause any problem in modern engines, it can become "caustic, only if the fuel sits for long periods of time."
The EPA says E15 can be safely used in all gas-fueled cars, trucks and SUVs from 2001 on. It should not be used in motorcycles; vehicles with heavy-duty engines, such as school buses and delivery trucks; off-road vehicles, such as boats and snowmobiles; and small engines such as chainsaws, lawn mowers and snow blowers.
The ethanol industry says the fuel is one of the most tested in history and has no effect on vehicle drivability.
Robel said there is a slight decrease in the miles per gallon with E15. That decrease has been shown to be larger in tests of "Flex Fuel" vehicles, designed to use up to E85 – fuel with 85% ethanol.
But Robel said that ethanol has its benefits.
"Ethanol is a renewable fuel. It does reduce prices at the pump. However, with corn prices on the rise, the future benefit — at least price-wise — remains to be seen."
Mark Eakes, director of parts and service at Mike Molstead Motors in Charles City, also weighed in on the price advantage of E15 and higher ethanol blends.
"As of now they will be cheaper, but things change rapidly with demand," he said.
"Assuming the engine is compatible with E15, it won't change the maintenance routine," Eakes said. "Most researchers say it will not hurt modern engines."
As E15 becomes more widely used, more evidence will become available as to its impact on engines, he said.
Both Eakes and Robel emphasized the importance of referring to one's vehicle owner's manual to see what fuel is needed for their vehicle.
E15 is currently available in 30 states at just over 2,300 stations, according to the EPA website, afdc.energy.gov.
Kwik Star, including the two stations in Charles City, has become one of the Midwest's largest retailers of E15. Many of the stations also sell the Flex Fuel E85.
Gov. Reynolds and a bipartisan group of governors have asked the EPA to allow E15 to be available year-round.
Currently E15 is not allowed to be used in several states from June 1 to Sept. 15 because it is thought to contribute to smog in warmer weather because the ethanol evaporates faster than gasoline, but ethanol supporters say the evidence shows E15 emissions are less than E10 or all-gasoline fuel.