Posted on
The Weekly Word: Eternal Investments
By Pastor Paul and Dixie Phillips, Gospel Lighthouse Church, Floyd
You then, my son, be strong in the grace that is in Christ Jesus. And the things you have heard me say in the presence of many witnesses entrust to reliable people who will also be qualified to teach others. 
— 2 Timothy 2:1-2
Growing up, we saw firsthand the wisdom in apprenticeships. This "hands-on" learning approach from a skilled employer reaps many benefits for a young person showing promise.
Of course, it usually means working for a certain amount of time at a lower wage until the craft is mastered. (An example would be someone learning the necessary knowledge to become a skilled electrician.) The time, energy and investments are usually worth it for both employer and employee.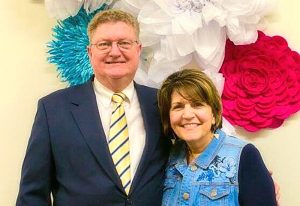 This tried and proven method is especially effective in "growing" healthy disciples of Jesus Christ. Every believer needs a seasoned servant of the Lord in his life.
Did you know there are numerous examples of godly mentorships in the Bible? Here are just a few of them: Moses and Joshua, Elijah and Elisha, Naomi and Ruth, Jesus and His twelve disciples, Paul and Timothy, and let's not forget Luke and Silas.
Mentorships hold timeless truths. They transcend cultures and centuries. Lives are still being changed today through the simple act of people investing in the lives of others.
The young need someone older as a resource of wisdom, knowledge and experience. Granted, youth has more energy, but there is no substitute for a soul who has walked with God for many years. They are an invaluable reservoir of resources.
And most times, it's not just the mentee alone learning and gaining valuable information from the experience. Eternal friendships are formed, and lives are changed for the better.
It is true there are some things you can only learn in a classroom. We need higher education. A college degree can open doors, but we don't want to eliminate apprenticeships and mentorships. They are vital in the education process.
Here are the four areas I believe the Bible teaches that will help us become all we need to be for the Lord:
• WE ALL NEED AN ENCOURAGER LIKE BARNABAS. When the apostle Paul was a new convert, God brought Barnabas into his life. (Acts 9) Paul had been a major persecutor of believers. Most Christians in Jerusalem at that time were very skeptical of his conversion, but God used Barnabas to encourage Paul. We all need a Barnabas in our lives.
• WE ALL NEED A MENTOR LIKE PAUL. The apostle Paul was a mentor to a younger man named Timothy. He even called him, "My true son in the faith." (1 Timothy 1:2) Paul represents the person in your life who mentors you. This is usually not a peer, but someone that has followed Jesus longer than you have. We all need a Paul in our lives.
• WE ALL NEED TO INVEST IN A TIMOTHY. Paul saw the potential in Timothy. He had learned well from Barnabas and mirrored the great encourager's example. Paul intentionally chose Timothy to travel with him so Timothy could grow in his faith and be equipped for spreading the gospel. (Acts 16) We all need a Timothy in our lives.
• WE ALL NEED A FEARLESS TRUTH SPEAKER LIKE NATHAN. King David needed the prophet Nathan to confront him and expose his sin. When the king heard the story of the poor man's innocent lamb, David was livid. He could see how wrong it was to take what doesn't belong to you. (2 Samuel 12) The "Nathans" in our lives will be honest with us when we are out of line and ask us the hard questions. They will speak truth even when it is not popular. We desperately need this type of accountability. We all need a Nathan in our lives.
Please consider these Bible truths and find a Barnabas, Paul, or Nathan for your spiritual health. Also look for a Timothy to invest in. Open your heart today and watch your faith grow. It will be the best investment you've ever made.
• • •
Pastor Paul and Dixie Phillips have been honored to serve the Gospel Lighthouse Church, 205 Madison Street, in Floyd, since 1981. Sunday worship services are at 10:30 a.m. To find out more about the church and ministry go to www.floydslighthouse.com.