Posted on
N-P, RRMR shared superintendent to retire at end of the school year
By Bob Fenske, Nashua Reporter Editor
Keith Turner mulled over the decision this past fall, made his choice in December and now two area school districts — Nashua-Plainfield and Rudd-Rockford-Marble Rock — are searching for a new superintendent.
"I've been eligible to take retirement for several years, and I played around in my mind with it this fall. And the more I thought about it, as difficult as it was, I decided it was time," Turner said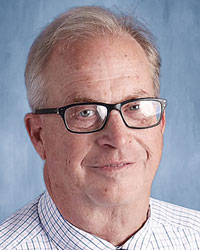 The longtime educator told the school boards at both districts last month that he will retire at the end of the 2020-21 school year, and although he admits he's going to miss some parts of the daily education life, he is content with his decision.
"I think the timing was really important," said Turner, who taught and coached at Nashua-Plainfield and has served as the school's shared superintendent since January 2018, when he replaced Randy Strabala as the district's top administrator.
"We wanted to make sure we had time to hire the best person possible," he said about his replacement.
Turner said both the Nashua-Plainfield and RRMR boards would like to continue sharing a superintendent. The districts also share a business manager, human resources director and building and grounds director, and those agreements bring each district $146,000 in additional revenue because of state sharing incentives.
"Sharing has probably been the biggest change I've seen," Turner said. "Before I got here, Nashua-Plainfield shared with Clarksville, but that might have been the only one in our conference. Now, half the schools in the Top of Iowa share superintendents. It makes sense, and I think it's been very helpful for rural districts like ours that face challenges like declining enrollment."
Turner graduated from Rockwell-Swaledale High School and attended Wartburg College, where he majored in education.
His first teaching job was in Harmony of Farmington, a small school district on the Iowa-Missouri border, where he spent the first five years of his teaching career. He also coached four sports at Harmony.
In 1989, he accepted a position as a social studies and drivers education teacher at what was then Nashua High School, and he was the Bulldogs' — and subsequently Nashua-Plainfield's — head boys basketball coach for 18 years before becoming a principal at Rockford in 2008.
Seven years ago he added superintendent to his title, and in 2018 he began working for both RRMR and Nashua-Plainfield.
"Going into administration wasn't an easy decision," he said. "What I got to do in my classroom fed me more than anything else in education. I don't regret being an administrator — I had a chance to work with great people — but for me, it's always been about the kids."
He said he feels blessed that he had a chance to return to Nashua-Plainfield three years ago, even if he's faced a number of challenges since becoming a shared superintendent.
In 2018, he made the painful recommendation to close the Plainfield school building. The following winter was the worst in decades, and the past two academic years have been deeply impacted by the COVID-19 pandemic.
"I won't miss the stresses associated with the past couple of years, but, oh boy, I'm going to miss the ties to the kids," he said. "What I've learned is that kids are kids wherever they are at. To be able to come back to Nashua-Plainfield and reconnect with the kids of parents I taught and coached, that has been very special to me."
He said much work remains for him as the two districts search for his replacement.
"I want to make sure I leave our districts in the best possible position I can before I leave," he said. "Both Rockford and Nashua-Plainfield have done a lot for me, and I'll always appreciate my time with both districts."
As for retirement, he said he's got some hunting and fishing to do, but he plans to remain in the area.
His wife, Suzy, is an instructional coach at Nashua-Plainfield and has several more years before she'll be eligible for retirement. And Turner will also have a little more time to spoil Baxter, the couple's golden doodle.
"He's going to think every day is Saturday," Turner said with a laugh.
But he may not be done with education or coaching quite yet.
"I'm sure I'll find something to do with kids and learning," he said. "I feel like I still have more to do, but I'll be able to do that at my own pace for once."