Posted on
Tree-tapping time at Tosanak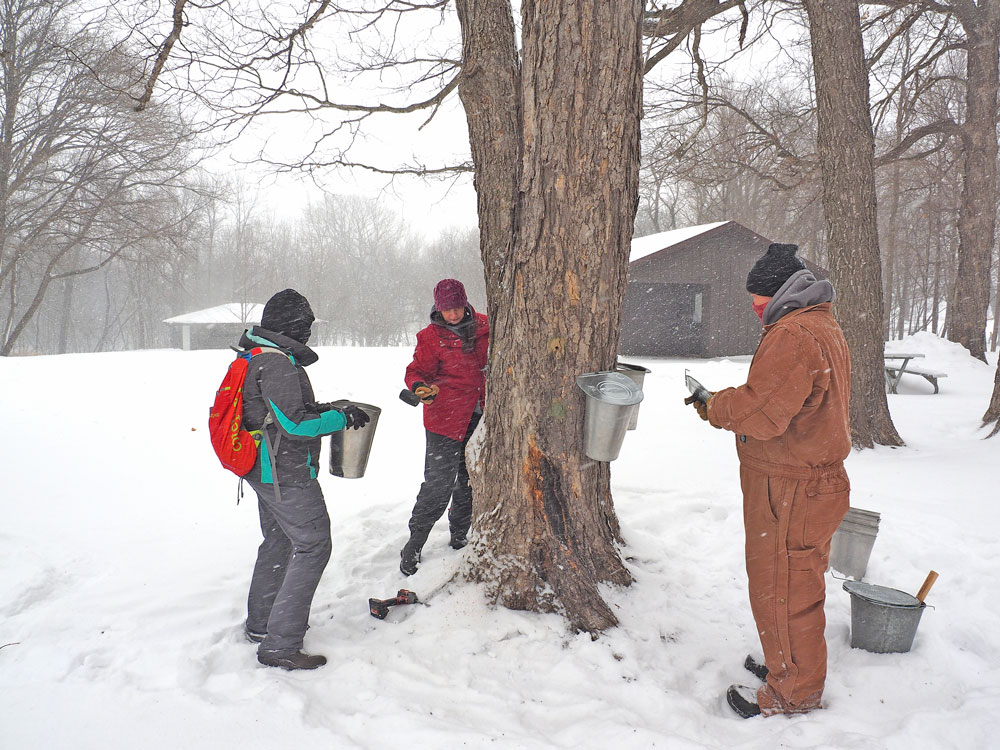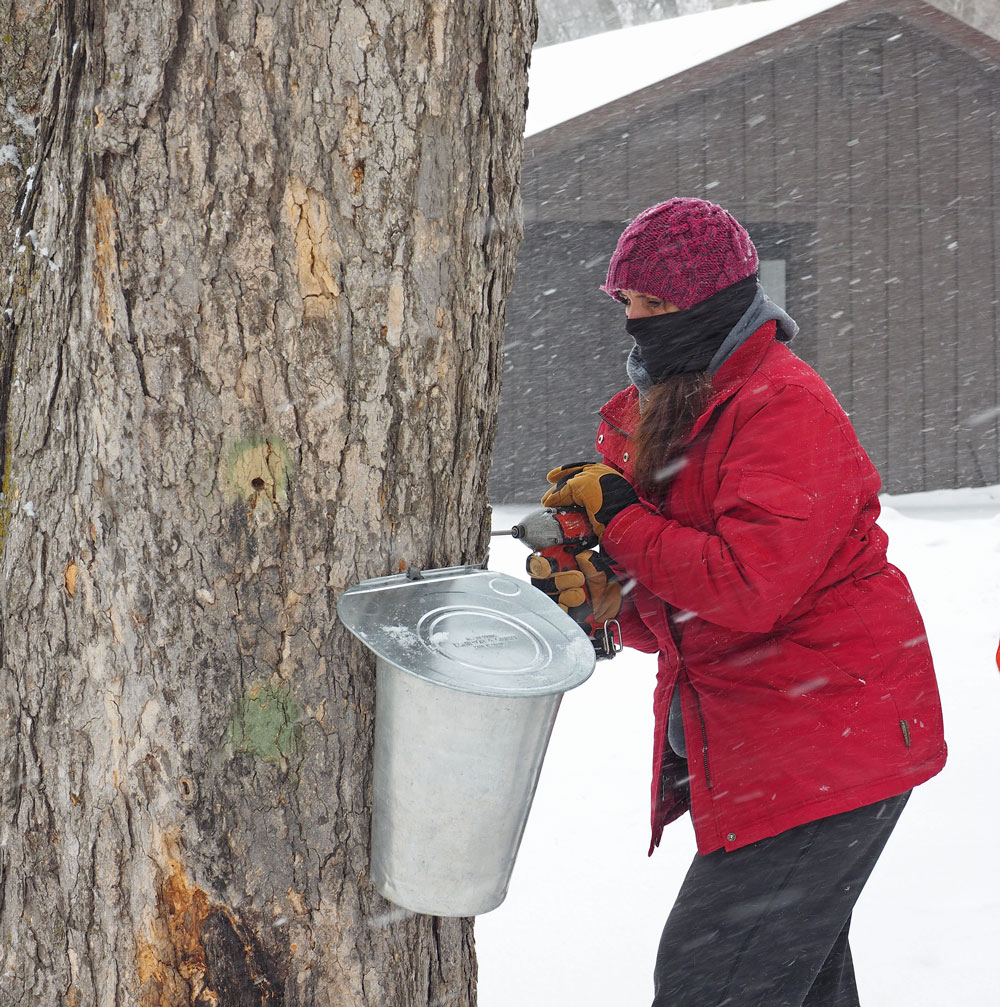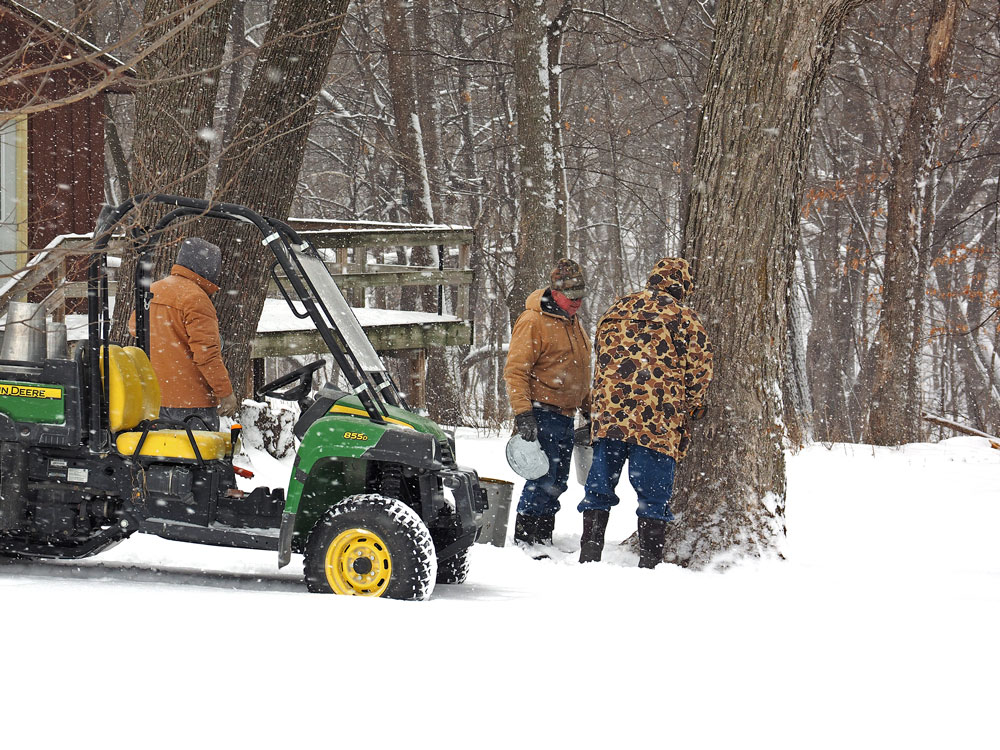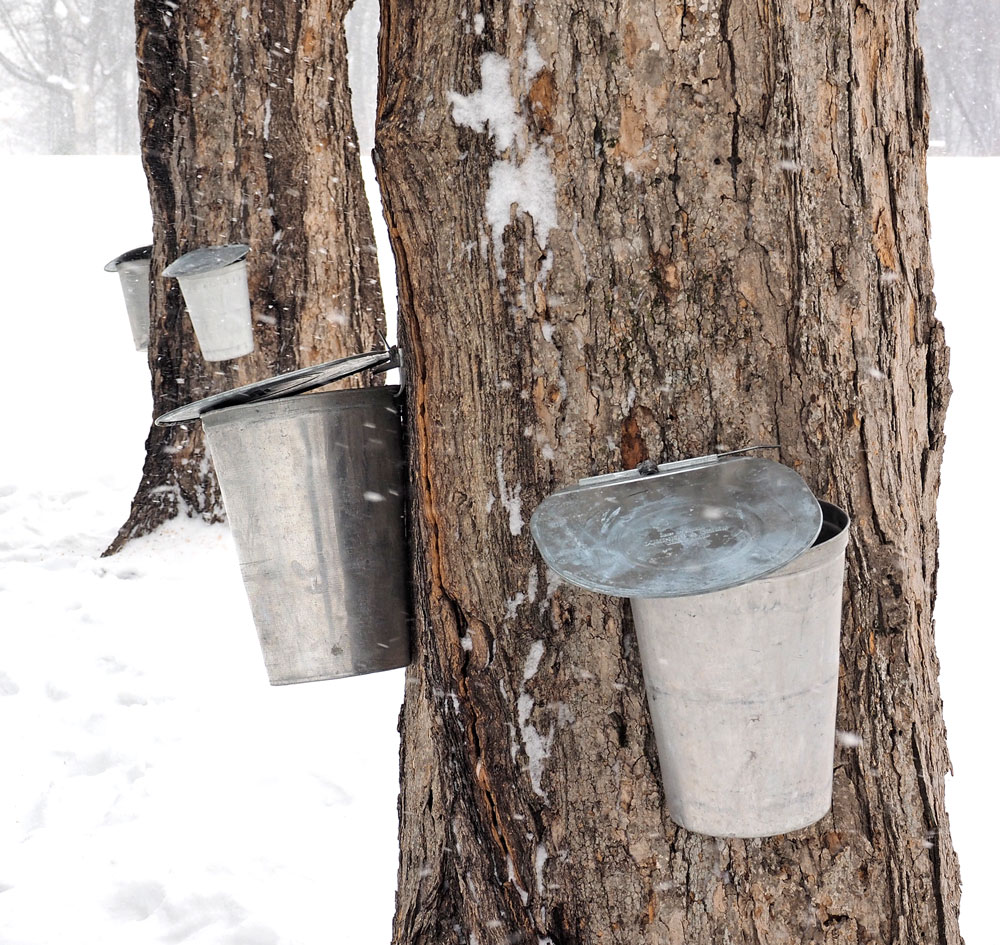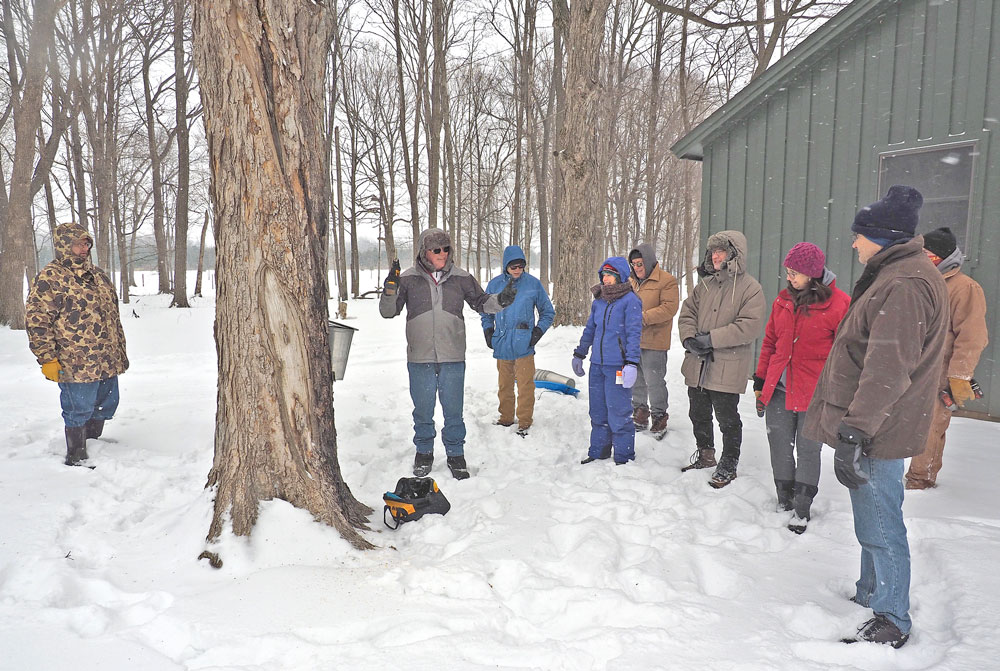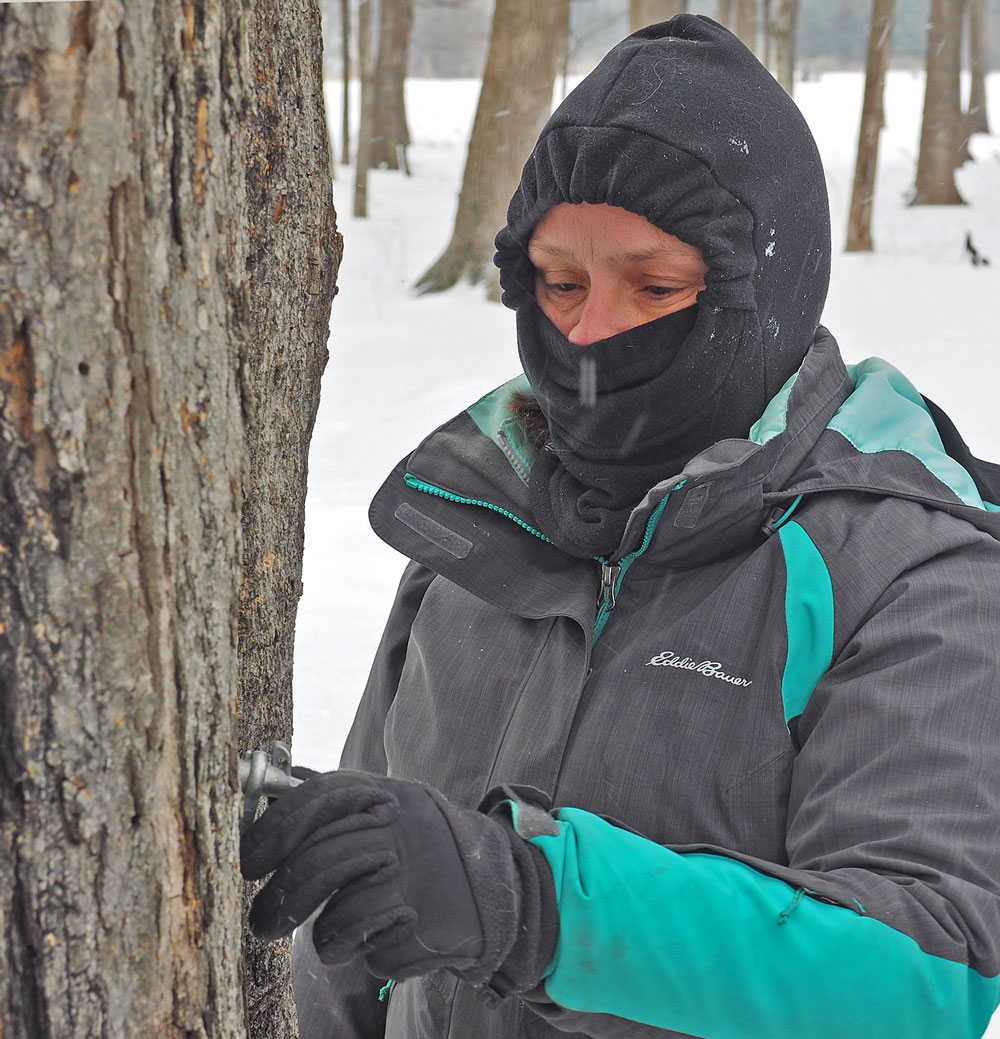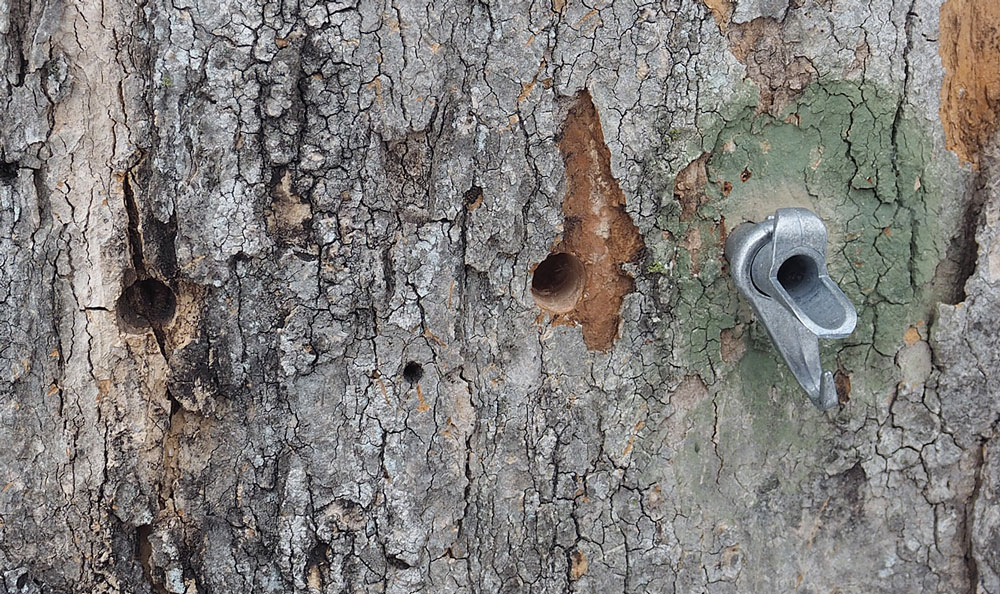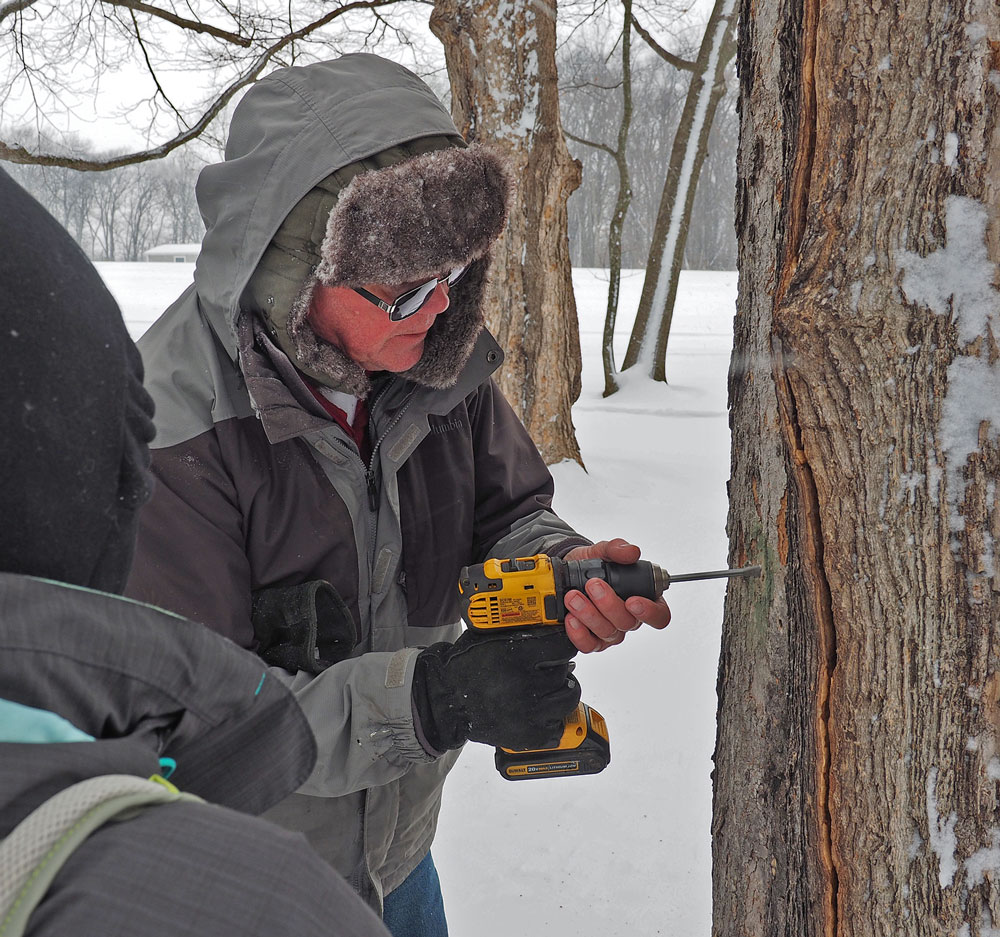 By Bob Steenson, bsteenson@charlescitypress.com
A forecast for above-freezing temperatures at the start of this week prompted a group of volunteers to gather at the Tosanak Recreation Area near Marble Rock Sunday afternoon to begin tapping maple trees for sap.
Not even a minor snowstorm stopped the 15 to 20 people from turning out to tramp through fresh powder to start tapping the 100 or so maple trees on the county property.
Bruce Bergland, who helped organize the Tosanak maple syrup enterprise in the fall of 2019, was on hand Sunday to give tapping pointers to those who were new to the experience.
You drill a hole at a certain angle to a certain depth, knock in a tap and then hang a bucket or run a hose to a pail, he demonstrated. If the tree was tapped last year, then you make sure to go three or four inches to the right of the old hole for the new one.
An average size maple tree can support two or three taps, he said. A bigger tree can support up to four.
Bergland said the group bottled about 90 gallons of syrup last year. It takes about 40 gallons of sap to boil down to one gallon of syrup, so that means around 3,600 gallons of sap were collected in late winter and spring last year.
He said all of the Tosanak Maple Syrup made last year has been sold, except for a few bottles he has at home to give to people who help out with the program.
"That's their pay, especially if they helped quite a bit," he said.
Bottled maple syrup in various sizes was available for sale at Tosanak, at the Stop-N-Shop in Marble Rock, Otto's Oasis and The Rustic Corner in Charles City, and at Reiff's Farmstand on Highway 218 north of Floyd. Wendy Johnson of Charles City also sold some through her association with Practical Farmers of Iowa, Bergland said.
On Sunday at Tosanak, Bergland explained that it takes a combination of below freezing temperatures during the night and above freezing temperature during the day to make the sap run. The timing and the length of the tapping season is totally dependent on the weather.
"We like to get it as soon as it starts flowing. That's why we're doing it today," Bergland said, referring to the forecast for temperatures above freezing Monday through Wednesday and then possibly again toward next weekend.
"It's all because of the weather. They need that freeze-thaw cycle. If it doesn't freeze at night they stop flowing. It's the freeze that's driving that sap up and down," he said.
When the daytime and nighttime temperature stays above freezing and the trees start to bud, the tapping season is over.
Last year's inaugural syrup-making season was a learning experience, Bergland said, figuring out how to best collect, transport and store the sap and how all the equipment works, from the large evaporator that boils off excess water to concentrate the syrup, to the filtering equipment, to the bottler.
Several members of the Iowa BIG North program at the Charles City High School got involved in the program last year, helping out collecting sap, making syrup and creating signs that are hung in the buildings to explain the process.
They students had even planned a pancake feed and open house — and then "COVID shut down school and that was the end of that," Bergland said.
The syrup-making program idea began in the summer of 2019 when a group of volunteers got together with Floyd County Conservation. Loran Recker, of near Floyd, had most of the equipment needed to make commercial quantities of syrup and he was willing to part with it for a good price.
A fundraising campaign was held to start raising money to begin the enterprise, and by the fall of 2019 most of the required equipment had found a home in buildings at Tosanak.
Proceeds from the sale of syrup goes to pay off the rest of the approximate $12,000 in start-up costs for the syrup program, and any profits after that are used to support Floyd County Conservation.