Posted on
Charles City Police Department looks to update procedures, policy manual
By Bob Steenson, bsteenson@charlescitypress.com
The Charles City Police Department plans to work with a national public safety policy and training company to update its policy and procedures manual, in part a reaction to current events, but also because it's the right thing to do, the city police chief said.
Chief Hugh Anderson told the City Council at a workshop meeting Wednesday evening that he would like to hire Lexipol, a Texas company that describes itself as offering "mission-critical solutions" to help first responders and public servants "serve their communities safely and responsibly."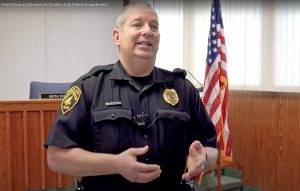 Anderson said the cost for the service for Charles City would be $8,300 annually, and that would include the initial development of a new policy and procedures manual, as well as annual and other timely updates, and daily training bulletins for his officers.
He said the department's current standard operating procedure (SOP) manual is a "Frankenstein book" that has been written and added to at different times, includes information taken from other departments and can't keep up with changing rules and conditions.
Anderson said he was bringing it up at a council workshop because, "in the end when we get the policy manual actually completed with them I'd like it to come before you to vote on it, to make sure it is something you guys are OK with."
Council members were generally in favor of the idea, although some expressed a concern over the cost.
Anderson called he cost "a drop in the bucket" if it was able to save the department from getting into a legal situation.
The company has a "very, very large group of lawyers" that keeps reviewing practices and works to avoid situations where officers, departments or cities might get sued, he said.
"Just because of our litigious society now we thought this is definitely the time to have something like this in place," Anderson said. "There are many chiefs who are going to it, and reviewing the different companies this is probably the forefront company that is doing this and probably doing it in the most professional manner.
"They cover things that we as a small department wouldn't even think of, including things on a federal level," he said.
Council member Phoebe Pittman asked Anderson, "Do you feel Lexipol's primary concern is reducing civil liability or maximizing civil rights or a combination of both? … Are you feeling confident that they're going to address other issues in making sure things are done correctly … that procedures are going to be respecting the rights of everyone that people come in contact with?"
Anderson said, "I don't want it to feel like this is something to just try to cover our butts to make sure we're protected for a litigious situation that we might get into. I feel they're doing it for the right reasons, also.
"I feel they are going to definitely do what you're asking, respect the rights of the individuals. To avoid the lawsuits the best way is to do the right thing, and the right thing, obviously, is to respect the individual's rights. I feel they're very much in line with that."
Anderson said another benefit is that the new manual would be an electronic document that could be posted publicly.
"It gives us more openness and transparency because we are able to take that policy and put it on our website. This gives us something that people can look up at any time they want to. It gives us a lot more transparency as a department and as a city also," he said.
Council members DeLaine Freeseman and Keith Starr both said they would be willing to be involved in the development of the manual, but Anderson said the initial development is time consuming, including meeting for 2½ to 3 hours, three times a week for several weeks.
He said council members were welcome to take part if they were willing to put in the time.
Council member Phillip Knighten said he trusts everyone on the force and trusts Anderson's judgment, but "policy or no policy, you've got to have the right individuals."
"I understand what you're saying, getting it updated, making some changes. But if you don't have the right mindset in the officers that you have, policy or no policy you're going to have issues, you're gong to have lawsuits, you're going to have liability," Knighten said.
Anderson said, "I completely agree with you and I appreciate your comments. I do trust my officers. … The policies are there as a guide and for them to work within, so it gives them some direction, but I appreciate your comments, Phillip. I think we've got a great group of guys and  we'll continue hopefully in that respect for years to come, even after I'm gone."
Also at the council meeting Wednesday evening, the council:
• Held a brief special meeting to approve rezoning the property at 808 N Jackson St. from B-3, service business district, to M-1, light manufacturing, to allow the construction of another mini-warehouse building on the property.
• Held a lengthy discussion with Rick Cordes regarding his request to be allowed to build a three-stall garage on currently vacant property he owns on the south side of Sixth Avenue east of J Street. Under current city code, non-adjoining property owners are not allowed to build accessory structures on vacant property unless they live within city limits. Cordes lives 2 miles outside city limits.
City Attorney Brad Sloter said the only way he sees to allow Cordes to build there is to amend the city ordinance, which would essentially open it up to allowing anyone to build accessory structures on any vacant lot.
City Administrator Steve Diers said requiring home ownership within the city limits gives the city some leverage to assess costs if a property is not kept up or becomes a hazard.
Council members expressed sympathy for Cordes' situation, but were unable to come up with a solution, suggesting they keep considering options and bring it back up at a future workshop session.
• Approved closing North Jackson and Kelly streets by Central Park on May 22 for a Corvette car show, requested by Craig Hamm.
• Approved closing the parking lot behind KCHA Radio and Dean Jewelers for the Charles City BBQ Challenge on July 10.
• Approved closing Blunt Street and Kelly Street between N Main and N Jackson streets on various days between July 2 and July 5 for the annual community Fourth of July celebration.
• Approved closing Blunt Street and Kelly Street between N Main and N Jackson streets in the afternoon and evening on June 11, July 30 and Aug. 13 for Party in the Park.