Posted on
More than 200 served Christmas Eve meal by Charles City FFA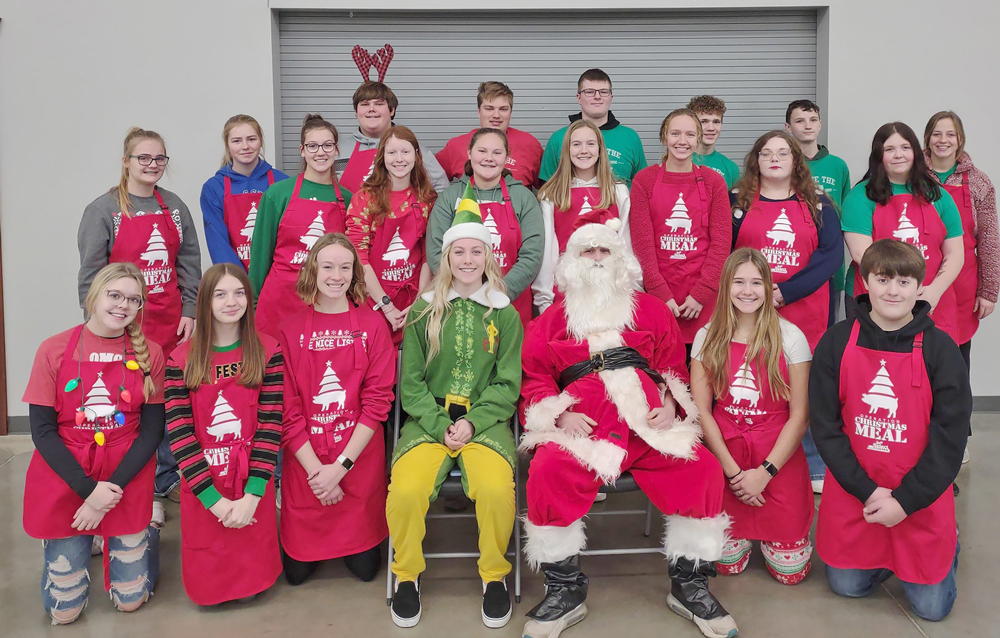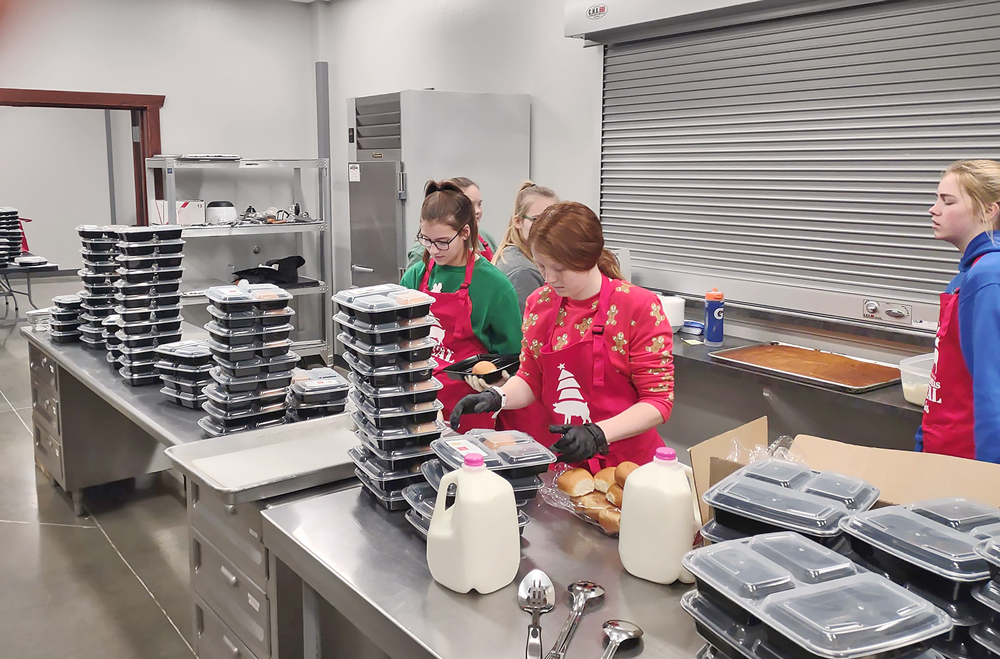 The Charles City FFA, Messiah's Food Pantry and the Floyd County Extension Service worked together to provide a Christmas Eve meal for more than 200 people last week.
The event, hosted at the Youth Enrichment Center at the Floyd County Fairgrounds, featured pork loin donated by Iowa Select Farms and the Deb and Jeff Hansen Foundation, and was prepared and served by FFA members.
Bret Spurgin, an agricultural education teacher and FFA advisor at Charles City High School, said that 75 meals were delivered to Rudd, the site of a recent tornado, where Extension Service helped coordinate a drive-through distribution.
Another 30 were sent to the Rockford Senior Center, and almost 50 were home-delivered to people around Charles City. About 60 people showed up to share the meal at the Youth Enrichment Center.
"We planned for about 250 meals, and that included deliveries," Spurgin said. "Everybody got fed. Everybody who wanted to eat, ate."
The menu was smoked pork loin, cheesy potatoes, green beans, rolls and pumpkin bars.
The Charles City FFA students did all the preparation and cooking and helped out at the fairgrounds on Friday. About 25 members were involved on Christmas Eve.
"We had our (FFA) Christmas party on Wednesday, and we prepared everything and got it ready to go. Then they stuck it in the ovens Friday morning," Spurgin said.
He said such activities are important to the students and to FFA.
"It helps give them a sense of community," he said. "That idea of serving others has always been a core of the FFA. It's part of the FFA motto – living to serve."
The FAA motto is "Learning to Do, Doing to Learn, Earning to Live, Living to Serve."
"It's important for them to carry that on," Spurgin said.
"We had some alumni that actually helped deliver the meals, so they learned that idea of service in high school through the FFA and through other things, and they still want to come back and do that. Deliver meals and spend time on their Christmas Eve to do that to help others, which I think is pretty awesome," he said.
In addition to the meal, the Extension Service office in Charles City and the FFA officers provided and wrapped Christmas gifts for everyone who came to the fairgrounds, including things like ready-to-make meals, gloves or candy.
"Everybody who came in also left with a Christmas present," Spurgin said.
"It's something that we're glad we're able to do, to help provide for the community who may not be as fortunate as some of us to have people to share a meal with on Christmas. I'm just really glad that we're able to do that," Spurgin said.
"Charles City has such great kids. The students are willing to take time on their Christmas Eve when they don't have to worry about going to school, they can spend time with their families or sleep in, and they still wake up early to come in and help with something like that – that really speaks a lot to the kids that we have at Charles City," he said.
The pork loin donation was part of the Ignite the Spirit Community Partnership Program sponsored by Iowa Select Farms and the Deb and Jeff Hansen Foundation. The campaign is a student-based program for 4-H clubs and FFA chapters in Iowa Select Farms Iowa Homegrown communities.
Each chapter received two cases of pork loins and an additional $250 to help provide the other parts of the meal, plus other materials.