Posted on
NATIONAL FFA WEEK: Charles City FFA members' activities help elevate group to nation's top 30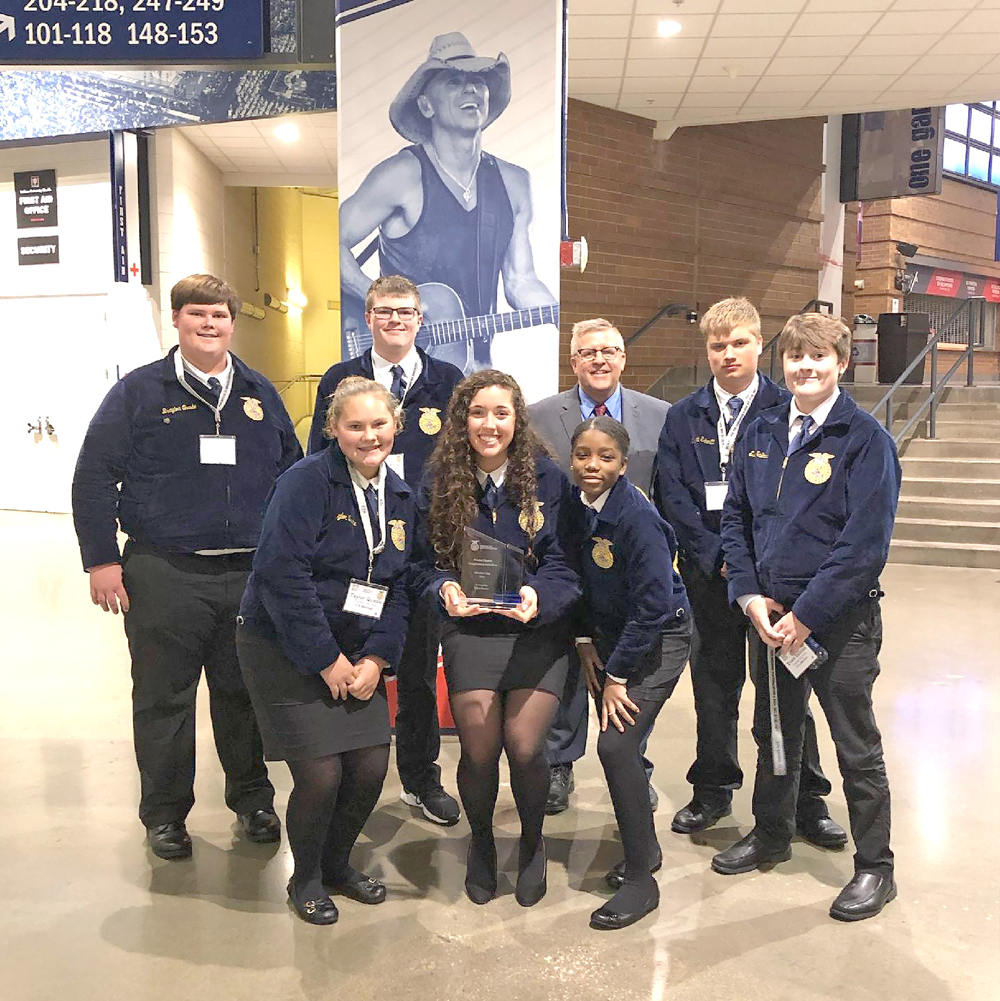 To The Press
"Learning to Do, Doing to Learn, Earning to Live, Living to Serve."
Local chapters of the National FFA Organization have been living those words, the National FFA Motto (adopted at the 1952 National FFA Convention), for more than 92 years.
The Charles City FFA is no different than the more than 8,800 FFA chapters across the country in that it lives out the FFA Motto each and every day.
By following the FFA Motto, and the Ag Ed Model, the Charles City FFA Chapter was recognized as one of the top 30 FFA chapters in the nation at the 2021 National FFA Convention in Indianapolis, Indiana, in October.
Through service learning projects, raising animals and creating projects for the county and state fairs, competing in Leadership and Career Development Events and many other activities, members are learning, doing, earning and serving every single day.
They do this through the Agricultural Education Model, which is a layout for Agricultural Education Programs and FFA Chapters to follow.
The three components of the Ag Ed Model are Classroom Instruction, the FFA, and Supervised Agricultural Experience (SAE).
All FFA members take Agricultural Education classes, where they "learn to do" through hands-on activities, career exploration and other activities. Through these classroom lessons, members gain skills that they use "doing to learn" through Leadership and Career Development Events (LDEs & CDEs), the FFA contests.
Members can take part in a wide variety of LDEs and CDEs such as: Parliamentary Procedure, Livestock Evaluation, Public Speaking, Ag Issues & Perceptions, Floriculture, Envirothon, and many, many others.
This past year over 60 Charles City members competed in 20 different LDEs and CDEs, showcasing leadership and career skills that they have gained throughout their FFA membership.
The FFA members also learn how to grow and raise agricultural products in Charles City through the FFA Chapter Farm and our FFA Chickens.
Supervised Agricultural Experience (SAE) program involves practical agricultural activities performed by students outside of scheduled classroom and laboratory time.
SAEs provide a method in agricultural education for students to receive real-world career experiences in an area of agriculture that they are most interested in. Members set goals, keep records, and at the end of the year, reflect on what they have learned and how it can help them in their future careers.
This past year, the Charles City FFA had a local economic impact of over $1.6 million through 224 different SAE projects. These projects include raising livestock, growing crops, owning businesses, working at local stores and retailers, research projects, and many more.
Through their SAE projects, the Charles City FFA members are living out the third line of the FFA Motto, "Earning to Live."
The last line of the FFA Motto, "Living to Serve," is lived out by the Charles City FFA every year. In 2021, the chapter took part in more than 50 different community service and service learning projects and activities.
Through these activities, the FFA members learn and understand the importance of what it means to be a part of a community, what it means to help others, and why it is important to serve others. Whether it is raising and donating vegetables, planting trees around the community, providing meals at Thanksgiving and Christmas, and delivering supplies to area farmers, our members truly do Live to Serve.